Development for whom?
Rising GDP, rising inequality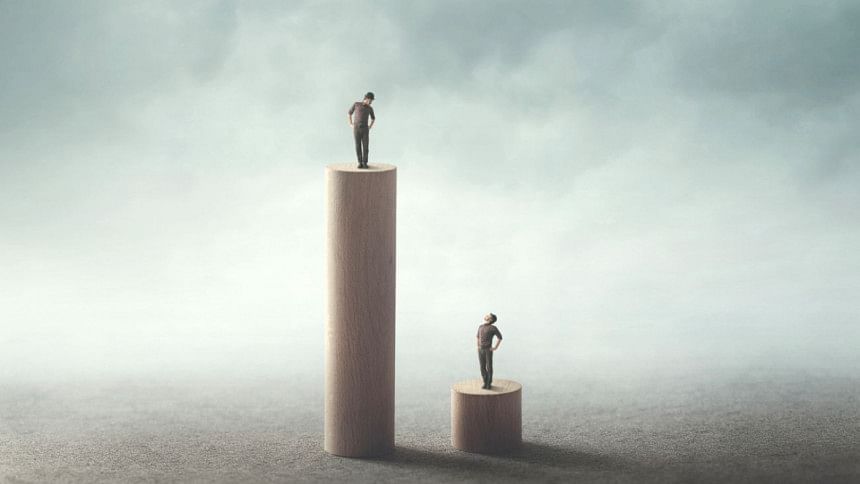 A particular finding in the latest Household Income and Expenditure Survey (HIES) of Bangladesh Bureau of Statistics (BBS) blows the illusion of GDP growth being the "be all and end all" of development into smithereens. The data shows that we have now reached record high levels of inequality with the Gini coefficient, an economic measure of equality, standing at 0.482 as of 2016, up from 0.458 in 2010, which reflects an increased rich-poor gap.
At first glance, it may seem like a paradox that inequality in our society has reached an all-time high at about the same time as the highest ever GDP growth recorded.
Except it's not.
That GDP growth or GDP per capita is not a good measure of "development" is well-known in development studies literature. But not being well-versed with development economics cannot be an excuse for ignorance of this obvious fact. Because economists in the country, for the longest time, have been crying hoarse about the dangers of our collective complacency with high GDP growth rates. Their warnings of course fell on deaf ears.
For a long time now, there has been excessive focus on GDP growth rates in Bangladesh's development discourse. At least that's been the case in the last few years during which Bangladesh went from strength to strength and saw more or less consistent rise in GDP growth. Most recently, Bangladesh's GDP growth touched the eight-plus mark when it recorded 8.13 percent in the fiscal year 2018-19, the highest in the country's history, according to the finance minister who made the revelation while releasing a provisional estimate.
Unfortunately, we seem to have become far too comfortable taking solace in rising GDP growth, even as we remain in the dark about the methodology of the calculation of these growth rates.
It is not to say that achieving higher GDP is fruitless or that we shouldn't have aspirations to increase overall economic activity. But the problem is that at some point along the way, we have ended up reducing the very concept of development to soaring GDP growth rates, and forgotten about the very purpose of development itself: improving people's wellbeing.
Thankfully though, there now seems to be a growing realisation of our tunnel vision of what development is supposed to be, and more and more people are beginning to see through the veneer of GDP growth and scrutinising, as they should, the quality of this growth. If the benefits of development are meant to reach everyone, then what the Gini coefficient tells us is extremely worrying. The rich are only getting richer. In fact the Gini coefficient only scratches the surface.
A deeper look into the HIES data reveals the urban-rural divide as well as variations in regional poverty. For example, the average monthly household income in rural areas (Tk 13,353) is below the national level (Tk 15,945) while that of urban areas (Tk 22,565) is above the national level. While the national poverty rate as of 2016 is 24.3 percent, the much higher poverty rates of districts like Bandarban, Dinajpur, and Kurigram (63.2 percent, 64.3 percent, and 70.8 percent respectively), in contrast to Dhaka's poverty rate of 10 percent, tell a very different story. An inbuilt Dhaka-centric bias when it comes to assessing development and poverty may help paint a prettier picture but it only serves to distract from the harsh countrywide realities.
The majority of Bangladesh's population still live in rural areas where access to essential services such as healthcare and education ranges from non-existent to limited; and even in the rural pockets where these services are available, quality of education, healthcare and infrastructure is far from perfect. There are simply too many problems to contend with. For instance, deficiencies in logistics, staff absenteeism, and poor supervision, among other factors, have seriously compromised the quality of healthcare in rural areas. Numerous upazila and union health complexes suffer from a lack of physicians who are unwilling to live and work in villages. (In fact there is intense lobbying by doctors to be transferred from villages to cities.)
Granted that we have made significant strides since independence: universal primary education, tackling child and maternal mortality, etc. And understandably, we continue to hark back to these past successes to show how much we have progressed. But for how long? When are we going to start looking ahead instead so that we realise how much we should have achieved by now had entrenched corruption not eaten away at our potential? At a time when aspirations of reaching middle-income status have taken centre-stage, the rich-poor/urban-rural/urban middle class-urban slum divide in terms of access to quality education and healthcare is in fact quite shocking and not compatible with a country that is supposed to be on the trajectory of reaching middle-income status. It's ironic that we have no qualms about basking in the glory of GDP growth or talking about graduating out of developing country status when we haven't even been able to ensure something as basic as proper maintenance of primary school buildings in rural areas, security of girls and women travelling in buses or studying in madrasas, stability of the banking sector, reduction of corruption in public institutions, or even the quality of roads and pavements.
We must realise that human development (which includes health, education, physical environment, and freedom) is the hallmark of development—not increase in GDP per capita or the increase in the number of ultra-rich individuals—which will ultimately help level the playing field. What we need is a policy framework that can help formulate inclusive policies to address social inequalities. As long as significant investments aren't made in education, healthcare, and physical infrastructure; as long as enough jobs aren't created; as long as institutional corruption remains intact; and as long as nepotism and political clout trump meritocracy, the gaping rich-poor divide will only get larger and the quality of life of the majority will not improve in any meaningful way. Bangladesh stands at a critical juncture with an enormous working age population on the one hand, and millions of youth desperate for employment on the other. Their future, and the country's, is at stake.
One can only hope that the finding of the latest HIES on record-high inequality in Bangladesh will be a wakeup call for policymakers to stop relying on and publicising GDP growth alone to justify the business-as-usual approach. One can only hope that just as ministers don't shy away from boasting about high GDP growth rates, they will take note of this alarming finding about rising inequality, as revealed by the survey conducted by a government body no less, and formulate strategies on what the government is going to do about the unequal distribution of developmental benefits. We, as citizens, reserve the right to know, with full transparency, the government's plans on how this widening gulf between the rich and the poor is going to be bridged. What the government must not do is ignore what the HIES data has revealed.
It's time we went beyond nomenclatures and numbers and percentages that do not reflect the realities of those who have been left behind in the race to development.
---
Nahela Nowshin is a member of the editorial team at The Daily Star.
---
Follow The Daily Star Opinion on Facebook for the latest opinions, commentaries and analyses by experts and professionals.
To contribute your article or letter to The Daily Star Opinion, see our guidelines for submission.
---