Why we need to manage talent in the public sector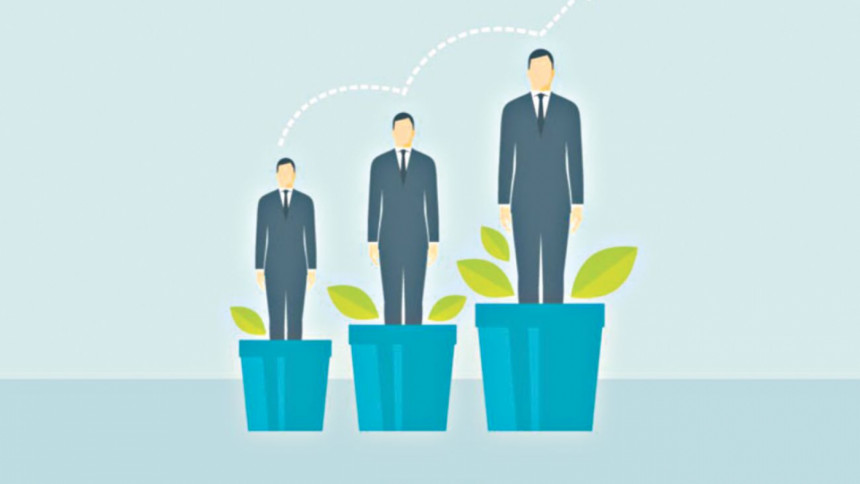 A few years ago, a bureaucrat friend of mine received a scholarship from the Department for International Development (DFID) to study at a top ranked university in the UK. He studied a subject relevant to him and successfully completed his post-graduate degree with distinction. Unlike the Bangladeshi university grading system, which are "fail, third class, second class, and first class," the UK master's degree grades are "fail (below 49), pass (50–59), merit (60–69), and distinction (above 70)." However, when he returned with his qualifications, he did not acquire the position and the area that he deserved. He was transferred to a poorly developed area which did not match the credentials he had acquired in university and this disappointed and demotivated him.
The case above is just one selected from thousands of civil servants in Bangladesh who were granted scholarships from different countries and international organisations such as the UK through DFID, Japan by the Japan International Cooperation Agency (JICA), and Australia by Australia's Agency for International Development (AusAID), who then returned after successful completion of their degrees and were rewarded with practically nothing. Subsequently, I consider it important to understand the significance of human resource management and, in particular, the time to change attitudes towards talent management in the Bangladeshi public sector organisations.
Talent management (TM) is a relatively new phenomenon and a burning topic for HR professionals in all kinds of organisations. For me, perhaps, the most acceptable definition of TM is provided by the Chartered Institute of Personnel Development in the CIPD factsheets titled "Talent Management", which defines talent management as "the systematic attraction, identification, development, engagement, retention, and deployment of those individuals who are of particular value to an organisation, either in view of their 'high potential' for the future or because they are fulfilling business/operational roles." Considering the definition, the provided case demonstrates all these components, such as continuous professional development along with high potentiality, which can help one to meet the desired performance targets in a pertinent position in the public service domain. The scopes of talent management are recruitment and selection, training and development, employee retention through reward management, and workforce planning (deployment of talented people). The goal is to meet the performance target and leadership development. However, without any confusion, talent management is a branch of human resource management. TM only works with individuals with high potential where the HRM is concerned about the management of the overall workforce.
Like other countries, Bangladeshi public-sector employees have a significant role in the nation-building process through executing public policy and administering public services which help the country run smoothly. Civil servants, especially BCS cadres, play leadership roles which require skills, abilities and personal qualities. The reality is that most civil servants have the required skills, abilities, and personal qualities required to perform their job, but not all of them are talented. Therefore, TM must be developed for the civil service in Bangladesh to improve the current position of the country, which is currently suffering from resource scarcity, poverty, and a high unemployment rate and has a bureaucratic culture where there is corruption, authoritarianism, a centralisation of authority, elitism, a lack of transparency, a lack of accountability, citizens who are treated like children and a resistance to change. With proper talent management, Bangladeshi civil servants could improve their performance and productivity, improve job satisfaction, establish employee well-being and enterprise and sense of innovation.
In May 2016, the UK Commission for Employment and Skills (UKCES) carried out a survey titled, "Employer Skills Survey 2015: UK Results." The study revealed that 69 percent and 48 percent of participants' organisations pointed out that "a lack of funds" and "the inability to release staff due to time constraints," respectively, are the two major challenges for TM. Similar challenges exist in Bangladesh which hamper the success of TM in the public sector.
So what needs to be done?
Considering the HRM strategies and TM in public sector, the government and the relevant department can take the initiative to review HRM policy in public sector organisations and create a proper workforce plan to promote TM in public service by placing the right talented people, with the right skills, at the right time.
To attract the most talented people in public service, the government of Bangladesh must reform the recruitment and selection process in BCS including limitation of the quota system.
Although the Bangladesh Public Administration Training Centre (BPATC) has remained a knowledge hub for the development of public service employees, more investment in training and development in the process of leadership development through TM is required for the Bangladesh public sector, which would help to produce more talented bureaucrats.
A fair evaluation system, free from nepotism, is required to find the right talented people and match them to a suitable purpose. The evaluation of the talent hunting process for existing employees could be carried out quarterly or every six months. From the evaluation process, employees could be selected for training and development as well as for promotion.
Inclusive (managing talent for all employees) and exclusive (managing talent for only high-potential and high performing employees) are two different approaches widely exercised by HR professionals. Considering the challenges to TM such as "lack of funding" and "the inability to release staff due to time constraints", the exclusive approach of TM is justified for the Bangladesh civil service.
Different countries and agencies, such as the UK by DFID, Japan by JICA, and Australia by AusAID, are helping Bangladeshi civil servants and others to fulfil their international development agenda within the process of HRD. These international government agencies invest in people of developing countries in good faith so that their initiatives help recipient countries develop socially and economically and to further strengthen the people-to-people bonding between countries. These international efforts will be wasted unless our policymakers, along with senior bureaucrats, step-up to make changes in human resource management and talent management policies and strategies for public sector employees.
They need to consider the proper utilisation of talented civil servants according to their knowledge, experience, and skills with an aim to make dramatic changes in the development of Bangladesh. Our bureaucratic culture will change enormously if the attitudes towards TM improves.
---
Mohammad Omar Faruk is a human resource consultant based in London.

Email: mohd.o.faruk@gmail.com
---
Follow

The Daily Star Opinion

on Facebook for the latest opinions, commentaries and analyses by experts and professionals.
To contribute your article or letter to The Daily Star Opinion, see our

guidelines for submission

.
---