For the US, a year that will live in infamy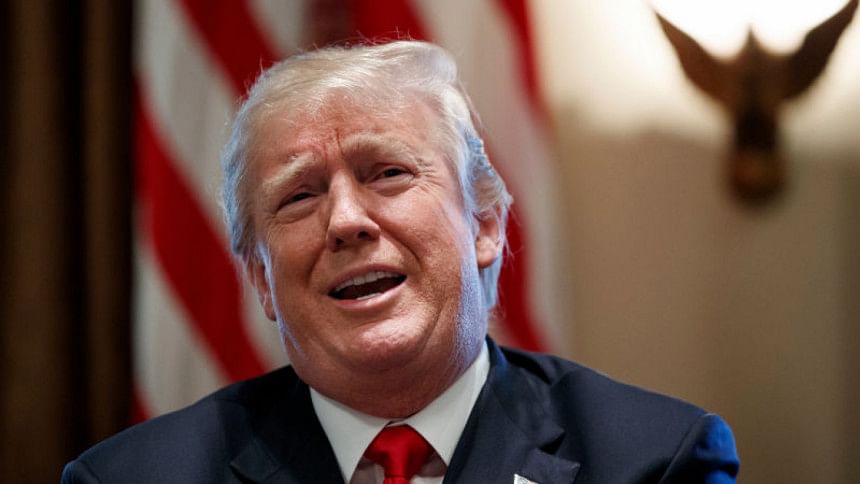 Two events that bookended the year 2017 epitomise the dire political predicament the United States faces.
On January 20, with Donald J Trump sworn into office as US president, the White House was occupied by arguably one of the most vacuous leaders in recent history. On December 22, Trump signed into a law a tax "reform," a shameless giveaway to corporations and the uber rich, while saddling future generations with a mammoth USD 1.5 trillion deficit over the next 10 years.
Almost immediately after inauguration, Trump removed any doubt to an appalled world about his disregard for fact. His administration made demonstrably false claims that attendance to his inauguration was the largest ever. Within a few days, Trump claimed that he had the lost the popular vote due to millions of fake votes—again a demonstrably false claim.
It's been downhill ever since, and what a breathtakingly steep incline it has been!
The limited scope of this article is barely enough to scratch the surface of the horrors visited upon a country I now call home. I will just make a few points to help readers draw a broad impressionistic picture of the crisis of governance in the world's most powerful nation.
Only the most indefatigable optimists had hoped that Trump would surround himself with competent people who would protect him from his worst impulses.
Alas, Trump's administration has been a bizarre parade of appointees coming and going.
White House press secretary Sean Spicer, saddled with the unenviable job of defending the most flagrant lies, could not handle the heat (who could?) and quit. National Security Adviser Michael Flynn quit after he admitted to lying to the vice president. White House Chief of Staff Reince Preibus left after being called a "paranoid schizophrenic" by newly appointed communications director Anthony Scaramucci. Then Scaramucci got fired even before officially starting his new job after an interview to The New Yorker magazine during which he aimed colourful epithets at his enemies, suggesting anatomically impossible carnal acts.
Then there was the high drama of the exit of Trump's eminence grise Stephen Bannon, a rabble-rousing bomb-thrower from the nutty right-wing fringe. Bannon, Trump's campaign manager and chief strategist, was unceremoniously thrown out after one bitter internecine fight too many.
Health Secretary Tom Price left because he was jetting about on charter planes on the government's dime; former reality star Omarosa Manigault reportedly had to be escorted out of the White House after being fired.
Meanwhile, Trump has one remarkable if dubious accomplishment: The US media has been forced to break out of its traditional deference of the office of the presidency and call the current president a liar. Trump misrepresents the facts so often, and so flagrantly, that it's become simply impossible to do serious, meaningful reporting without facing up to the fact.
A whopping 700 employees, including 200 scientists, have left the Environmental Protection Agency. The New York Times wrote in a scathing editorial: "From Day 1, the White House and its lackeys in certain federal agencies have been waging what amounts to a war on science, appointing people with few scientific credentials to key positions, defunding programs that could lead to a cleaner and safer environment and a healthier population, and, most ominously, censoring scientific inquiry that could inform the public and government policy. Even allowing for justifiable budgetary reasons, in nearly every case the principal motive seemed the same: to serve commercial interests whose profitability could be affected by health and safety rules."
Those who point the finger at Trump alone miss the broader point. Trump is awful enough, but what's more ominous is a complete failure of the Republican Party to stand up to him. The signs of the deep rot are all over the place.
Take Trump's remarks following a confrontation in August in Charlottesville, Va., between white supremacists and their critics. After a white supremacist rammed his vehicle into a crowd and killed a woman, Trump's egregious remark that there were good people on both sides scandalised the nation. Yet Republican protests was remarkably muted. Trump's sharpest Republican critics include Arizona Sen. Jeff Flake and Tennessee Sen. Bob Corker. It's not coincidental that both have chosen not to run for office.
The unsavoury fact is that the brutal electoral math precludes any confrontation with Trump. Republican office holders can ill-afford to antagonise Trump supporters.
Critics of the Republican Party—and not all of them are partisan critics—are not unjustified in a bit of schadenfreude. This is what happens when a party indulges in decades of thinly-veiled nativism and prejudice. When you're quite happy to harvest votes by riling your supporters with scorched-earth polemics, when you cut a devil's bargain with a rabid, talk-show culture devoid of civil debate and oozing with bigotry and animus, you end up with Trump.
So where do we go from here?
There are increasing signs that a huge wave of Democratic support is rising in the US. This is evident in the spate of retiring Republican lawmakers. Alabama, a deeply Republican state, elected its first Democratic US. senator in a quarter century. Virginia, a Southern state with a lopsided Republican majority in its state legislature, was swept by Democrats who have almost achieved parity. With Trump's approval stuck in the high 30s, there is a strong possibility that the House may flip to Democrats come November.
The deeper malaise in politics, however, remains. A toxic culture of conspiracy, outright racist animus is thriving in a rural hinterland in deep economic distress. Trump has poisoned the well so badly that it is not clear how sanity in governance can be restored during a time when America faces its most serious socio-economic crisis in generations.
---
Ashfaque Swapan is a contributing editor for Siliconeer, a monthly periodical for South Asians in the United States.
---
Follow

The Daily Star Opinion

on Facebook for the latest opinions, commentaries and analyses by experts and professionals.
To contribute your article or letter to The Daily Star Opinion, see our

guidelines for submission

.
---