Can India and China find a new template for their ties?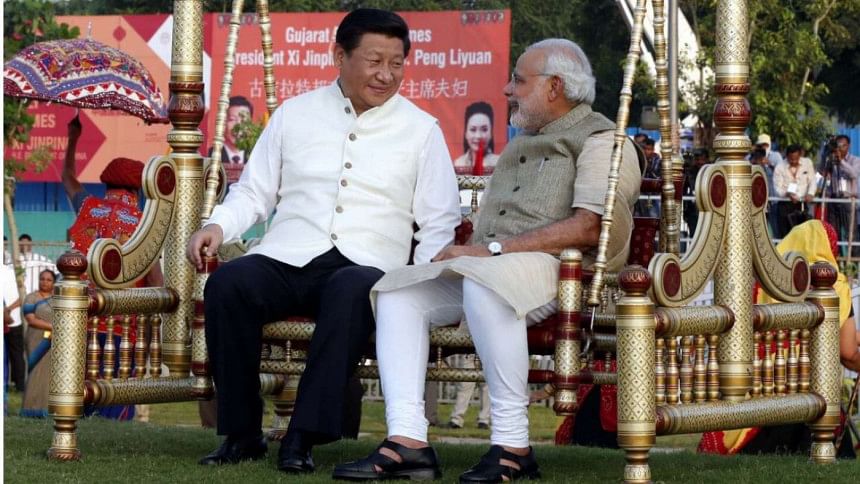 One of the most enduring images from the first-ever meeting between Indian Prime Minister Narendra Modi and Chinese President Xi Jinping less than four years ago was that of the two leaders sitting together on a swing on the riverfront of Sabaramati river in Ahmedabad city of Gujarat. That was Modi's way of welcoming Xi who had begun his maiden tour of India with a visit to Modi's home state. On April 27 and 28 this year, the two leaders would again come together—this time at a sprawling villa by the Yangtze river in the picturesque Chinese city of Wuhan.
This will not be the first summit meeting between Modi and Xi—they had met a number of times in the last four years. Nor will this be the last because the two leaders are meeting once again in June in China on the sidelines of the multilateral Shanghai Cooperation Organization summit. But will the long journey from the Sabarmati river front to the Yangtze river bank for an informal meeting help reduce the chasm between Asia's two nuclear-armed giants? The two summits in two months are being seen as a major breakthrough in Sino-Indian relations, irrespective of their outcomes.
According to Alka Acharya, a teacher at the Centre for East Asian Studies at Delhi's Jawaharlal Nehru University, "the bilateral tete-a-tete may well prove a game-changer." She is not alone in being upbeat about the forthcoming Modi-Xi meeting. Much of the Indian media and the strategic community are too. Not that one informal summit between the two leaders will solve the major bilateral problems, including the unresolved border dispute, between India and China. And almost everyone you talk to in Delhi will acknowledge this. The main questions being discussed is: one, can Modi and Xi set a new paradigm of Sino-Indian relations, and two, can the two leaders set in motion the building of a new template of bilateral cooperation shedding the historical bitterness, mutual suspicion and baggage of sharp differences on a range of issues?
The most recent acrimony between India and China was the stand-off between their militaries on the Doklam plateau, a narrow strip of land high up on the eastern Himalayas claimed by both China and India's ally Bhutan. The standoff was in sharp contrast to the Modi-Xi bonhomie witnessed on the Sabarmati river front in September, 2014. The Doklam faceoff saw the two militaries in a eyeball-to-eyeball situation for two and half months since June last year, before they stepped back as their diplomats worked overtime to resolve the worst crisis in Sino-India ties in a very long time.
For a better part of last year, even before Doklam, Sino-India ties had been strained following Tibetan spiritual leader Dalai Lama's visit to the north-eastern Indian state of Arunachal Pradesh (a region China claims). China had cancelled a visit by its Foreign Minister Wang Yi to India last year in April for a trilateral meeting and stopped sharing the hydrological data of the Brahmaputra river from the middle of May last.
Many experts believe it is a sign of maturity that India and China resolved the Doklam standoff diplomatically and not a single shot was fired by either side. Also, they managed to retain a working relationship and within a month of the end of the confrontation, Modi had travelled to China to attend the BRICS (Brazil, Russia, India, China South Africa) Summit.
It is not just the dispute over the 3,488 km border running through the Himalayas that has bedevilled Sino-India relations for decades. India's providing shelter to Tibetan spiritual leader Dalai Lama and hosting the Tibetan- government-in-exile (though not recognised by the Indian government), which China consider separatist, India's reservations against China's helping Pakistan in the latter's nuclear and military programmes, and China's growing economic footprints through infrastructure projects in South Asia and the Indian Ocean region are among the other major irritants between the two countries. China's construction of an economic corridor that traverses through Pakistan-occupied Kashmir and opposition to India's joining the high table of the Nuclear Suppliers Group have also riled India.
Given the divergences on a host of issues, the fact Modi and Xi are meeting again is viewed in New Delhi and Beijing as reflective of resilience in bilateral ties.
As Modi and Xi prepare to meet in an informal setting in Wuhan, the positive vibes about the course of future ties between India and China are back. The ground work for the coming summit had been in the works for the last few months with India's National Security Advisor Ajit Doval and Foreign Secretary Vijay Gokhale visiting China earlier this year and India's External Affairs Minister Sushma Swaraj and Defence Minister Nirmala Sitharaman are now in Beijing on official visits. Chinese Foreign Minister Wang Yi, Chinese Communist Party politburo member Yang Jiechi and Chinese Vice Foreign Minister Kong Xuanyou were in India last year and this April respectively. The main purpose behind the flurry of high-level visits was to do the spadework for Modi-Xi interaction. The signs of thaw are already visible. After talks with Wang last Sunday, Swaraj announced China would resume sharing hydrological data of the Brahmaputra and the Sutlej river flowing through certain states of India including Himachal Pradesh, Punjab and Jammu and Kashmir.
What is the basis for optimism of a turnaround in Sino-India ties and what will be the outcome of the Modi-Xi meeting? Some years ago, the then Indian Prime Minister Manmohan Singh had said there is enough space for India and China in Asia to grow together, suggesting the competition between them as rising global powers need not run counter to cooperation between them. In Beijing, a couple of days ago, Swaraj and Wang spoke in similar veins when they agreed that India and China have commonalities that outweigh divergences. The question is: what could be the glues to Sino-India cooperation?
Experts believe it is the search for a new international economic order following US President Donald Trump's threat of a trade and tariff war against both China and India. India and China share a common stand on the problem of climate change, though both are seen as among the biggest emitters of greenhouse gas. They do not want to be pressurised into scaling down their developmental programmes in the name of reducing greenhouse gas. On the issue of Trump's trade war also, India and China find themselves on the same side of the hike in US tariffs on imports from them because it would hit their exports in varying degrees.
However, India and China are also in race with their respective great power ambitions on the military and economic fronts. Can the two countries then work to ensure that their aspirations for increasingly greater say in international affairs do not retard their cooperation in areas of common interest. If India is apprehensive of being encircled by China's one belt one road programme, China is suspicious about India, the US, Australia and Japan trying to form quadrilateral for an alternative to that, particularly in the Indo-Pacific region.
It is fallacious to think India and China will join hands to counterbalance US unilateralism. The US is the number one choice of both India and China in economic relations. For at least now, India and China have realised that there is a need for a greater interaction between their top leaders in a world staring at increasing uncertainties in the wake of the strained relations between Russia and the US. But can this quest for reshaping the world order be strong enough to reorient Sino-Indian relations for the better?
In March this year, the Chinese Foreign Minister had remarked that the Chinese dragon and the Indian elephant must not fight but dance with each other and that if the two countries are united then one plus one will not add up to  two but eleven. Such a grandiose vision is more rhetoric than pragmatic.
Pallab Bhattacharya is a special correspondent to The Daily Star.