Just being brilliant is not enough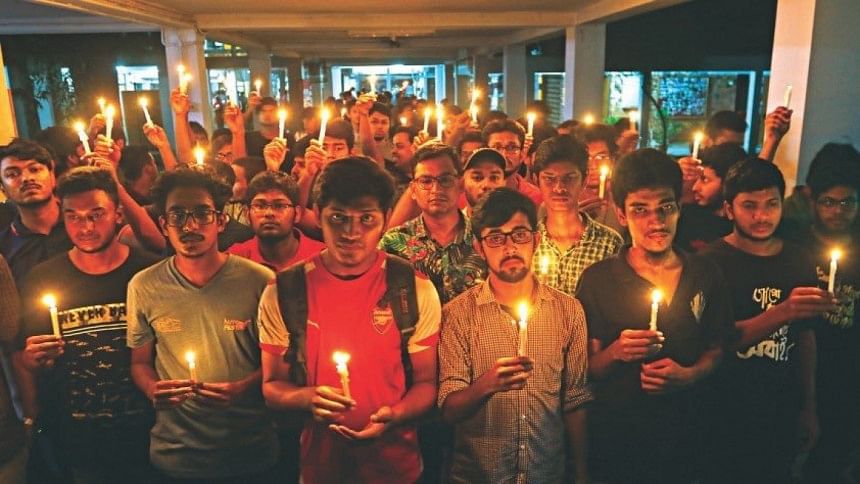 In general, the top meritorious students of our country study science in higher secondary school after passing the secondary school final examination. Among them, the top ones normally study engineering or architecture at Bangladesh University of Engineering and Technology (Buet). Buet can thus legitimately claim to possess the highest concentration of the most brilliant students of the country. Naturally, our expectations about Buet are very high. Buet has indeed produced some top-grade engineers and architects who have excelled in their profession both at home and abroad. How does this success stand in the backdrop of a recent incident at Buet that is being widely discussed in the media?
I am, of course, referring to the brutal killing of Abrar Fahad, a second-year student of Electrical and Electronic Engineering Department at Buet by his fellow students. This incident has shocked the conscience of the people both within and outside Bangladesh. Being members of the Buet Alumni Association, we are at a loss to understand how such an incident could occur at an institution where we once studied more than five decades ago? What went wrong at Buet where a group of about 18 senior students could beat a fellow junior student to death? The environment at Buet and the attitude of the students must have changed drastically over the years. To explain the difference, I would like to go back to my student life at Ahsanullah Engineering College (AEC) during 1957-1961. It may be recalled that the AEC was upgraded to Buet in 1962, a year after my graduation.
During our time, there was no students' organisation at AEC with affiliation to any political party. Discipline was so strict that there was not a single strike at AEC when we studied there. We never abstained from a single lecture and never agitated for changing the date of any examination. It should be noted that all semester final examinations were completed mostly in a week's time and it was normal to hold two examinations in a single day.
We had regular elections to the college union and also to the residential hall unions where two panels used to contest without any interference from any political party. All elections were conducted peacefully and in a friendly manner. There are instances when two contestants for the same post canvassed together while visiting the rooms of the students.
The term "ragging", as it means now in this part of the world, was unknown to us. We were never treated badly by our senior students. As a matter of fact, they treated us with kindness and affection. We also respected our seniors like our elder brothers. There was never any instance of any junior student being bullied or subjected to any mental or physical torture by any senior student. It was unimaginable at that time. As I read in newspapers, it has now become a common practice in most institutions of higher education. There has been very little effort on the part of the concerned authorities to stop this menace. It has reached a stage that incidents of ragging are not even reported to the authorities for fear of reprisals. As a result, we hardly have any statistics on ragging in Bangladesh and there is no legislation to curb ragging in educational institutions. In neighbouring India, following a Supreme Court Order, a National Anti-Ragging Helpline was created to help victims report cases of ragging to the head of the institution and also to the local police. As per Indian University Grants Commission regulations, it is mandatory for a college to register a First Information Report with the police against the culprits if any violence, physical abuse, sexual harassment, or confinement, etc., takes place with any fresher. It is time to introduce a similar helpline with appropriate regulations in Bangladesh.
What has happened at Buet recently is not just ragging. This is cold-blooded murder not by one or two students, but by a group of students consisting of not less than 18 participants, though all of them didn't take part in the beating. Some of them beat him mercilessly with a skipping rope and a cricket stump. They didn't stop beating even when Abrar started to throw up and felt very bad. When Abrar's condition deteriorated severely, they thought he was feigning. During the beating, some of the culprits went to the canteen for dinner and came back to resume the beating. Finally, Abrar died due to excessive internal bleeding. Nobody gave him a glass of water even though he cried for it before passing away.
I wonder how so many "brilliant" students could collectively commit such a heinous crime and none among them uttered a single warning saying that they were not doing the right thing! Where was their conscience? Did they all lose all human values, if they had any, at the same time? What did they learn from their parents and teachers? Are they getting the right kind of education? If they did, could they commit such a crime collectively?
All parents, teachers, members of the civic society and policy planners must put their heads together to find out what went wrong in our education system. I think we all put the wrong priorities in educating our children. While sending our kids to school, we all expect to see their names at the top of the class merit list. This is where the parents and teachers put their utmost emphasis. Do we ever tell them to become good human beings first? This is our mistake. Being a brilliant student is not enough unless one becomes a good human being first.
It is time now to redesign our education system putting the highest priority on inculcating human values first. Topping the merit list should be of secondary importance. This will cure us from many diseases which have practically paralysed our society. Murder, rape, corruption, addiction to drugs, etc., have become daily affairs now. Law enforcing agencies alone can't keep such crimes under control. What is the solution then?
To curb such crimes, ethics and morals should be taught as a compulsory subject at all levels in our education system. Parents and teachers must set examples for their children and students while teaching ethics to them. Parents who are reputed to be corrupt or involved in crimes cannot expect their children to be honest and clean since children normally try to copy their parents. Students should be encouraged to be involved in different humanitarian and social activities like teaching street children, collecting and distributing clothes to poor children, participation in cleanliness and tree plantation activities in their locality, creation of awareness about the importance of personal hygiene, sanitation, etc. Simultaneously, they should be encouraged to take active part in sports, literary and cultural activities to divert their minds from unsocial activities. All such extra-curricular activities plus good personal manners and behaviour of students should be regularly monitored and graded like their performances in different subjects.
Bangabandhu Sheikh Mujibur Rahman, the Father of the Nation, realised the importance of creating "golden people" (shonar manush) to build "golden Bangla" (shonar Bangla). Obviously, the golden person must possess the best of human qualities, not just a brilliant academic record.
Abdul Matin is former professor, Dr Rashid Chair, Buet.