Why such disregard for directives on foreign trips?
Government must take action against officials violating the restriction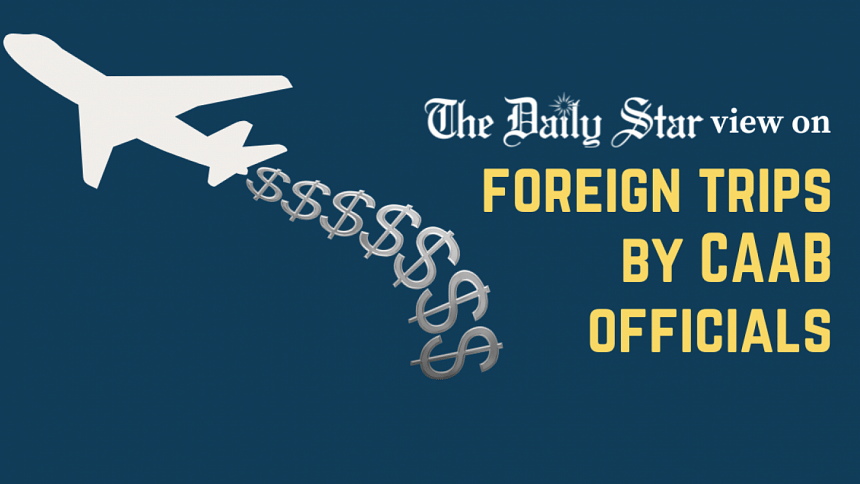 It is inconceivable that despite calls by the prime minister for government employees to observe austerity involving foreign exchange such as public projects and foreign trips, some are ignoring the directive. According to a report by The Daily Star, as many as 39 officials of the civil aviation ministry and the Civil Aviation Authority of Bangladesh (CAAB) made over 50 foreign trips during the 2021-22 fiscal year, which cost around Tk 1.5 crore. In mid-July, we were surprised to learn of foreign trips made by officials of the Chattogram Water Supply and Sewerage Authority (CWASA), including its managing director, as part of a project that had over 80 percent of its physical work already completed.
It should be mentioned that the government banned non-mandatory official tours to ensure the best use of scarce resources amid the ongoing economic crisis. According to our report on aviation employees, the list of officials who went on trips included the civil aviation secretary and CAAB chairman. Reportedly, these officials went abroad despite there being no urgency, but merely to attend seminars, conferences, and workshops, or to enjoy air-shows or product demonstrations. In case of CWASA, the purpose apparently was to train and inspect some factories. In other words, those were simply pleasure trips coated in official excuses, undertaken at a time of national crisis, using public money that should have been saved for better use.
The question is: How will the "experience" thus gained help the work or sectors of the relevant public officials? In the wake of the financial crisis stemming from the pandemic, the government had also ordered all routine foreign tours to be abandoned, except for those involving emergencies. On July 1 last year, the finance ministry issued a circular on this, suspending 50 percent allocation for tours, saying the money can only be spent for unavoidable purposes. We see neither "emergency" nor "unavoidable purposes" in these recent tours. The CAAB chairman remains ahead of all other aviation officials when it comes to foreign trips. After him comes the secretary of civil aviation. And lo and behold, even the personal secretary of the state minister for civil aviation visited a country to attend a seminar.
This is totally unacceptable. We urge the higher authorities to strictly monitor the activities of all government agencies to ensure compliance with the travel restrictions. Public officials also should use better judgment before making such decisions or using hard-earned taxpayers' money to ensure it only serves public interests, and no one else's.