Why are corrupt govt officials being rewarded?
From unchecked neglect of duty to Integrity Award in six years!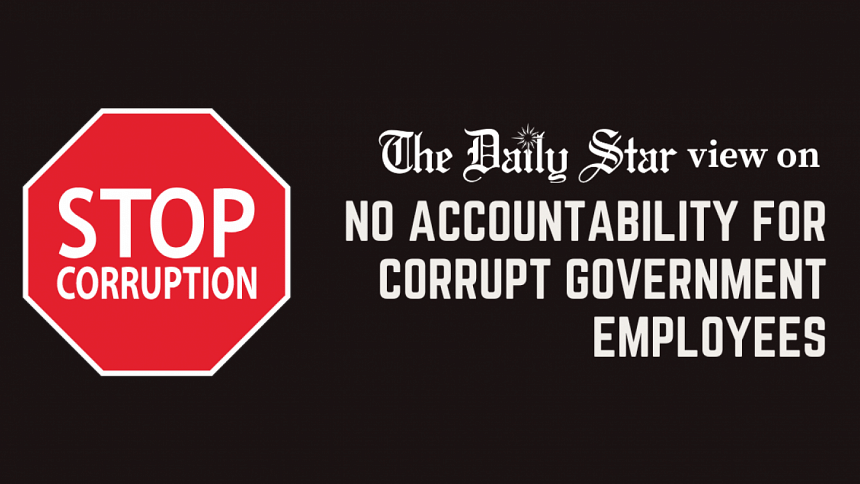 It is disappointing, though hardly surprising, to know that corrupt government officials are getting away with their misdeeds with barely a slap on the wrist. The newest "shining" example of this phenomenon concerns the Bangladesh Land Port Authority, under the shipping ministry. Reportedly, Mohammad Mahfuzul Islam Bhuiyan, deputy director of the organisation, was reprimanded in a departmental case in 2014 for negligence of duty. But in 2020, he became the recipient of the organisation's Integrity Award. One can only wonder the amount of good the official must have done in the span of six years to undo his spotty record so well. And he is not alone. Kabir Khan, another land port officer, has received a recommendation to be promoted to deputy director of planning for the organisation, even though he has been accused of corruption, irregularities, and sexually harassing a female colleague in the past. According to the victim of his last misconduct, no action was taken against him, despite her filing a complaint with the then chairman of the land port authority.
Of the 58 people accused in departmental cases by the land port authority, 32 were acquitted. Accusations against these officials ranged from misconduct, theft and embezzlement to neglect of duty. The most "severe" punishment any of the accused received was a suspension. This is due to the predictable fact that most of the accused are able to bend the rules of the organisation to avoid being sentenced for their misdeeds. What is most abominable is that the authorities' failure to punish corrupt officials extends to allowing those who have sexually harassed female colleagues to get away scot-free.
Even if the land port authority Chairman Md Alamgir's claim that most such cases are often the result of power struggle between officials is true, that is still concerning. Why are the people meant to serve the public's interest so hell-bent on climbing the ladder to get to higher positions? Are they unable to serve the public well from their current positions? Can they only do their jobs better by dragging down fellow officials? If so, there is something insidiously wrong with the system.
We hope the Anti-Corruption Commission's (ACC) ongoing investigation into the matter will face the accused officials with due justice. But the nonchalance of the land port authority is also something that needs to be checked by the government. For the government authorities' attitude towards corruption to be so lax is a detestable disservice to the public.