What is the point of attacking BNP rallies?
The ruling regime must ensure opposition's constitutional rights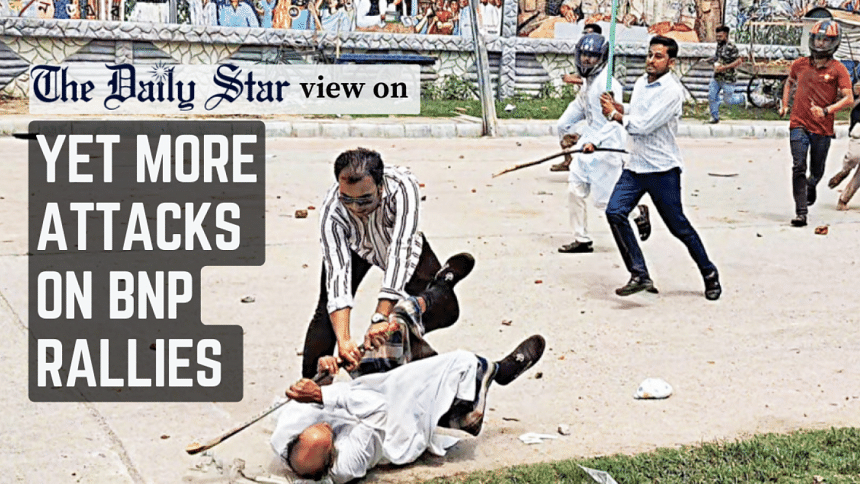 As the next parliamentary election approaches, it is becoming increasingly clearer that the promises of a "level playing field" for the opposition are nothing beyond mere rhetoric. Yet again, BNP rallies in at least four districts have allegedly been foiled by members of the ruling party and law enforcement agencies. According to our report, at least 40 people were injured in Khulna, and at least 30 people in Patuakhali town, with the police using firearms and tear gas shells during clashes between AL and BNP activists during the first two days of the latter's countrywide demonstrations. BNP members also alleged that members of the ruling party, aided by police, attacked them in Rajbari, Netrakona and Mymensingh.
In an inevitable unfolding of the narrative, law enforcers have claimed that it was the BNP activists who started attacking members of the ruling party and the law enforcement. They have already filed cases against 48 BNP activists and hundreds of unnamed people in Khulna, and are planning to do the same in other districts. We may have had doubts about the veracity of the BNP's claims, had similar incidents of provocation and violence not taken place across the country over the past year whenever the party declared agitations. At this point, it seems almost futile to ask what logic there might be in BNP attacking law enforcers and risking mass arrests at such a crucial time of their movement. It is even more pointless to have to point out the uncanny coincidence of AL holding counter-programmes at the same place and time as the BNP, resulting in inescapable clashes.
Surely, the ruling regime understands that the more it attacks the BNP, the less reassuring its promises of ensuring a free, fair and participatory election appears to those concerned. If it cannot even provide space for an opposition to carry out its constitutional right of freedom of expression and assembly, how can we be confident that it can take a backseat and allow the Election Commission to do its job during the elections? The only way it can convince anyone of its commitment to a fair election is by engaging in fair play. Unfortunately, the AL and its prominent leaders seem more bent on playing their usual game of confrontation and intimidation, and in the process, proving the BNP's claims that a fair election is simply not possible under the present government.
For all concerned, particularly the people of this country, we urge the AL to respect the constitutional rights of the opposition. They need to have faith in their own programmes and pledges to the people, instead of needlessly engaging in confrontational politics.