The long march to a level-playing field
Opposition parties must be allowed to hold peaceful political activities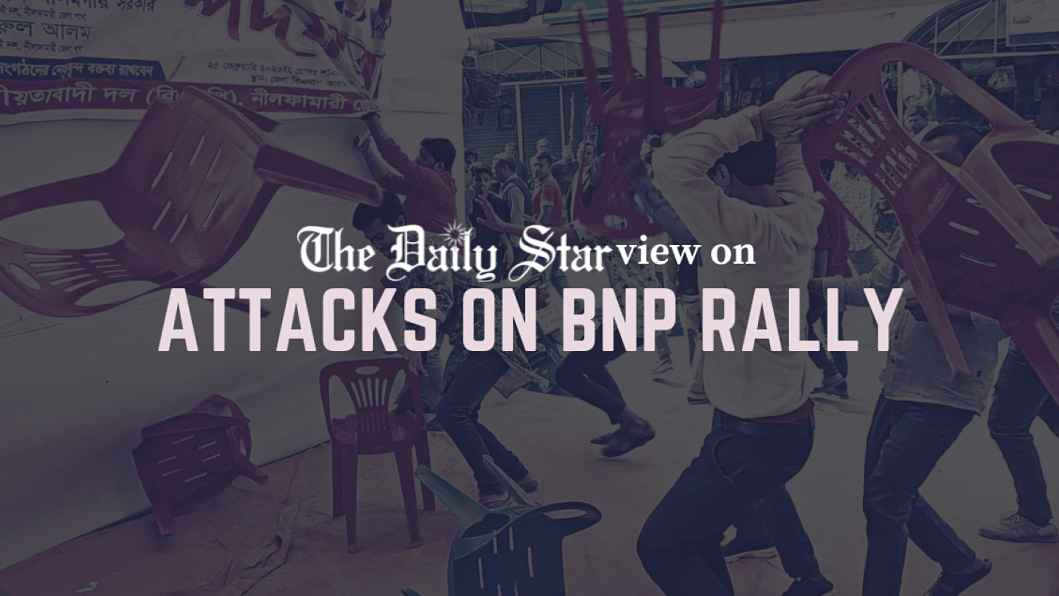 We are frustrated at how things are unfolding in the country's political field, as the 2024 national election draws closer. Despite there being assurances by the ruling party leaders, including the prime minister herself, that the opposition parties would be allowed to hold peaceful political programmes ahead of the election, and promises by the Election Commission (EC) of a level playing field, we are regularly getting news of attacks on various programmes organised by the BNP. Its latest programme – a road march across the country on February 25 – also faced a similar fate, in which at least 100 people, including six policemen, were injured and over 100 of its leaders and activists were held by the police. All these are ominous signs for a country whose people are hoping to see a free, fair and violence-free national election next year.
In the latest case, attacks were reported in Natore, Patuakhali, Jhalakathi, Bagerhat, Netrakona and many other districts. The police tried to justify their baton charges on the BNP activists by saying that they did so to clear the roads or that they were attacked first by the BNP activists; the BNP leaders and activists, on the other hand, claimed that their protest marches were largely peaceful and that the Awami League activists and the police attacked them without any provocation. The general secretary of Natore city unit BNP also claimed that the "Jubo League and Chhatra League men hurled the bombs from motorcycles" to scare them.
Around two weeks earlier, we witnessed similar incidents of violence in which at least 200 people, mostly BNP activists, were injured. While the BNP's programme was pre-scheduled – a march in every union parishad to press home its 10-point demand, including the next national election under a caretaker government – the Awami League also held "peace rallies" at the union level on the same day. And naturally, clashes took place among both party members.
From the way every political rally and programme of the BNP has been attacked, obstructed or countered by the ruling party men – often in collusion with the police – it is clear that there is no level playing field for the opposition parties in the country at present. Holding rallies and processions is a constitutional right of any political party. By attacking such rallies, resorting to violence, and countering the programmes of the BNP, what message is the ruling party sending to the opposition, voters and the world at large? If the ruling party is really sincere about holding a free, fair and inclusive election, it must allow the opposition parties to hold their political activities, sit in a dialogue with them and come to a consensus about holding the next election in a credible manner.
People are eagerly waiting for the political atmosphere of the country to change for the better. The government and the Election Commission must not continue to disappoint them.