Are we headed for a violent election year?
Continued violence in BNP events a worrying sign for all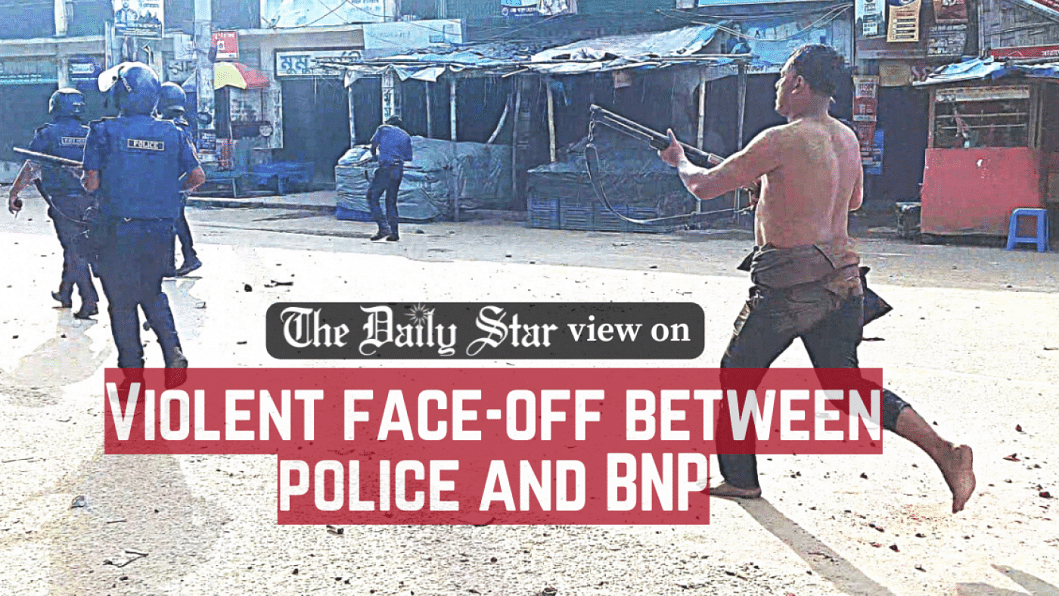 Once again, the street has been stained with blood. Once again, batons have been charged, teargas and bullets fired, and brickbats hurled. In the latest episode of political violence in Bangladesh on Wednesday, Munshiganj was witness to the return of a familiar terror that has engulfed BNP's month-old countrywide agitation that began on August 22, protesting against the price hikes of daily essentials including fuel and the deaths of several activists in police shootings. Only this time, it didn't seem like a one-party show. BNP activists seemed more prepared, more eager to ward off a marauding police force.
The authorities must prevent an escalation of violence if we are to have any chance of a political consensus over the fate of the upcoming parliamentary election. Political reconciliation, not violence or intimidation, is the way to that consensus. 
If this is a sign of things to come, we may once again be headed for a very tumultuous election year, with the ordinary people ultimately paying the price. According to media reports, in the latest incident, violence began, as it often does in opposition street programmes, with a face-off over forgettable reasons between police and BNP men holding rallies. After some heated arguments, police started to charge batons. The activists started to hurl brickbats. Police doubled down on resisting them. Activists tripled down on countering them. In the end, it turned into an hourlong bloody spectacle with 50-70 individuals injured, including BNP activists, police officials, and journalists. It's unfortunate to think that even such ghastly details may soon cease to matter because of their pointlessness and repeated nature.
Bangladesh, of course, deserves more from politics than strikes and sloganeering. But it also deserves more than a blunt, partisan response to political opposition based on grievances of the citizens. This is precisely what has been happening, however, as a rundown on the one month of BNP's countrywide movement shows. Reportedly, violent attacks have been witnessed in as many as 52 of its street events, with police and ruling party men collaborating in many cases. In 27 places, the houses, personal vehicles and business establishments of BNP men were vandalised. Multiple cases were also filed against them. Finally, in 18 places, section 144 was issued because of Awami League events overlapping with BNP's. The overlapping is of course orchestrated, a familiar strategy to foil opposition gatherings.
BNP leaders have recently signalled their willingness to match violence with violence. Several leaders have asked party cadres to join street events with clubs and rods to "defend" themselves against attacks. This can only mean an escalation which, together with anti-BNP provocations, must be avoided if we are to have any chance of a political consensus over the fate of the upcoming parliamentary election. Political reconciliation, not violence or intimidation, is the way to reaching that consensus. 
There is no denying that BNP, or any opposition party for that matter, has the right to peaceful assembly. The current strategy of Awami League to answer BNP's street mobilisation with force and provocations is not only in violation of its own commitment to allow opposition movement ahead of the election, but also a denial of an inalienable right guaranteed by the constitution. We urge the government and also the Election Commission to ensure that all parties are given equal political space with the bigger goal of a fair and peaceful election in mind.