Attacks on BNP are condemnable
Government must allow opposition to hold events without interruptions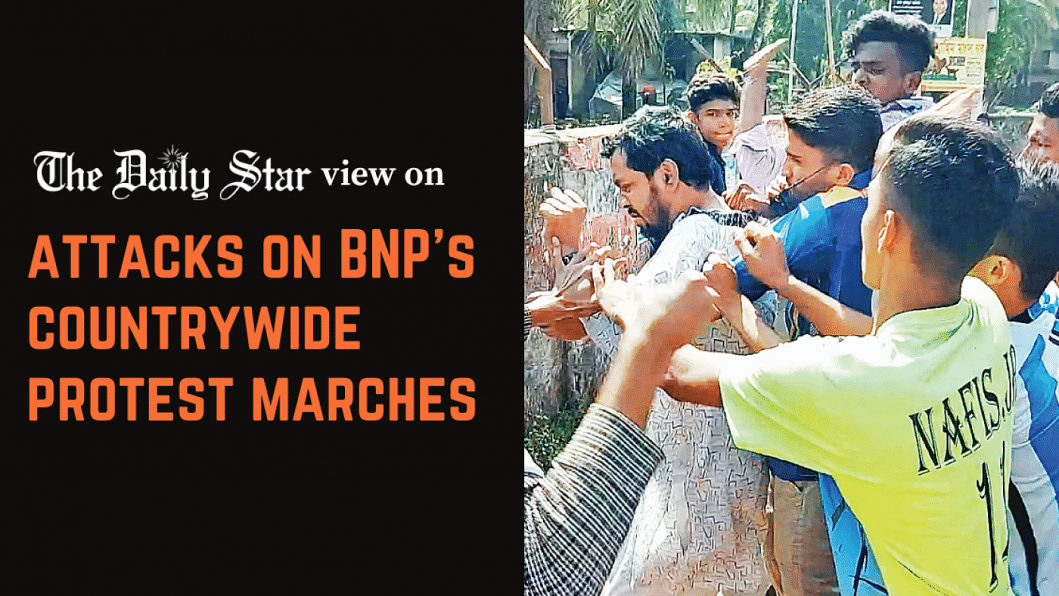 It's alarming how violence in the service of political objectives has been increasing in Bangladesh, especially after a resurgent BNP launched countrywide street programmes with various demands. Saturday's attacks on BNP's union-level marches were only the latest example. The threat of violence could continue to escalate the closer we get to the 2024 national election. But here's the thing: we can have democracy and consequently a peaceful solution, or we can have violence and consequently a political deadlock – we cannot have both. How long before our political parties realise this truth?
Right now, that question must be directed at the ruling Awami League, which organised what it called "peace rallies" on the same day, essentially as a counter-move to BNP's programme. As a result, clashes were reported in at least 15 districts, leaving about 200-300 BNP activists injured. Many activists were arrested as well. For BNP, the plan was to march in every union parishad to press home its 10-point demand, including holding the next election under a caretaker government. But then, AL men, together with police in many places, attacked or obstructed the marches. Reportedly, BNP offices and houses of party leaders were also attacked in some areas.
We have seen the same disruptive tactics employed by the ruling camp ever since BNP started to mobilise support for its latest movement. Holding rallies and processions is a constitutional right of any political party. But countering an event with another – and thus impinging on it, under pseudo-legal pretexts – is not. What this demonstrates is a political bankruptcy, and an unwillingness to accept the moral backing behind the demands for change. It is also a downright denial of political space to the opposition camp which is so essential for the next election to remotely meet the expectations of voters. After two highly controversial elections in 2014 and 2018, which were also preceded by similarly acrimonious circumstances, things must change drastically to avoid a similar fate.
Unfortunately, there is no indication yet that the political atmosphere is about to change for the better anytime soon. BNP's Saturday programme followed mass processions held on December 24 and 30, sit-in protests on January 11, rallies on January 16, and rallies on January 25 and February 4. Those were also held under the shadow of disruptions. As well as the threat to street gathering, there is also the growing lack of confidence in the ability of the Election Commission to create the ideal environment for holding a fair, credible, peaceful, and participatory election.
All this is deeply frustrating. We urge the authorities to take a hard look at the present situation. To build confidence in the democratic process leading up to the election, they must allow the opposition parties to hold their activities peacefully and without interruptions. They must be engaged in dialogue to break out of the present deadlock. The spaces for politicians and citizens must be widened rather than shrunk. Without creating the ideal environment, we cannot expect to avoid a repeat of the last two elections.