What has the govt done to give childhood back to child workers?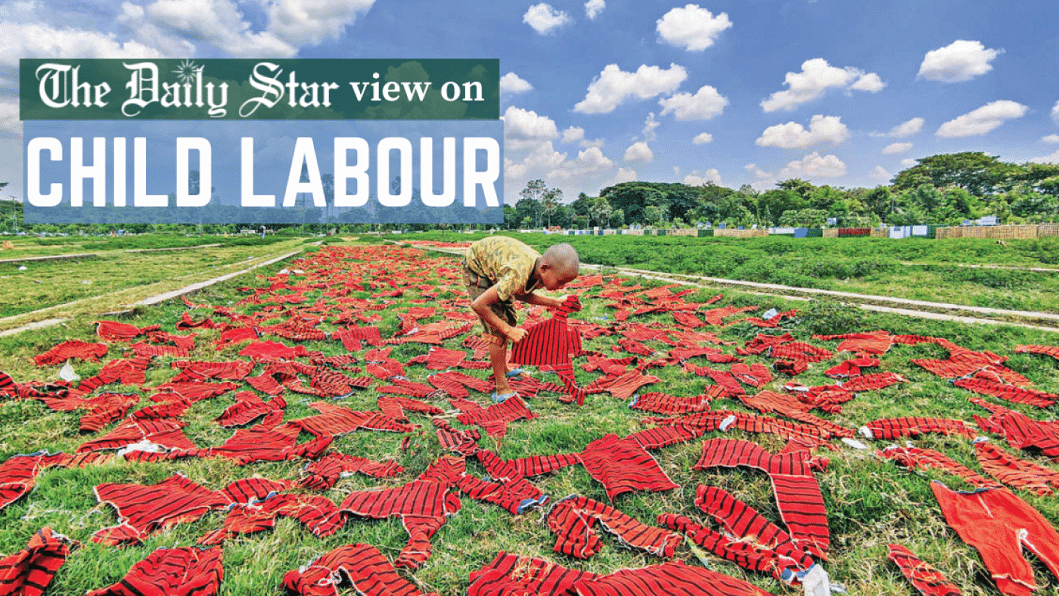 The picture of Sabbir, an 11-year-old child worker, published in the front page of this daily on September 1 reminds us of the present reality of millions of children across Bangladesh. He was a student of Class IV a few months ago, but he had to drop out of school and get a job at a small garment factory to support his struggling family. From another report published in this daily recently, we learnt about another 10-year-old child worker named Shawon, who also had to leave school to support his poverty-stricken family. Shawon now works in the cafeteria of a residential hall of Dhaka University, where he toils away for long hours for a meagre wage of Tk 4,000.
The situation of these two children speaks volumes about the present condition of child labour in the country. During the Covid pandemic, many children were forced to drop out of school and engage in work. And now, with the cost of living soaring out of control over the past few months, many more have been forced to leave school to earn a living. The situation is likely to deteriorate in the coming months. The question that naturally arises is: How can we eradicate child labour from our country if we cannot provide these children and their families with the necessary social and financial support? How can we address the issue of dropouts without also addressing the increasing income inequality in the country?
According to the last survey done by Bangladesh Bureau of Statistics (BBS) in 2013, there are 3.45 million child workers in the country, 1.28 million of whom are employed in risky and hazardous jobs. Despite the government's commitment to eliminate all forms of child labour from Bangladesh by 2025, and to eradicate child labour from hazardous factories by 2021, children are still employed in the transportation sector, welding factories, automobile workshops, battery recharging shops, tobacco factories, and so on, where there is no oversight and monitoring of occupational safety and health conditions. We remember all too well the tragic deaths of at least 16 child workers during the fire at Hashem Foods Limited last year, but even that, it appears, has failed to stir the conscience of the nation and that of our policymakers.
In order to eradicate child labour from our country once and for all, we first need proper updated data, based on which the government will have to come up with effective plans to re-engage these children in education. There needs to be effective monitoring in all sectors to ensure that children are not engaged in hazardous professions. As child labour is intrinsically tied to the economy, the government must also work towards ensuring an equitable society where people's basic needs are met. We cannot boast of progress and economic development if we leave so many children behind.