World Day Against Child Labour: Confronting our complicity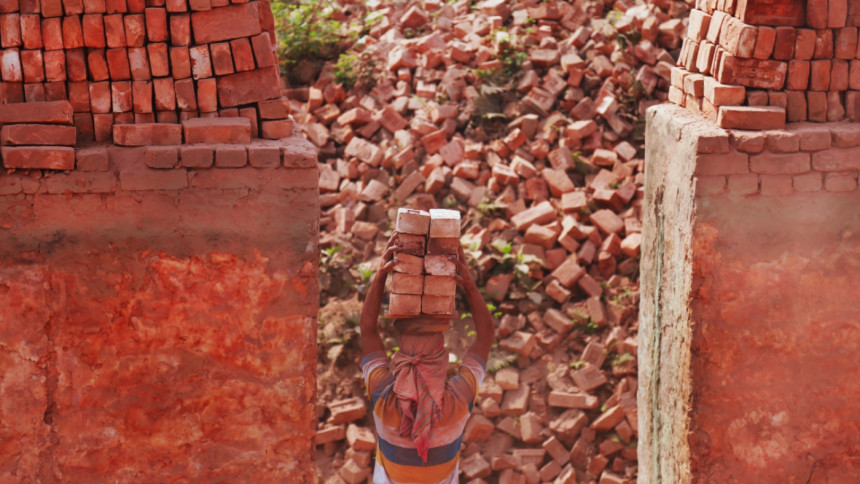 Children born to affluent backgrounds grow up with the warning to never touch sharp objects, especially to never go near a boti, and oftentimes in the same household, another child from a less affluent background straddles the same protruding blades, because that's their job. This disturbing illustration of class difference, however, is the least of the problems in this society where much worse is happening all around.
The string of recent incidents like the death of a 12-year-old domestic worker, Baishakhi, recovered from her employer's home hanging by the ceiling, and the plight of 11-year-old Lamia, found unconscious, bruised and tortured, have, to an extent, only become horror stories that move us, but ones we cannot associate with from the privileged side of the screen—and ones we forget, not long after we read them.
On June 12 every year, International Labour Organization (ILO) celebrates World Day Against Child Labour, and we revisit the tragedies of lives lost to hazardous forms of child labour, most often excluding the exploitation and dangers faced by child domestic workers. We read about the policies and report that activists still bear the same concern––that we remain far from addressing this perpetual problem. In a conference this same day last year, National Human Rights Commission (NHRC) Chairman Kazi Reazul Hoque stated, "It seems like we are moving in the opposite direction [in eliminating child labour] as hazardous child labour is rising," and predicted that its continuation would ensure that it doubles by 2025.
According to a 2013 study conducted by Bangladesh Shishu Adhikar Forum, child domestic workers work for unnaturally long hours, and a study on the situation of child domestic workers in Dhaka city in 2010 showed that almost 73 percent of child domestic workers were physically abused and 17 percent sexually abused.
Child labour is an unsettling reality of our everyday lives in Bangladesh––most of us witness it in weddings, in Eid, in construction sites, in fields and factories, bus stops, and often at our own homes. According to the National Child Labour Survey report, published in 2015, approximately 1.2 million children in Bangladesh are working in the worst forms of child labour. On the surface, child labour is an emblem of inhumanity, but we all know this issue is much more complex than just that—it is embedded in nationwide, systemic poverty. Underprivileged children arrive at our doorsteps, usually with or sent by their parents who cannot afford education or otherwise. This early ticket from poverty to domestic work was supposed to be countered by the National Education Policy enacted in 2010, which nationalised primary education, rendering it mandatory for the state to ensure free education and free lunch at schools for street and ultra-deprived children, and even stipends for female students until class 10.
Yet, a report by Unicef Bangladesh on child labour in the country estimated that more than one million children have never been to school. The main reason behind this is not only that parents cannot afford to raise their children, but also that they need their children to earn a living to sustain their familial livelihoods. Saddled with misfortunes (for example, the death or illness of a parent), the only option left for many children is to enter the workforce, working long hours and tackling tedious, underpaid jobs. A similar pattern of burden leads poverty-stricken youth to domestic work. Even underprivileged children who attend school have to work part-time to support their families––the nine schoolboys who lost their lives at a brick kiln in Cumilla on January 25, 2019 is a fresh reminder that employers need to adopt safety procedures.
It is widely understood that the path to eradicating child labour in this poverty-stricken society is not streamlined, but we perceive the main problem with child labour to only be the inevitable fact that children have no option other than earn for a living. But the real harm is the abuse, the work conditions, infringement of human rights of all sorts––which all form the backbone of this crippling problem. Among 167 countries in the Global Slavery Index 2016 that revealed slavery in the 21st century, Bangladesh ranked 10th. In this nation, child labour is synonymous with servitude, because the employers presume ownership of the impoverished children they hire, be it in factories or at homes, and that is precisely the reason why they are able to subject children to grave misery.
In 2017, the Bureau of International Labor Affairs stated that some of the most gruelling instances of child labour include forced child labour in the production of dried fish, bricks, garments and leather goods. While the Labour Act 2006 set the minimum age of anyone being recruited at 14, a 2018 research study conducted by Progga, an advocacy organisation, and Syed Mahbubur Rahman, a faculty member of business administration at AIUB, found that children make up about 50 to 70 percent of the labour force in the tobacco industry, including around 15,000 children between ages 4-14 years, that laws are not enforced, and that powerful employers are heedless of the law because they can easily get away with committing injustice. Is this the sort of society we want to live in?
And then there is violence and abuse towards child workers, normalised in every part of the society. According to a 2013 study conducted by Bangladesh Shishu Adhikar Forum, a platform of children's rights organisations, child domestic workers work for unnaturally long hours, and a study on the situation of child domestic workers in Dhaka city in 2010 showed that almost 73 percent of child domestic workers were physically abused and 17 percent sexually abused. The Domestic Workers Protection and Welfare Policy 2015 specifies that no child under 12 years of age can be hired as domestic workers, and cannot engage in "heavy work" until they are 18 years of age. In practice, such laws are not implemented, and this inefficiency is also widely accepted, essentially used as a convenient loophole to grossly mistreat children behind closed doors.
Only news headlines and statistics don't reflect the frequency with which child domestic workers are routinely abused, both physically and verbally, on a daily basis. "Maliks" (owners) presume authority to feed their own worst impulses and take out their anger on these children, only because they can. What is the justification for this behaviour? We hear many explanations such as "We provide a shelter and a roof to these kids, we don't deserve this behaviour; many others treat them much worse than us." It is shameful that every time we are confronted with this horrid reality, we resort to comparing ourselves to lower standards. But in order to address a problem, we have to first confront the role that we play in cultivating the insensitive and entitled attitudes towards children who are forced to work because of their unfortunate circumstances.
---
Ramisa Rob is currently pursuing her master's degree in NYU.
---
Follow The Daily Star Opinion on Facebook for the latest opinions, commentaries and analyses by experts and professionals.
To contribute your article or letter to The Daily Star Opinion, see our guidelines for submission.
---