We need drastic action to save our rivers
Authorities must shed their lax attitude to river protection and management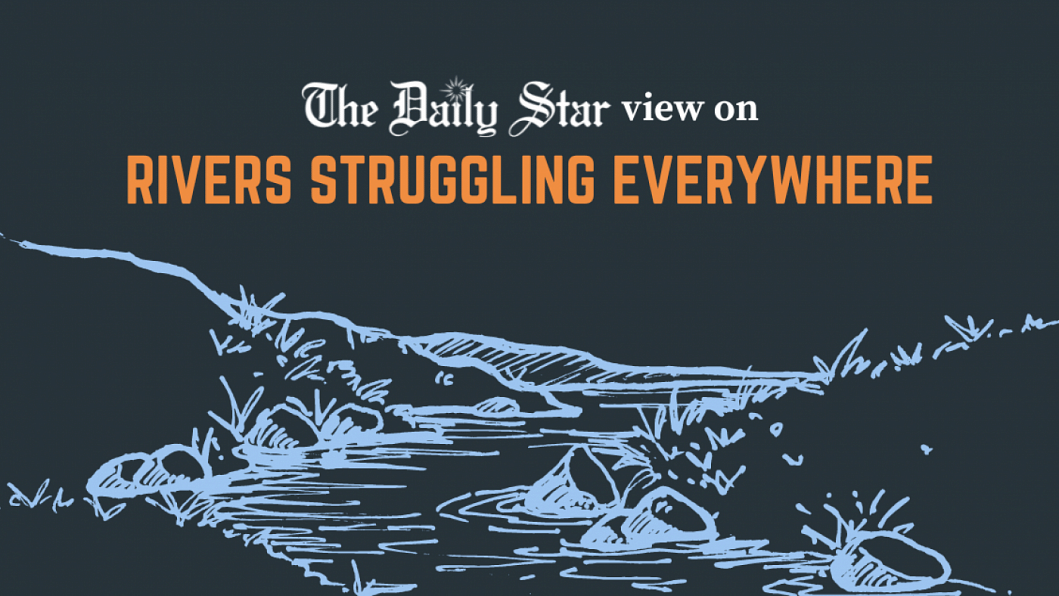 "Killing rivers" used to be a metaphorical expression in Bangladesh until rivers were granted the legal status of "living entities" in early 2019. That designation made it more literal, symbolising the importance of rivers in our life. About four years later, however, it remains the only outcome of a verdict hailed as "historic" as everything else remains unchanged, with rivers being polluted, filled, and encroached across the country as before. We get a fresh reminder after newspaper reports observing this year's World Rivers Day – with a time-befitting theme of "Rights of Rivers" – showed how dire the situation is. The rights of these "living entities" are not only being violated with reckless abandon, but even their so-called guardians, who are supposed to protect them, are partaking in this slow killing.
Eviction and excavation remain two of the biggest challenges facing our rivers. Reportedly, about 68 percent of the 57,390 illegal river grabbers listed by the National River Conservation Commission are yet to be evicted.
This is deeply disturbing. Not that Bangladesh doesn't have enough laws, policies or resources dedicated to the protection and management of rivers. But the futility of official endeavours – by relevant authorities including Bangladesh Water Development Board, Bangladesh Inland Water Transport Authority, National River Conservation Commission, and the ministry of shipping and water resources – and the general indifference to rivers are becoming harder to explain, and accept.
Consider, for example, how the demarcation pillars installed along the embankments of many rivers, including Buriganga and Turag, have been rendered pointless over the years. These are not mere signs determining the boundaries of rivers. These are meant to act as a deterrent against any encroachment attempt, and for the authorities to intervene if it happens. Unfortunately, according to a report by The Daily Star, these pillars are increasingly becoming a forgotten relic as the case of a demarcation pillar in south Keraniganj – standing about 100 feet inland from the nearest bank of Buriganga – shows. Garbage accumulated from indiscriminate disposal by citizens, industrial units and even responsible institutions is filling up the riverbanks, leading to their eventual encroachment. We have another report showing how, in Tongi and Gazipur, untreated waste is being discharged into interconnected waterbodies to the same effect.
Rivers Day specials by other newspapers are also replete with such painful details. We come across a report describing how the Karnaphuli River in Chattogram is being suffocated with waste including plastic and polythene, brought in through the network of canals surrounding the city. At least 785 tonnes of waste are being discharged into the river every day, leading to its pollution and loss of navigability. This, according to experts, is largely due to the illegally built structures near the riverbanks. Closer to Dhaka, the contamination of Bangshi and Dhaleshwari rivers in Savar, mostly because of untreated industrial waste, has reached a level that no fish can be found in many areas. Many areas were also encroached with little resistance from the authorities. In Rajshahi, three rivers reportedly became extinct, and the same fate awaits several rivers connecting Thakurgaon, all because of encroachment, pollution, and lack of proper eviction and excavation drives.
Across the country, eviction and excavation remain two of the biggest challenges facing rivers. Reportedly, about 68 percent of the 57,390 illegal river grabbers listed by the National River Conservation Commission – ranging from influential people, businessmen, politicians, and government agencies to even ordinary people – are yet to be evicted. In many cases, the evicted grabbed the land again later. In case of excavation (and re-excavation), the situation is equally bleak.
The overall situation has reached a point where only drastic action can protect what remains of our rivers or their health. The authorities must shed their present laissez-faire approach to rivers. They must address their plight with the urgency that it deserves.