We can't let our demographic dividend just pass us by
Government must address rising unemployment as a matter of priority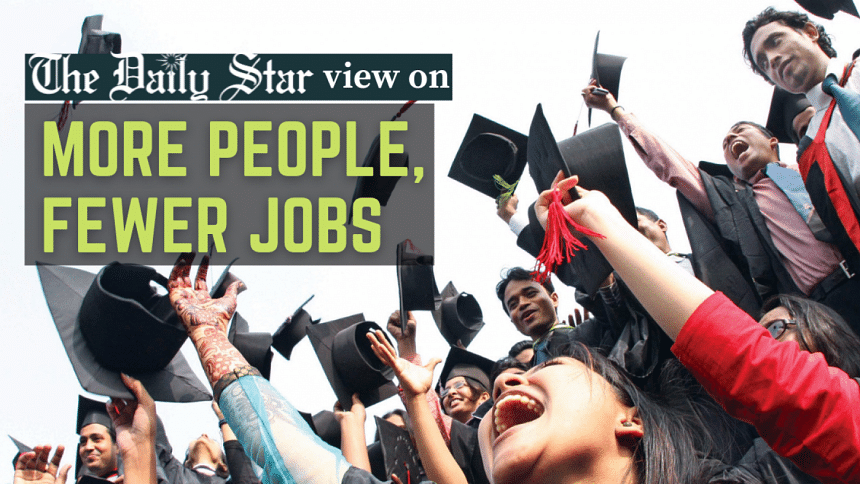 Although Bangladesh has a huge workforce that, if utilised properly, could give the economy a massive boost, it is not happening in reality because of a number of factors, the most important of them being rising unemployment. Currently, 65.6 percent of the population is of working age (between 15 and 64). Experts tell us that when there is a steady flow of people in the workforce, productivity increases, which in turn brings desired economic growth. But recent data point to a bleak scenario in which Bangladesh is wasting its "once-in-a-lifetime window" of demographic dividend because of its inability to create new jobs.
Just how bad the situation is can be understood from a 2016 survey by the Bangladesh Bureau of Statistics, in which the unemployment rate among the educated was shown to be 47 percent. There has been little progress since, as evidenced by a 2021 survey by the Bangladesh Institute of Development Studies that concluded that about 66 percent of the graduates from colleges affiliated with National University remain unemployed. Unemployment among university graduates is about 10 percent. Every year, about 20 lakh people are added to the labour force but jobs are not being created in that proportion. Equally worryingly, about a third of the youth population (45.9 million) are not engaged in employment, education or training.
Bangladesh could do wonders on the economic front if it could just exploit the advantage of having such a huge active population. And this is where we are missing out on the benefits of the demographic dividend. The window of our demographic dividend is said to have opened during the mid-noughties, thanks to low fertility and mortality rates and the workforce having fewer dependents, and it is expected to be shut by 2045. If we continue to squander our human capital advantage, this dividend may well turn into a disaster.
The government must act fast to turn the situation around. It must focus on creating jobs and advancing job-oriented education, and engage more of the youth population in employment, education and training. More investment is needed in vocational and technical education, as well as expansion of the service sectors, to help create jobs. The government has recently, and rather belatedly, formulated the National Employment Policy 2022 that aims to create about 30 million new jobs by 2030 and take unemployment to the "lowest level" by 2041. It also identified a number of challenges. Removing those challenges should be its highest priority now.