An urban asset going to waste
Spaces under Dhaka flyovers can be utilised so much better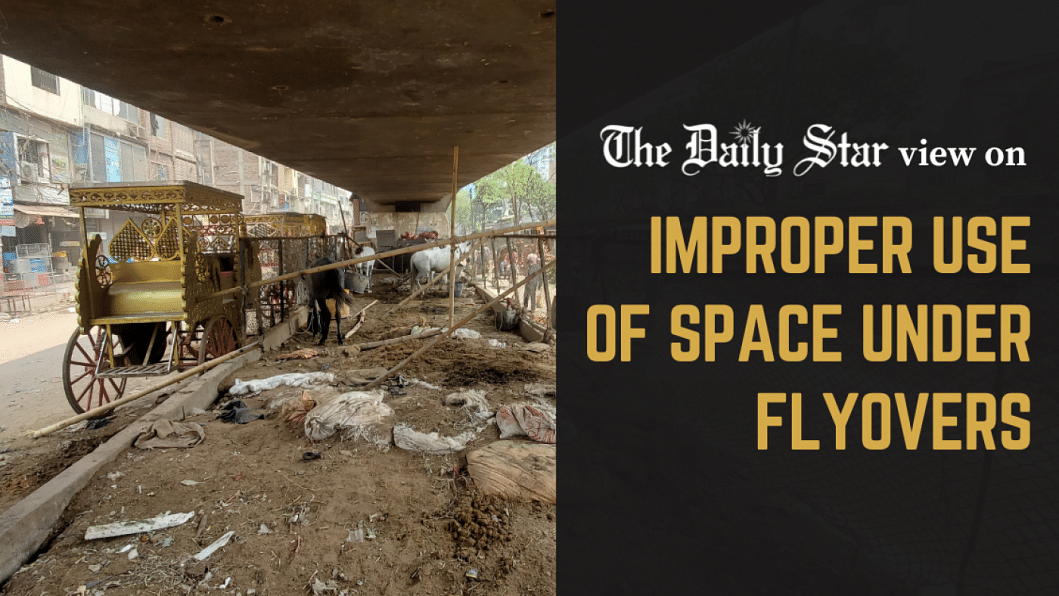 In a city perennially struggling for space, it is totally unacceptable that huge chunks of area lie unutilised or wasted underneath its flyovers. According to a new study conducted by Brac University's Centre for Inclusive Architecture and Urbanism, the spaces beneath Dhaka's flyovers have been used improperly since they were opened to traffic due to a lack of planning, resulting in public health, environmental and socio-economic losses. The study examined 10 flyovers which have a total length of 105.22 kilometres and a total area of 207 acres beneath them. And a large portion of that area has been either grabbed or misused or simply discarded, despite its potential to be an urban asset with proper policy.
For example, underneath the Hanif and Moghbazar flyovers, you can see parking space, mosque, police box, temporary kitchen market, waste dumping area, and small shops. In some places, street children and homeless people are seen to be taking refuge, while some places are also used for the sale and consumption of illegal narcotics. Taking various factors into consideration, Brac researchers estimate the public health, environmental and socio-economic losses from such usage of space at Tk 21,000 crore annually. This is too big a number to be taken lightly. Other countries around the world – countries that don't even have the kind of land shortage issues that we do – are making much better use of such spaces. For example, in developed countries, these have been converted for community-oriented usage such as through playgrounds, urban agriculture, forestation, cycle lanes, swimming pools, gymnasiums, walkways, etc.
Flyovers are perceived as symbols of modernity that are aimed at easing traffic congestion and endorsing development. But it seems that our city planners are failing to take into consideration the contextual needs of the city's inhabitants, all the while claiming to promote a futuristic vision. With the population of Dhaka growing and the space shortage problem worsening, these areas could be used, among other civic purposes, for the upliftment of the weaker sections of society. Like France, we could be using them to properly house the homeless.
Dhaka's planners need to realise the huge opportunity they are wasting through their lack of vision and poor planning. They need to urgently draw up a plan that can best utilise these areas, particularly in a way that benefits local communities and the environment.