Time to rebuild life in St Martin's Island
Relief and rehabilitation are priority in Mocha-hit areas after the worst was averted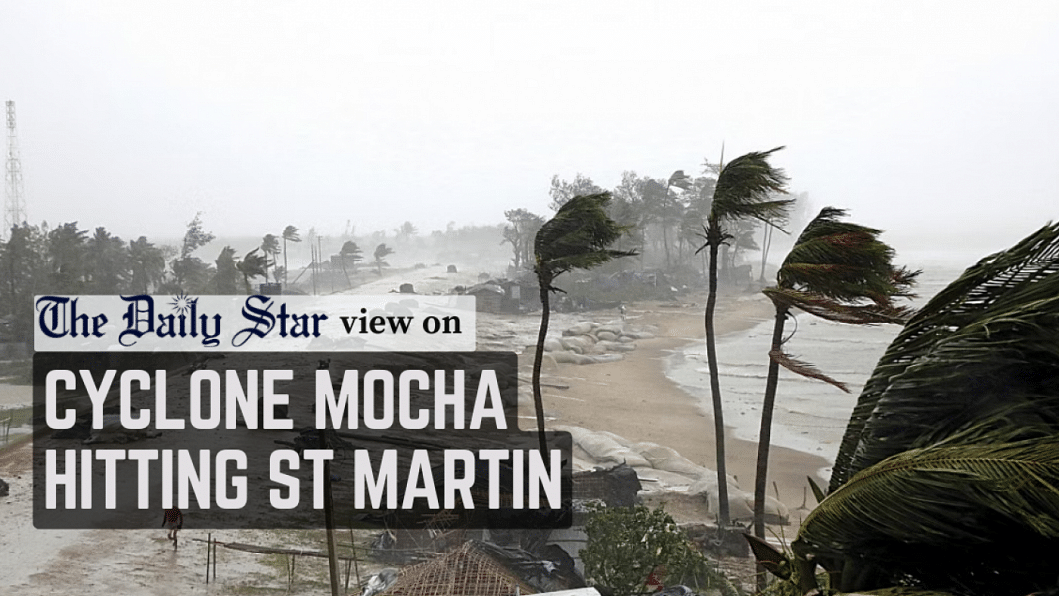 We are relieved that the extremely severe cyclonic storm Mocha did not cause as much damage in Bangladesh as initially feared. The hardest hit regions in the country were Cox's Bazar and Saint Martin's Island, where around 13,500 houses were affected. Among them, around 1,200 houses were destroyed on St Martin's Island, and more than 2,800 shanties were affected in the Rohingya refugee camps of Cox's Bazar.
Apart from a change in the direction of the storm – away from Bangladesh and toward Myanmar – a low tide at the time of landfall further helped in minimising damage in Bangladesh. Early evacuation of more than a million people also played a big part. Nevertheless, thousands of people have been left homeless, leaving them open to huge suffering. This makes it vital that urgent assistance is provided by the government, which should coordinate with humanitarian organisations to ensure that aid reaches victims on time and in an organised manner.
Aside from financial assistance, the government and others should provide medical and food assistance as well. It is important to remember that the chance of diseases breaking out post-disaster is always high. Therefore, there should be no delay in providing medical assistance in the affected coastal areas. Removing the remnants of uprooted trees and damaged houses is also a challenging task. Rebuilding efforts are particularly needed on Saint Martin's Island, which took a massive battering even though there was no reported loss of life.
Although it is early to estimate the full extent of the damage caused by Mocha, there is no doubt that it has caused significant harm to local industries and businesses. Movement of goods at the Chattogram Port has had to be halted since Friday, which is going to be costly for the economy, particularly for many of our exporters. So, the government should take special measures to ensure that operational activities at our main seaport resume without further hindrance.
Ultimately, the nation was spared from much greater damage due to good fortunate. At the same time, our strong disaster preparedness also played a part in that. Since we cannot bet on luck to save us from future disasters, after helping people to recover from the fallouts of Cyclone Mocha, the government should continue to focus on its disaster preparedness, including by fortifying compromised embankments.