The undelivered promise of road safety
Govt attitude must change for such tragedies to end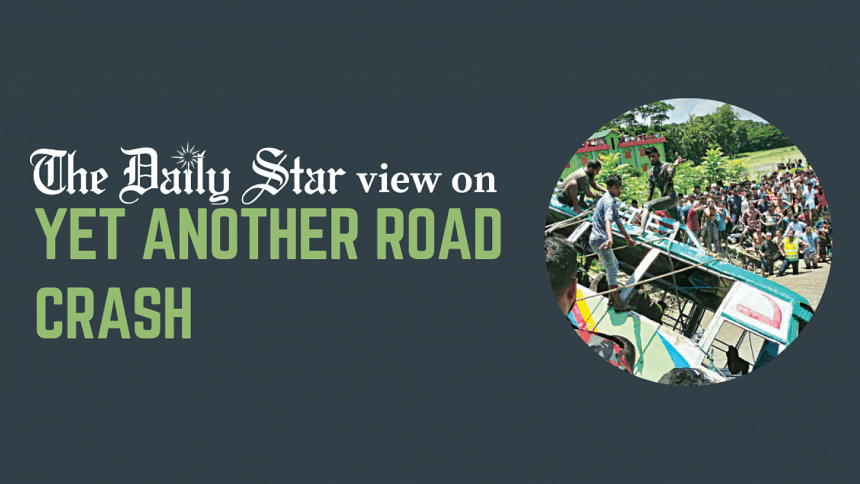 In yet another avoidable accident, 17 people were killed and 35 others injured. According to survivors and witnesses, the accident occurred in an open road due to the carelessness of the driver who kept looking over his shoulder and talking to the supervisor instead of keeping his eyes and concentration on the road. As is so often the case, the bus was overloaded with passengers, which might have also contributed to the crash.
According to data from the Bangladesh Road Transport Authority (BRTA), there have been 2,865 road crashes this year alone, in which 2,737 people were killed and 4,201 people were injured. However, according to non-government organisations working for road safety, the actual number of fatalities is much higher. By now, we are all familiar with the plethora of reasons that contribute to such huge losses of lives in Bangladesh on a yearly basis. Needless to say, despite widespread demand for better road safety from different quarters, indiscipline and chaos continue to reign supreme and destroy increasingly more lives.
The fact that the authorities have continued to allow such anarchy to thrive on our roads and highways speaks volumes regarding how much they care about such needless deaths. After much delay and drama, the Road Transport Act, 2018 (RTA) came into effect, with many of its strict provisions being neutered. And yet, till date, the government has been unable to enforce the RTA properly, which is one of the main reasons why our transport sector is in such a sorry state right now. The lobbying power of bus and truck owners is so enormous that they essentially have the government held hostage, while their recklessness has continued to kill people regularly.
The recently enacted Road Transport Rules, 2022 also has numerous loopholes. For example, it fails to provide any clear provisions to force transport owners to pay compensation to the victims. The pattern that emerges from all these is that there is basically zero accountability for the loss inflicted upon the public.
Unless the attitude of the government changes to a point where it starts to care about the lives of ordinary citizens, which in turn should force it to properly implement our road safety laws as well as ensure accountability for transport companies, such accidents, unfortunately, will continue unabated.