The land of polluted rivers
The authorities must take action now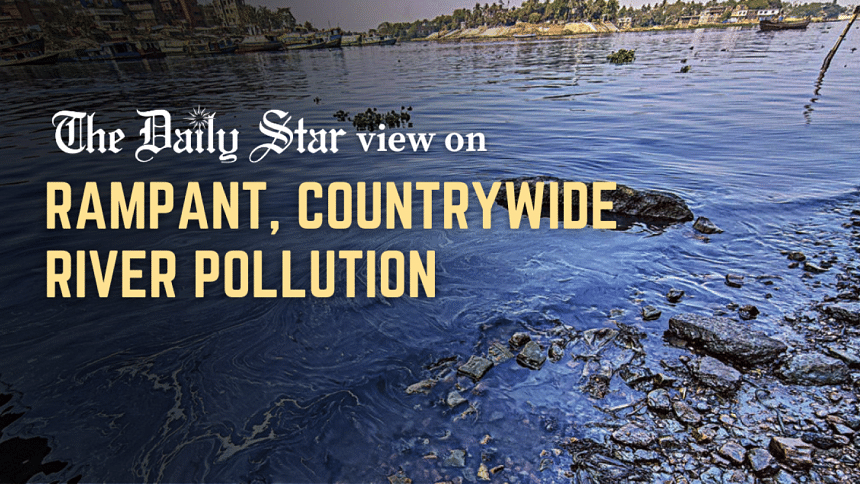 It has been known for some time that the six main rivers surrounding Dhaka, considered as lifelines of the megacity, are being polluted at an alarming level by industrial and other wastes. But a new study has now revealed that at least 56 rivers flowing through different parts of the country are suffering from extreme pollution during the lean period – when natural flows of rivers are at their lowest. Whereas around two decades ago, river pollution was confined to mega-cities like Dhaka and Chattogram, it has now clearly spread to every town in the country. In other words, riverine Bangladesh has turned into the land of polluted rivers, and is well on track to becoming the land of dead rivers, should things continue along their current trajectories.
The Rivers and Delta Research Centre (RDRC), which conducted the new study, tested the levels of pH, dissolved oxygen (DO), chemical oxygen demand (COD) and biological oxygen demand (BOD) of more than 50 selected rivers in Dhaka, Khulna, Sylhet, Rajshahi, Rangpur, Barishal and Chattogram divisions. Unfortunately, every single one of them was found to be polluted. Alarmingly, plastic and polythene pollution were prevalent in all 56 rivers that were surveyed. And this should come as no surprise. This newspaper only recently reported how the authorities have made very little progress in implementing the High Court's directive from three years ago to the Department of Environment (DoE) to put an end to the use of single-use plastic in hotels, motels, and restaurants in coastal areas. Similarly, almost nothing has been done to implement the more than 20-year-old ban on the use of polythene and throwaway plastic bags in Bangladesh.
Meanwhile, industries across the country continue to freely pollute rivers. The fact that the RDRC found only some rivers outside Dhaka where there are no big factories to have DO levels within the standard range confirms this. According to official records of the Bangladesh Inland Water Transport Authority (BIWTA), around 350,000 kilogrammes (350 metric tons) of toxic waste is dumped into rivers every day from about 7,000 industries and other residential areas in greater Dhaka and its adjacent areas alone. But instead of preventing such mindless dumping of toxic waste, the authorities, too, are contributing to it by dumping various wastes into the rivers themselves.
On top of killing our rivers, such actions have been seriously impacting the local communities, especially people living near the water bodies in terms of their health and livelihoods. Thousands of individuals and families are dependent on the rivers for their livelihoods through fishing. With increased pollution, more and more fish are dying in these rivers, leaving hundreds of fishermen without any sources of income.
To us, it is clear that all the different ways in which rivers are being polluted, actually stem from the same root: the apathy of the authorities in safeguarding them. That is why, despite endless court directives for different authorities to take action, none of them gets properly followed through.
We demand that the authorities amend their ways. The courts should also consider handing out strict punishment to the authorities for their repeated failures to abide by court orders concerning our rivers. Additionally, the National River Conservation Commission (NRCC) should be given some executive powers with more logistics and manpower to protect the country's rivers.