Tangail needs to save its hillocks
Local authorities must act to prevent endless hill-cutting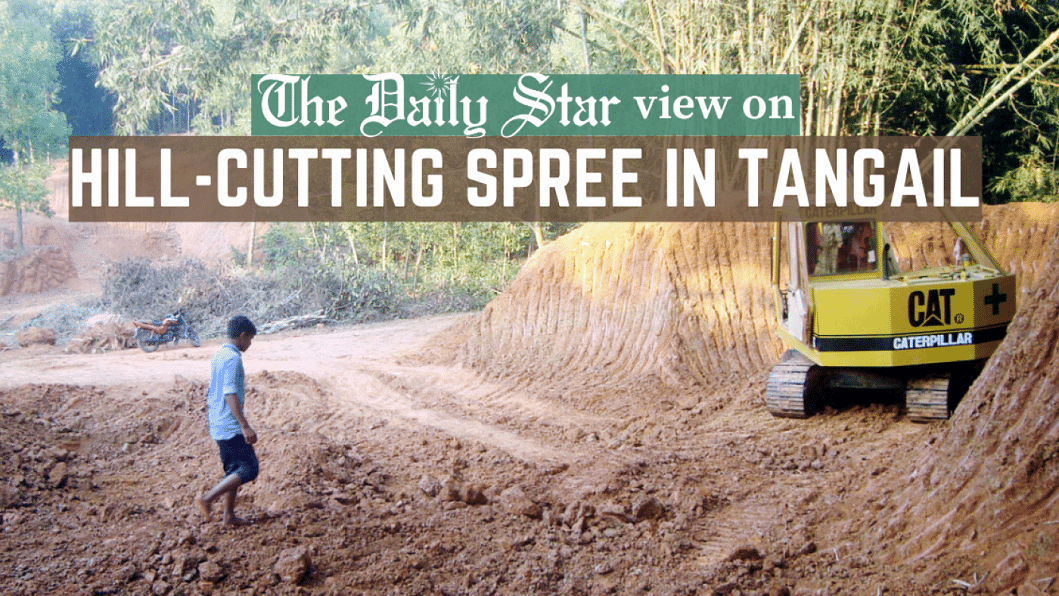 Why bother about hillocks – small mounds of land found in many parts of Bangladesh – when entire hills are disappearing? It's easy to succumb to frustration seeing how rapid urbanisation is levelling vast swathes of the land to make way for unwieldly structures, bridges and industries, without a care for its biodiversity and unique geological features. Rivers, hills, and forests are being gobbled up in the process. Their absence or contamination is easy to notice or worry over, but the loss of other small but irreplaceable features of nature is also equally mournable. It's important, therefore, that we care, and bother, for it has a direct bearing on our future and that of this land.
The red-clay hillocks seen in the midlands of Tangail and Gazipur districts represent a unique geological feature of Bangladesh. They come in small and medium sizes, and are quite common. Unfortunately, with the region fast urbanising, these natural elements are being indiscriminately razed to the ground. In Tangail, according to a report by this daily, earth traders are leading this carnage, selling the earth thus collected to help run brick kilns or fill up low/wet land. Private landowners are also cutting down hillocks, often with the excuses of digging a pond, building a house, etc.
The need for doing so may be genuine sometimes, but what is alarming is how frequently this is happening, and the manner in which it is happening – mostly in broad daylight – with the authorities turning a blind eye. Cutting hills or hillocks, be it on private land or on land owned by the government, is a punishable offence. But the law is hardly ever followed, or implemented. If you ask anyone at the local office of the Department of Environment, you may hear of occasional mobile court drives to discourage earth traders. But those are few and far between, their effect quite negligible. Clearly, there is a growing acceptance of this illegal act and its long-term effects.
Such inaction or lack of awareness is especially frustrating for Tangail which was once known for sal forests that covered the hillocks at the Ghatail, Sakhipur, Mirzapur and Madhupur upazilas. Now, a large portion of their wildlife and trees have disappeared. Hillocks in many areas in nearby upazilas and districts have been ravaged, contributing to potential risks of landslides. In Chattogram and Sylhet, such activities have often led to deadly landslides. But their environmental cost is one that we cannot see immediately, but it can have a more wide-ranging and devastating effect, with the ecosystem losing its balance.
The plight of red-clay hillocks in Tangail is but a small manifestation of the war that is being fought against nature in Bangladesh. It's not a war we can ever win. We, therefore, must urgently find a way to align our development goals with the overarching priorities of preserving the integrity of our land and nature. In Tangail, that fight must include protecting its endangered hills and hillocks.