A river barely hanging on
Sutang's water has become so polluted that it can no longer be used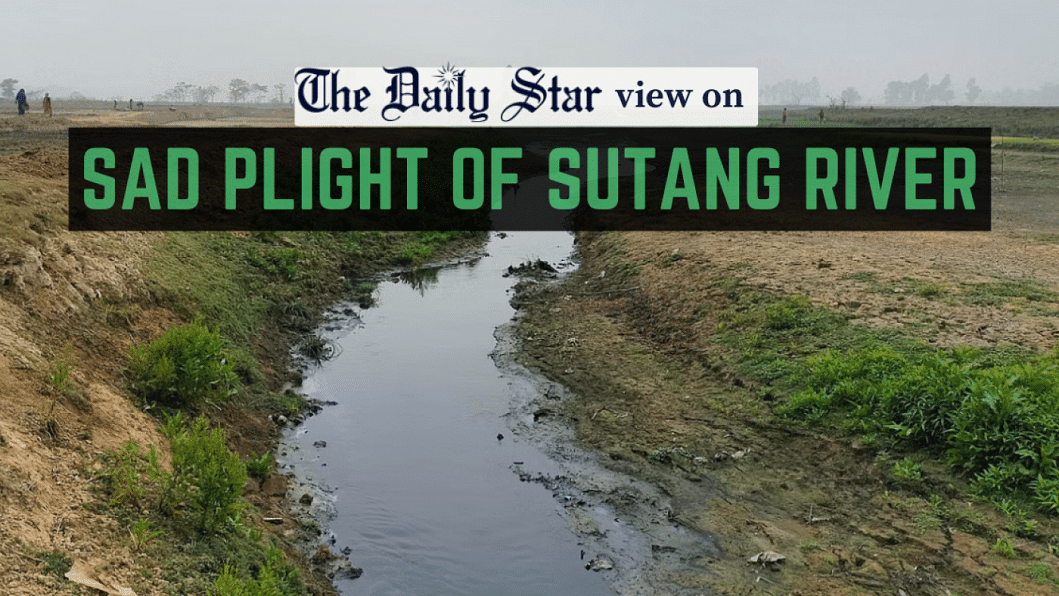 Yet another river is in grave danger. Sutang, a transboundary river that stretches about 82km into Bangladesh's territory connecting three upazilas of Habiganj, is reportedly in such a pathetic state that it can no longer be classified as a natural source of water. At a time when we have become accustomed to such painful accounts of our rivers on a regular basis, the news of another one meeting the same fate is perhaps not shocking. But this has real consequences for the people who live nearby, and by extension the whole country as it turns from a once-fabled land of rivers into one of dying rivers.
A report by this daily quotes villagers and local community leaders who described how Sutang, which was a source of livelihood for fishing folks and enriched surrounding croplands for centuries, is now little more than a big dump. Over the last decade, several hundred factories have sprung up on the banks of the river, and they discharge their waste there indiscriminately. Among them are tiles, dyeing, chemical and battery factories. Their waste has led to the water turning "blacker and thicker than tar", as per a recent BBC report. The result is, fish can hardly survive there, while crops are being affected when the water is used for irrigation. Humans and cattle are also infected with different diseases if they consume it. And then there is the awful stench. As a former chairman said, "We have to use face masks when we come nearer to the river."
Sutang is one of the three rivers believed to be in the worst state among the 56 that were surveyed by the Rivers and Delta Research Centre (RDRC) as part of a year-long study. Its findings, unveiled in mid-March, showed massive levels of pollution during the lean period when the natural flow of rivers is at its lowest. Key pollutants including microplastics have been found in all of them, with industrial and municipal wastes dumped in rivers near cities and towns flowing into those in far-flung coastal areas. Sutang, according to the RDRC study, has a dissolved oxygen level of 0.4 when the standard is 4.5 to 8 mg per litre. It is feared that the lives of about two lakh people from more than one hundred villages in Habiganj will be endangered if the authorities fail to check its continued decline.
Untreated industrial waste has been frequently flagged as a major source of river pollution in Bangladesh. Even though factories near rivers are supposed to treat their waste before discharging them, most don't even have effluent treatment plants (ETP), and they can get away with it thanks to lax enforcement of relevant regulations. But the state of rivers like Sutang demands immediate interventions. We urge the concerned authorities to take stern action against those illegally dumping waste in rivers and thus slowly killing them.