OMS rice sale at subsidised prices a welcome move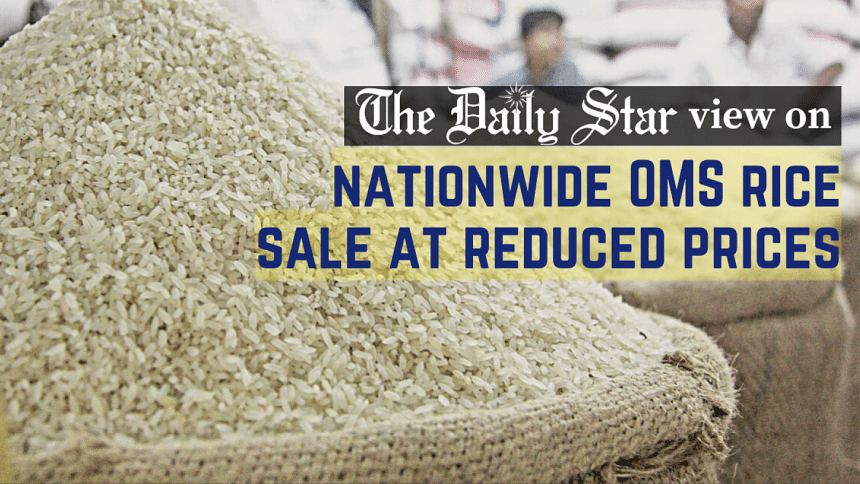 We welcome the government move to sell rice at reduced prices under its Open Market Sale (OMS) and Food Friendly Programme (FFP) schemes across the country. As part of the move, which kicked off on September 1, 7.65 lakh tonnes of subsidised rice will be sold to more than 1.5 crore people over the next three months. Of them, one crore will get rice at Tk 30 a kg under OMS, and 50 lakh special cardholders at Tk 15 a kg under FFP.
Till August 30, the government reportedly had stocks of 17.5 lakh tonnes of rice and 1.4 lakh tonnes of wheat. That will change after the cabinet approved the import of five lakh tonnes of wheat from Russia and 3.3 lakh tonnes of rice from Vietnam and India at a total cost of Tk 3,590 crore. Another two lakh tonnes of rice will be added from Myanmar. Besides, the sale of oil, sugar, onion and lentil at the OMS centres will continue as usual. The injection of low-cost rice will give a much-needed if temporary breathing space to the poor, who have been struggling with soaring prices over the last few months. The government should now ensure regular supply of staples as well as unhindered access to them.
However, the sale of subsidised rice – at nearly half the price at the retail markets – brings out the contrast for the vast majority of fixed-income families who do not, or cannot, visit OMS centres. What will happen to them? According to the Trading Corporation of Bangladesh (TCB), fine rice was sold at Tk 75 per kg on Wednesday, semi-coarse rice at Tk 60 a kg and coarse rice at Tk 56 a kg. A week ago, the prices were about Tk 2-5 higher. This is a positive trend, and the government will hope that replenishing of stocks under G2G arrangements and reducing of rice import duty – from 25 percent to 15.25 percent – will soon stabilise prices. It has recently decided to fix prices of rice, among nine commodities, within 15 days. However, it is hard to predict how stable and consumer-friendly that will be, given the impunity enjoyed by dishonest traders.
Even if we think government-fixed prices will have the desired effect without leading to a supply crunch, rice represents only a part of the suffering of low- and fixed-income groups, as they face a cost-of-living crisis with sky-high prices of nearly all essentials. We repeatedly come across accounts of people describing their ordeal of being forced to forgo essential food items and services. They need relief not just in the prices of rice, but all other essentials as well.
So while we appreciate the recent initiatives of the authorities, we urge them to critically examine and address the reasons behind the volatility of the market. Enough justifications have already been given. We need results now.