Make healthcare an affordable dream
Why are out-of-pocket healthcare expenses still so high in Bangladesh?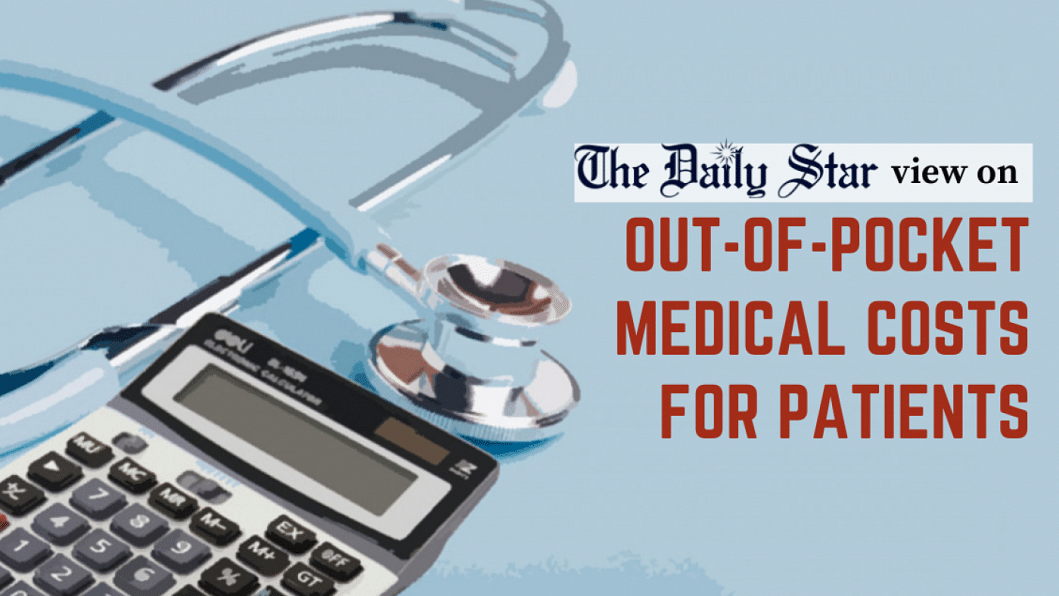 There can be no excuse for why people's out-of-pocket (OOP) healthcare expenses are still so high in Bangladesh, except perhaps a lack of political will to match commitments with action. The situation warrants deeper scrutiny, especially after a report by the Health Economics Unit of the health ministry highlighted a stark contrast between government spending on healthcare and expenses borne by citizens. While the government is paying less and less, citizens are paying more and more, with about three-fourths of the overall health expenditure borne by the latter. This is really disturbing.
OOP expenses, it can be noted, are people's share of the expenses for medical care that aren't reimbursed by public or private insurances. A decade ago, the government had set a target of bringing OOP expenses down to 32 percent, and also increasing government expenditure to 30 percent by 2032. But halfway through that deadline, the situation has rather become worse. For example, in 2018, 2019 and 2020, the share of government in the national healthcare expenditure was about 28, 26 and 23 percent respectively, while the share of citizens was about 64, 66 and 69 percent respectively, as per the Bangladesh National Health Accounts (BNHA) 1997-2020 report. The World Health Organization (WHO) paints an even bleaker picture, saying OOP in 2020 was actually 74 percent of Bangladesh's national health expenditure.
This progressive downward spiral is the opposite of not just the government's own pledge in this regard but also the general practice in much of the comparable countries. The question is, why is the government so reluctant to spend in such a vital sector? Its reluctance was on full display when only 5.43 percent of the proposed budget for FY2022-2023 was earmarked for the health sector. The unfair burden imposed on citizens, as well as the rising cost of healthcare in general, means that many families are being pushed below the poverty line.
The rising cost of healthcare services is another worrying matter. The biggest contributor to this is the cost of medicine, followed by that of diagnosis. As per the BNHA report, of the total OOP expenses, about 64.6 percent is spent on medicine, 11.7 percent on laboratory charges, and 10.8 percent on doctors. The high prices of medicine are mostly propelled by unethical and unnecessary practices in the sector. Aggressive marketing, lavish packaging, and gifts for physicians are some of the reasons reportedly driving up prices. Unless the authorities take effective action to arrest this trend, the situation may worsen further in the coming years, especially as Bangladesh will have to pay more to import Active Pharmaceutical Ingredients as soon as it graduates into a middle-income country by 2026.
We must not let things deteriorate any further. Healthcare should be affordable for all, especially the poor, and the government has a huge role to play in this. Not only should it increase its own spending but it should also take steps to keep prices of medicine and diagnosis down, so that the overall cost of healthcare becomes bearable for citizens. The time to act is now.