Korail palliative care assistants give us a crucial lesson in compassion
Don't forget about the terminally ill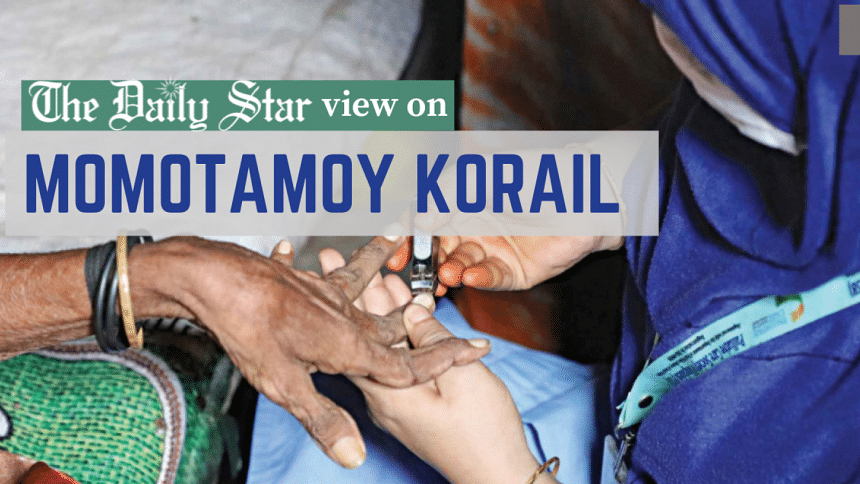 It is heartwarming to learn how, as this daily has recently reported, a group of palliative care assistants (PCA) has been working to care for at least 304 patients (including 23 children) in Dhaka's Korail slum since 2019. The group currently consists of eight PCAs, three nurses, and a single doctor, and they work for Momotamoy Korail (or Compassionate Korail), a community palliative care centre which is run by the Palliative Care Society of Bangladesh (PCSB). What is most heartening is the fact that the PCAs themselves are residents of Korail, who took up this gutsy profession after training at the BSMMU for six months post their SSC completion.
The patients that these PCAs care for are suffering from debilitating diseases. In most cases, not only are they themselves unable to take care of themselves, as they are bedridden with terminal illnesses, but their families also struggle to care for them properly – either due to financial incapabilities or a lack of willingness. In one case cited in our report, family members of a cancer patient would provide food to him from the door of his room, with the help of a stick, as they could not bear the odour emanating from his infections. But it was the PCAs of Momotamoy Korail who stepped forward to assist him and give him his required medicines. Besides providing 24/7 tele-consultation to their palliative patients, the PCAs also provide outpatient services to the slum's residents once a week. The name for the group is backed by the extent of their services, as they even provide bereavement support to the families of deceased patients. 
In our fast-paced world, where even hospitals lack the required tools, professionals, and passion to properly care for terminally ill patients, such a community-oriented public health approach to palliative care is refreshing, to say the least. But it is equally saddening how the work of Momotamoy Korail is an outlier, despite there being an abundance of patients across the country who require such services. Dr Nezamuddin Ahmed, former chairperson of the Palliative Medicine Department at BSMMU and adviser to the PCSB, told this newspaper how they had been struggling to fund the initiative and how it would be best to hand its responsibility over to the government. We strongly endorse this suggestion. 
While we commend such citizen initiatives as Momotamoy Korail, we urge the government to use them as opportunities to learn from and build on, to create a system that is more caring towards the terminally ill patients of all ages. The government must also work to remedy the poor state of elderly care in the country, including a lack of allowances, care homes, and a comprehensive pension scheme that could cover the high expenses of elderly care. The PCAs working in Korail slum have shown us how far compassion goes in improving the last stage of life for citizens who once thrived. Let us implement their example on a national level.