Looking after the neglected
Momotamoy Korail providing palliative care to people with debilitating disease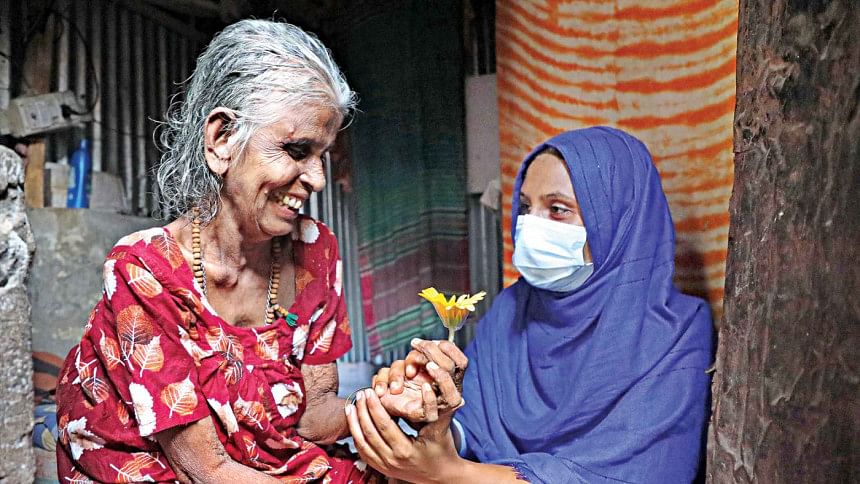 Sixty-year-old Asiya Begum, a resident of the capital's Korail slum,  lives in a tiny makeshift  room made of tin, slightly larger than the size of a grave, with no ventilation or fan. At first glance, it might look like she has been buried alive.
Asiya had a stroke in 2018 due to her uncontrolled hypertension and has been bedridden ever since.
Initially, she lived with her family in a shanty. However, as time progressed, she lost control of her bodily functions. Her family eventually stopped living with her, unable to bear the odour. It became a daunting task for her husband, two sons and daughters-in-law, to clean after her.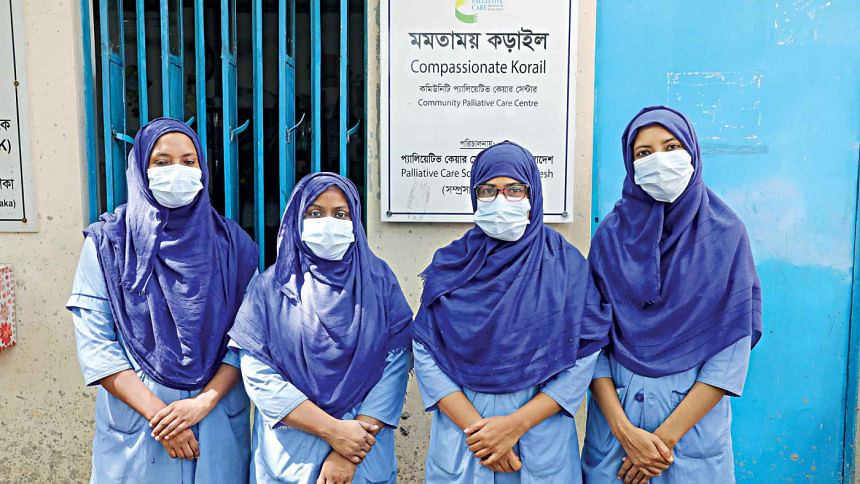 So, they made a makeshift room for her, where poor, emaciated Asiya now awaits death.
A group of palliative-care assistants (PCA), however, has been trying to improve her quality of life since 2019.
They visit Asiya twice a week -- check her blood pressure, help her do required exercises, tidy up her bedding on the floor, brush her rough hair, trim her nails, feed her and simply pass some time with her, which is what patients like her mostly crave for.
The PCAs work for the community palliative-care centre named "Compassionate Korail", popularly known as "Momotamoy Korail", run by the Palliative Care Society of Bangladesh (PCSB) since 2019.
Currently, Momotamoy Korail has been providing home-based palliative care and required medicines to 304 patients, including 23 children, with debilitating diseases in Korail slum. Eight PCAs, three nurses, and one doctor try their best to make life better for them.
Like Asiya, most elderly patients in Korail have been suffering from uncontrolled diabetes and hypertension, kidney diseases, cancer, schizophrenia, arthritis, Parkinson's disease, chronic obstructive pulmonary disease, and many other chronic illnesses, while the children mostly suffer from cerebral palsy, congenital heart defects, cancer, and Down syndrome.
Selina Akhter, president of Community Based Organisation (CBO), Korail slum, said such community palliative-care centres must be established in every slum of the country, so that elderly people who cannot be cured of their illnesses can be cared for, because in most cases, family members cannot afford their treatment or look after them properly.
"We have even seen a case where family members would give food to a cancer patient from the door with the help of a stick, due to bad odour coming from his infections. But the PCAs served him with the required medicines and assistance," she said.
The PCAs constitute the heart of this centre. They are all residents of Korail who have at least passed their SSC. After six months of training at BSMMU, they started their inspiring journey of serving terminally-ill patients.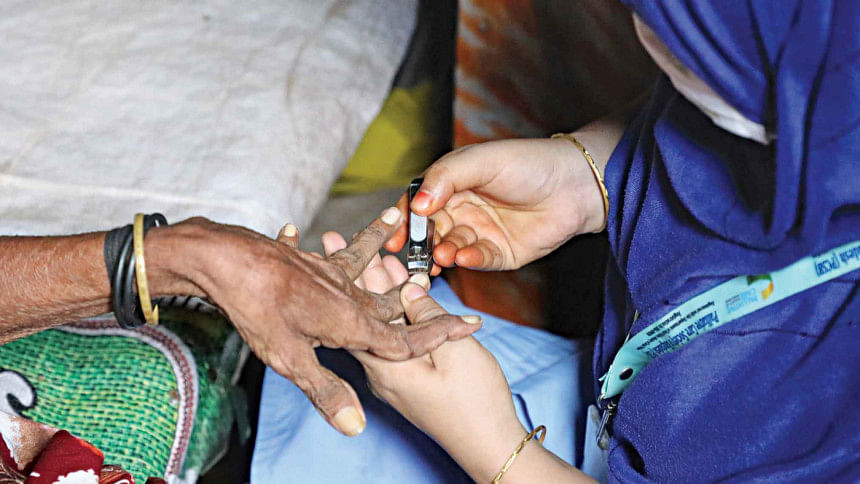 For example, when Shilpi Akhter Sohagi's mother was hospitalised for 19 days at BSMMU with lung cancer, she observed the suffering of dying patients, which encouraged her to do something to alleviate their pain. That was when she made up her mind to take the training in 2015.
"Later in 2017, when my father was also diagnosed with the same disease, I had the opportunity to serve him during his last stage," she said.
"I think I won't be able to change my career even if I get better opportunities. I have an emotional attachment to this profession. I find peace in serving these people," she added.
Along with medication and care, the centre also provides assistive devices, such as wheelchairs, exercise balls, commode chairs, and walkers to elderly patients.
For example, although Asiya's sons made a separate tin room for her, the centre gave her the bedding, urine mats and other required items to maintain her hygiene.
Patients like Asiya, including children, also receive a monthly food pack with rice, lentils, oil, and salt. Those who are unable to eat normal food are provided with special food such as milk powder, eggs, biscuits, seasonal fruits and more.
Momotamoy Korail also provides outpatient services once a week, considering the massive need for primary healthcare in the slum, as well as 24/7 tele-consultation and physiotherapy visits for palliative patients twice a week.
If any of the listed patients die, the PCAs also provide bereavement support to their families.
"Since 2020, a total of 31 such patients, including nine children, died in Korail. We still pay frequent visits to their families," said PCA Sumi Akhter.
Momotamoy Korail first started its journey in 2015, under a project jointly implemented by the World Hospice Palliative Care Alliance (WHPCA) and Centre for Palliative Care (CPC), BSMMU.
When the foreign funding was stopped, PCSB took the responsibility for its funding.
Dr Nezamuddin Ahmed, former chairperson of palliative medicine department at BSMMU, also the advisor of PCSB, shared the background story of the initiative.
Inspired by the Institute of Palliative Medicine in Kerala, India, from where he took training in 2005, he found that these facilities mainly had a community-oriented public health approach to palliative care, which was far different from BSMMU's approach.
"Later, when I received the opportunity from the WHPCA, I started running an experiment of establishing community-owned palliative-care centres in two slums of the city -- Agargaon BNP slum and Korail," he said.
"The BNP slum was later vacated. However, Momotamoy Korail sustained. It would be best to hand this responsibility over to the government. However, it is difficult, as the slum does not even have primary healthcare facilities."
"Although there is uncertainty, PCSB and its members have been trying to collect funds to continue it. We want support from all, be it the government or any agency or individual," said Dr Nezamuddin.