Illegal toll collection from vehicles must stop
DSCC must take action against the authorised company for harassing vehicle drivers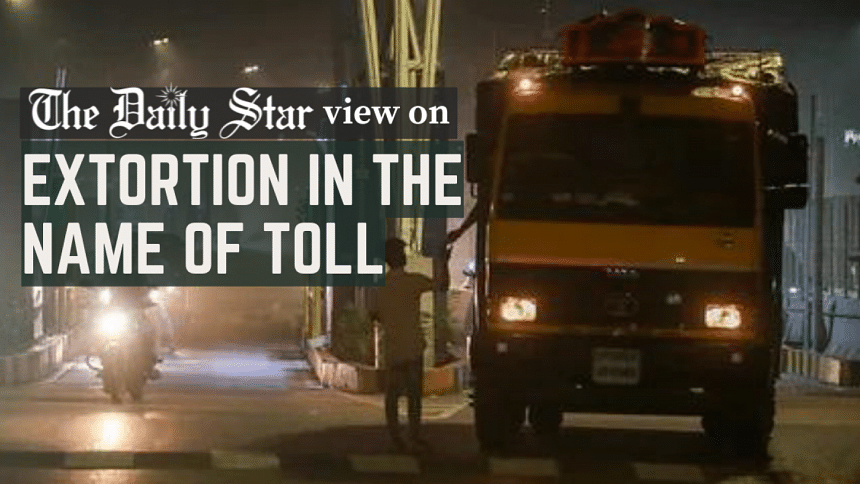 We are dumbfounded by the way an organised gang has been extorting truck and other vehicle drivers at various points of the roads in areas under the Dhaka South City Corporation (DSCC) in the name of city toll collection. Surprisingly, the gang members are none other than the employees of a company authorised by the DSCC for city toll collection. According to a report by the daily Prothom Alo, the DSCC has given lease to the company to collect tolls from at least 57 points in five areas: Sayedabad, Gulistan-Jaykali Mandir, Fulbaria, Dayaganj, and Dholaikhal truck terminal. But what the employees of the company are doing is collecting tolls from outside the designated spots. While they are supposed to collect tolls from buses and minibuses from some particular points, they are collecting tolls from trucks and other cargo vehicles and charging them as they want. And if the drivers don't comply, they are even beating them up with rods and sticks.
Reportedly, these illegal activities have been going on for a long time without the city authorities taking any steps to contain the situation. Police and Rab have only arrested some of the petty extortionists and filed a few cases. That's all. Last year, this daily published a similar report on how two companies, authorised by the DSCC, were collecting tolls from commercial vehicles in the name of non-existent terminals. It has been also found that the entire toll collection system was running without following due procedure, but no corrective measures have been taken over the years.
Reportedly, the LGRD ministry issued a letter to all concerned in 2015 regarding toll collection. The question is, have the ministry's guidelines been followed by the DSCC authorities? From the way the company designated by the DSCC is operating its activities, it is clear that it doesn't care for any rules and regulations. Such toll collection is nothing but "institutionalised extortion" and must stop once and for all, because it is the DSCC authorities that are losing the revenue; reportedly, the DSCC has earned only Tk 13 crore from toll collection in one year.
What the DSCC authorities should do now is issue a show-cause notice to the company for violating the rules and regulations for toll collection. They must investigate and find out the real extortionists and take legal action against them. Only arresting some field-level employees will not help. Also, in order to streamline the toll collection system, they must formulate some specific guidelines for the lease-holding companies and also monitor that the lessees abide by the rules. The toll collectors must follow some basic rules, such as wearing their designated clothes and showing their ID cards before toll collection.
It is the DSCC's responsibility to stop such extortion – and seriously explore the culpability and corruption of its own officials in the whole process.