Humanity must act as one to help quake survivors
Earthquake devastation in Turkey and Syria calls for urgent assistance to survivors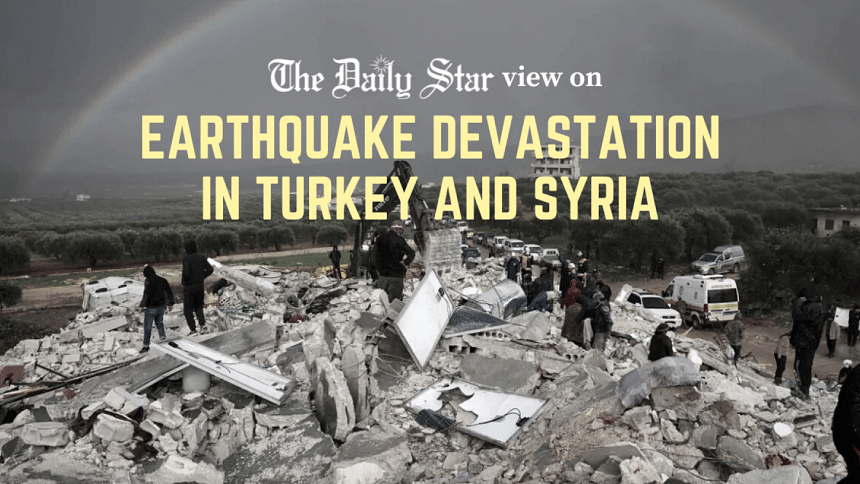 Our heartfelt sympathy goes out to the people of Turkey and Syria, whose lives have been turned upside down by a massive 7.8-magnitude earthquake – followed by a series of aftershocks – that devastated vast swathes of the countries on February 6. The first quake was centred in southern Turkey, near the northern border of Syria, according to the US Geological Survey (USGS). As of writing this editorial, the death toll has crossed 5,000 – some 3,419 in Turkey, and 1,600 in Syria – with the World Health Organization warning that the death toll could exceed 20,000. Rescuers continue to look for survivors, digging through the rubble, in some cases, with their bare hands. At this most critical juncture, we urge all countries and international organisations to send their full support to help Turkey and Syria.
Monday's quake is believed to be the strongest to hit Turkey since 1939, when an earthquake of the same magnitude killed 30,000 people, according to the USGS. Eyewitnesses, after the latest quake, have described it as apocalyptic, which shows the immense magnitude of the disaster. According to the Turkish and Syrian disaster response teams, more than 5,700 buildings have been confirmed flattened across several cities, including many multi-storey apartment blocks that were filled with residents who were sleeping when the first earthquake struck.
The wave of destruction swept through 10 Turkish provinces, including Kahramanmaras, Gaziantep, Sanliurfa, Diyarbakir, Adana, Adiyaman, Malatya, Osmaniye, Hatay, and Kilis. While in Syria, most of the damage was reported in Northern Aleppo, Hama, Latakia, and Tartus. Even though rescue workers across the two countries have been scrambling to provide support to the victims, it is becoming clear by the minute that they desperately need as much support as possible from the international community. Therefore, we urge the international community to put their geopolitical interests and conflicts aside, and come to the rescue of Turkish and Syrian people on an immediate basis. The sanctions imposed on Syria will do nothing but harm its people at this moment. Therefore, all these factors should be set aside in the pursuit of rescuing the victims of this massive devastation.
Rescue efforts, we are told, have been made difficult by the winter weather. Many victims are reportedly trapped underneath the rubble amidst freezing cold. Meanwhile, hospitals in both countries are being flooded with thousands who were injured. Without immediate attention towards the seriously injured, the number of casualties could climb even higher. Thus, providing Turkey and Syria with urgent medical assistance, as well as emergency rescue personnel and equipment, should also be a high priority for the local, regional and global leaders.
It is at times like these that the international community must come together and act as one, and help out the devastated communities. We urge every country to provide as much assistance to the affected – and in the process save as many lives – as possible. Multilateral agencies such as the UN can play a big role here to ensure that these aid measures are well-coordinated and provided on an urgent basis.