Hearing loss from sound pollution is becoming a major health risk
Why is no heed being paid to the alarming rise in hearing loss?
One of the most common features of life in urban centres in modern-day Bangladesh is sound pollution. It's a problem we begin and end our (active) day with, yet hardly anyone seems to care or know how much of an effect it is having on our life and health. A recent survey, conducted by the Bangladesh University of Health Sciences (BUHS), has now revealed a shocking picture: 1 in four persons – or 25 percent of people – involved in various road-bound professions is suffering from hearing problems, and the problem of 7 percent is so severe that they need hearing aids to listen.
That means, if you are regularly exposed to the cacophony of horns, sirens and loudspeakers in one of the five city corporations where this study was conducted – Dhaka North, Dhaka South, Rajshahi, Cumilla, and Sylhet – you are probably already affected to some degree. In these areas, the survey says, noise from road traffic and other sources ranges from 84 to 99 decibels, which is much higher than the acceptable limit of 60 decibels. This is not to undermine the risks in other urban areas. The survey also reveals profession-specific data, which is quite illuminating.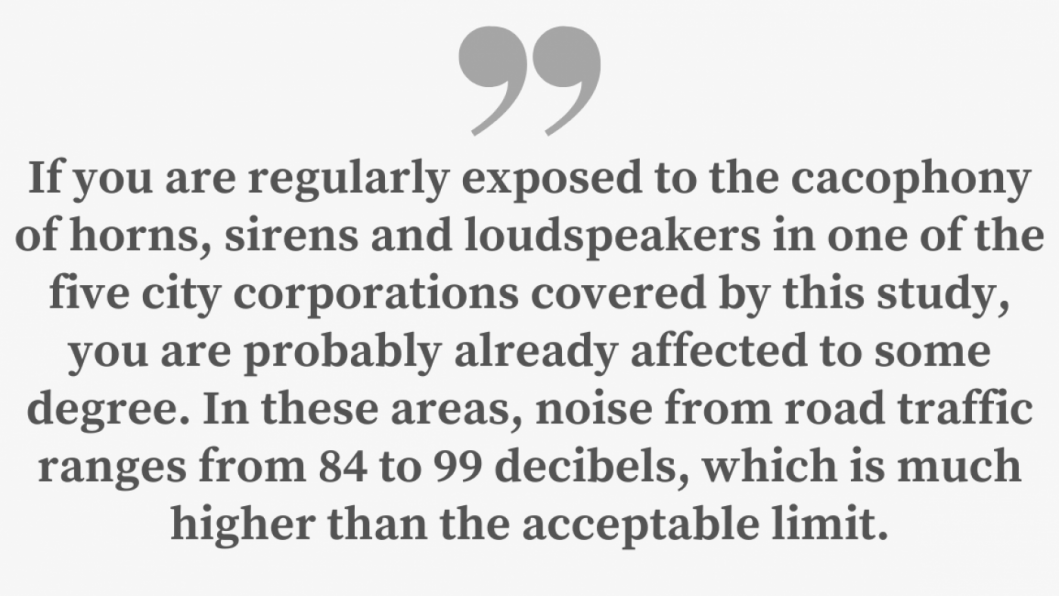 For example, among the most affected groups are rickshaw drivers (about 42 percent), followed by traffic police (about 31 percent), auto-rickshaw drivers (about 24 percent), retail/store workers (about 24 percent), bus staff (about 16 percent), car drivers (about 15 percent), and motorcyclists (12.5 percent). On average, they were found to work for 11 hours, six days a week, on roads. Since the survey was on hearing loss among those who must be on or around roads as part of their profession, the risk for ordinary commuters and passers-by wasn't covered. But it's likely to be dangerous as well, depending on their level and duration of exposure to noise.
It's no wonder that those in Dhaka and Rajshahi are particularly at risk, with the first ranked as the noisiest – and the second as the fourth noisiest – city in the world, as per a report of the UN Environment Programme released in March. Clearly, the situation has reached a level where we can no longer ignore the threat that sound pollution poses, not just in these cities but across the country. Unfortunately, as things stand, we seem to be headed in the opposite direction. Across roads and highways, the idea that it is possible to drive without using horn frequently seems to be foreign to most drivers and vehicle owners. Moreover, there seems to be little policy response to this threat. This must change.
We urge the relevant authorities – including the city corporations, the traffic police, and the Department of Environment – to take the alarming rate of hearing loss with seriousness. Professional associations and authorities should also come forward to educate and prevent sound polluters. Relevant rules and regulations related to noise must be implemented. Only a coordinated effort together with cooperation from drivers/owners can avert a looming disaster.