HC's anger at environment officials is well-justified
Authorities' lack of response to air pollution is literally killing us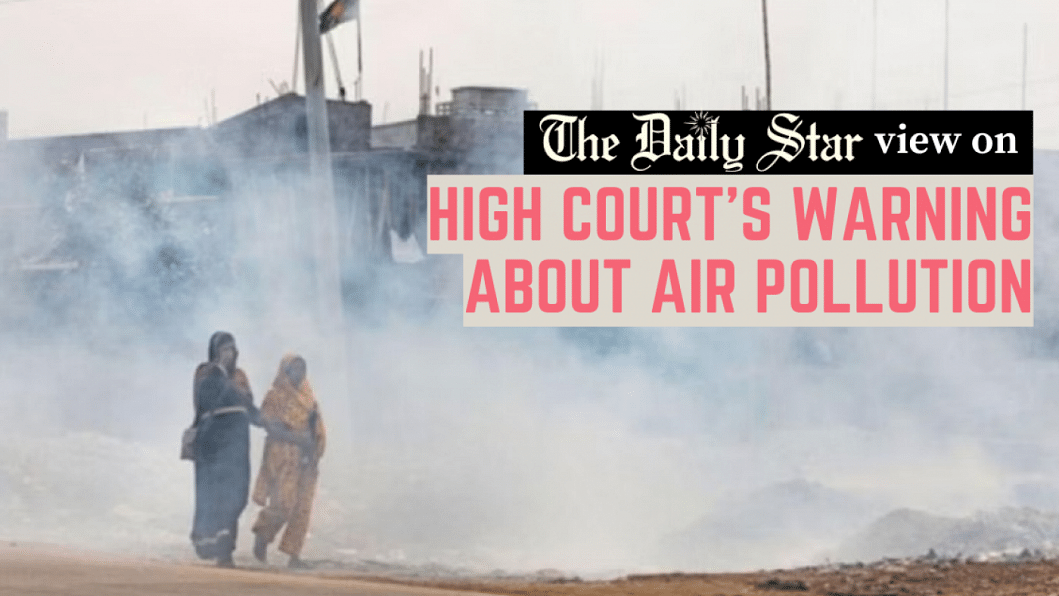 We share the High Court's frustration with the Department of Environment (DoE) for allowing air pollution in Dhaka to become so bad that the capital is routinely placed high atop the list of the most polluted cities in the world. We also appreciate the HC taking a stern stance in this regard, reprimanding DoE officials for not implementing the relevant law or complying with past court directives to reduce pollution and its harmful effects. As the court has observed, citizens are indeed being "killed" by their inaction and apathy.
According to a World Bank report published in December 2022, air pollution is killing around 80,000 people every year in Bangladesh by causing respiratory problems and depression, and wiping out around 4 percent of the country's GDP. The report gives us devastating insights into how outdoor air pollution is causing substantial damage to our health, but we should also keep in mind the devastating effects of indoor air pollution in Dhaka, which has also been found to be the worst in the world. In fact, according to an estimate, Bangladesh witnessed 94,800 deaths caused by indoor air pollution in 2019, resulting mostly from heavy use of solid fuels in cooking. Add to this the nuisance created by construction, illegal brick kilns, vehicle exhaust fumes, etc.
Among other factors that are exacerbating the problem but often remain unaddressed are the filling of wetlands and destruction of greenery, thanks to our mindless pursuit of infrastructure development. The list of causes doesn't end here, however. The WB report, quite alarmingly, also highlighted how 30 percent of the air pollution in Dhaka, Chattogram, and Khulna cities actually originates outside the country – in India – flowed in by the strong northwest-to-southeast wind. This further complicates the problem for us as we battle the various effects of air pollution including allergies, coughing, general breathing difficulties, respiratory tract infections, diabetes, and eye problems.
With the threats so profound and coming from so many directions – literally – it's deeply alarming to see the lack of response from the authorities. There seems to be no visible action plan on their part to save us from the serious public health threat that air pollution has become. We urge the DoE, city corporations and other relevant administrative wings to realise the severity of the threat we face and take meaningful action to prevent it. Besides regularly misting or watering construction sites and busy roads, they must expand the drive against illegal brick kilns. We also hope the government will properly follow up on the recent commitment of four countries – including Bangladesh, India, Nepal, and Pakistan – to bring down the annual average of PM 2.5 to 35 microgrammes per cubic metre by 2030.
Air pollution has truly become a silent killer. The authorities' business-as-usual approach will not be enough to prevent it.