Ensure justice in Cox's Bazar gang rape case
Make reporting cases of sexual violence easier for victims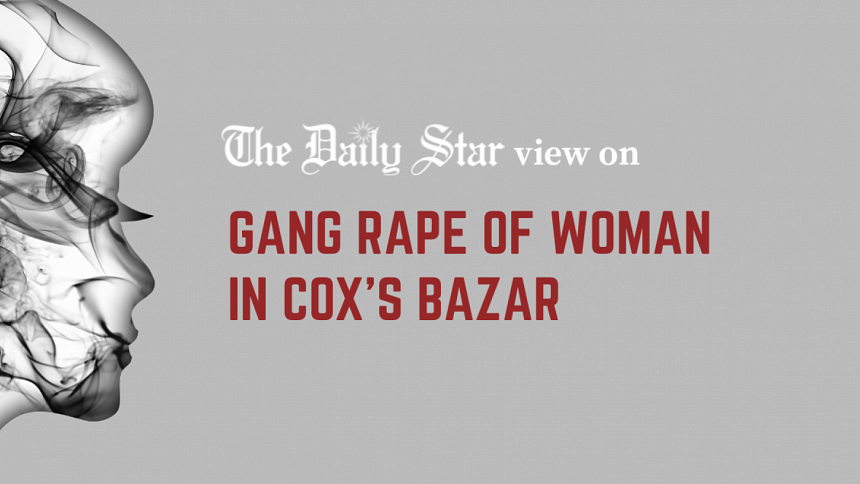 We are enraged to learn about the gang rape of a 19-year-old woman in Cox's Bazar's Kolatoli area. On September 4, the rape survivor and another woman, who were visiting from Dhaka, were taken and held captive at Rajan Cottage by a group of criminals. According to her, three men raped her and forced them to board a Dhaka-bound bus the following day. She had to be admitted to Ramu Upazila Health Complex due to the severity of the physical and psychological trauma. Once the police were informed, they moved her to Cox's Bazar General Hospital.
This case is yet another tragic example of how unsafe this country is for women. According to Ain o Salish Kendra (ASK), at least 640 women were raped, and among them 23 were also murdered, within the last six months of 2022. It's feared that the actual scenario is much worse, as numerous incidents of rape and sexual violence are never reported. It's time for us to take a hard look at why many refrain from reporting rape cases.
In December 2021, a girl was raped, but police ignored her allegation and arrested her for theft instead. In another case, one rape survivor had to stay at police station for three days because the police delayed recording the case. We have seen police being reluctant to take action when the perpetrator is a member of the force or politically influential. How would a survivor of sexual assault have faith that law enforcement members would come to her aid without questioning her past, her clothing, why she was there or what the relation between her and the assaulter was? Even if she could successfully file the case, is there any assurance that she would not be socially persecuted, threatened, and/or financially crippled for continuing to seek justice? How can she take on the mammoth burden on top of her horrific experience when thousands of cases remain unresolved?
We acknowledge that there are positive steps towards improvement, like abolishing the practice of two-finger test. We understand that the culture of rape and sexual assault against women has deeper roots in our society, and need thorough and prolonged actions to be uprooted. But, at the very least, our law enforcement and legal system must rise above social misogyny and emerge as reliable support systems for the victims of sexual violence.
---
Follow The Daily Star Opinion on Facebook for the latest opinions, commentaries and analyses by experts and professionals. To contribute your article or letter to The Daily Star Opinion, see our guidelines for submission.