Ensure fair exchange for Bangladesh
Revise power purchase agreement with Adani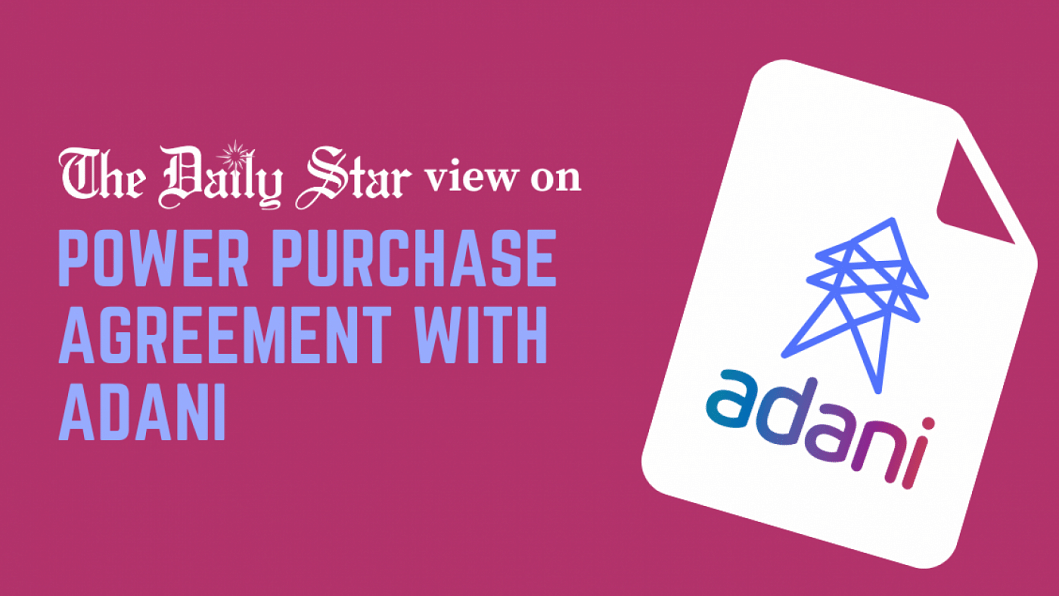 We welcome the government's decision to revise its power purchase agreement with Adani Group in light of skyrocketing coal prices, although we cannot help but wonder why such an unfavourable agreement to Bangladesh was signed in the first place – and that, too, in such a clandestine manner.
Bangladesh is set to buy 1,496MW of electricity from Adani Power Ltd for 25 years, under a contract signed by the Bangladesh Power Development Board (BPDB) in 2017. The request for a review of the agreement came after Adani Power asked BPDB to issue a demand note to open letters of credit (LCs) for coal, in which the price of coal was quoted at USD 400 per metric tonne – a significantly higher amount than that paid by the local coal-fired power plants. To compare, the BPDB pays USD 245 per metric tonne for the coal used in the Payra power plant, USD 254.38 for S Alam and Rampal power plants, and USD 270 for the Barishal power plants.
A recent report by The Washington Post has exposed the enormous degree to which the agreement would cost Bangladesh, after reviewing the 163-page confidential document. It highlights that the coal price is higher because Adani will use coal imported from its stranded Carmichael coal mine in Australia through Adani ships and Adani-built railways, while the electricity generated will be transmitted via an Adani-built high voltage line. However, it is Bangladesh who must bear all the additional shipping and transmission costs, according to the current agreement.
Worse still, unlike other agreements with foreign power suppliers, there is no cap on the price of coal imported from Adani if it shoots up in the international market. 
It is inconceivable that Bangladesh should have voluntarily and enthusiastically entered an agreement that is so detrimental to the nation and its people, who must ultimately shoulder the burden of higher prices. While we appreciate the government's commitment to ensuring high electricity production, we must ask why it has continued to take one questionable decision after another in the process, such as paying exorbitantly high amounts of capacity charges – about Tk 90,000 crore in a decade – for rental power plants to sit idle. 
Bangladesh is currently paying about Tk 1,500 crore as annual capacity charges to India, which, ideally, we should discontinue to ease the burden on our stretched forex reserves. Instead, thanks to the Adani agreement, Bangladesh is looking to pay a whopping USD 11.01 billion in capacity charges to Adani power over the 25 years of the deal, according to a report co-published by the Bangladesh Working Group on External Debt (BWGED) and India's Growthwatch, which is simply ludicrous. 
In light of the economic and energy crises we are facing, it is imperative that the government revisits not just the clause on coal prices, but other agreements at large to ensure a fair exchange for the people of Bangladesh. 
It must also make the existing agreement, and any possible revision, subject to public scrutiny, as it is the public in whose name, and from whose pockets, such large amounts of money will be paid to Adani. Why was the initial agreement signed in such a secretive manner, given that it was not a matter of national security? Why must we find out about its provisions from foreign newspapers? 
This secrecy must end, and the government must ensure transparency and accountability to the people of Bangladesh, whose interests it is constitutionally obligated to represent and protect.