A risky move, with no guarantee of success
Government must think critically before going ahead with the BERC act amendment
It hardly feels like a coincidence that the government has approved an amendment to the Bangladesh Energy Regulatory Commission (BERC) Act within weeks of its staff-level loan agreement with the IMF, which came with renewed fears of harsh economic conditions. As if to validate those concerns, the cabinet on Monday approved, rather hurriedly, the amendment that literally wrests control of fixing/adjusting electricity and gas prices from the BERC "under special circumstances". Until now, the BERC held public hearings on any proposal to increase prices and announced its decision 90 days later. The Energy Division can now do that promptly, bypassing any public hearing and without needing to go through a lengthy waiting period.
The government, while denying that the decision had anything to do with the IMF deal, says that it was necessary given the volatility in energy prices in the global market. It will enable it to quickly respond and adjust domestic tariffs when such price swings take place. The move is also being touted as a step in the direction of a dynamic pricing mechanism, which has long been a demand of multilateral lenders due to the inefficiency of the existing subsidy-reliant, administered pricing mechanism.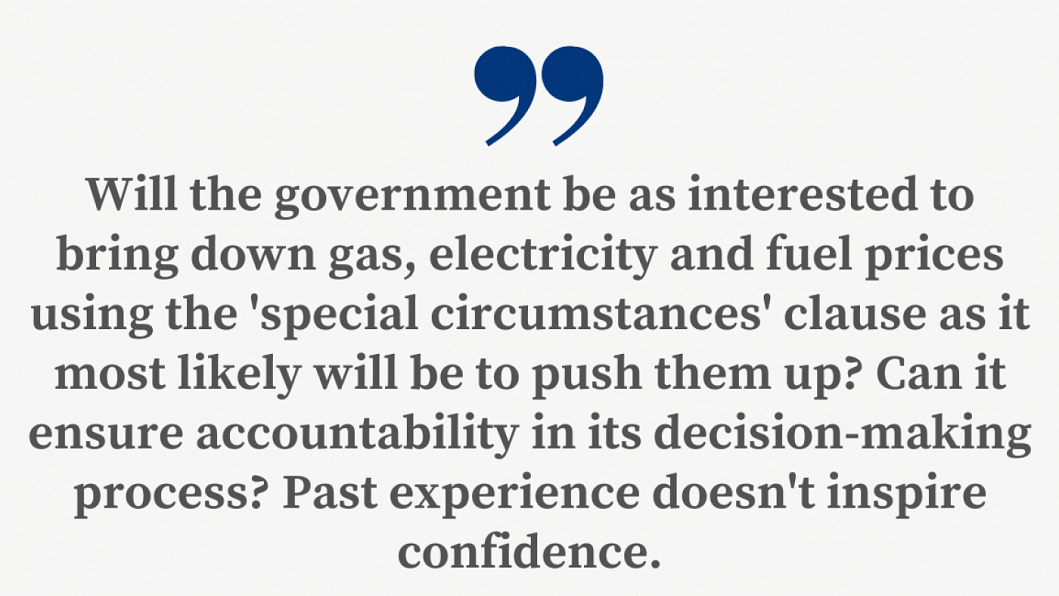 Coming against this backdrop, the amendment may seem to be a pragmatic decision in a changing market reality. But what it means for the future of ordinary consumers – now bereft of whatever control they had on such decisions – remains to be seen. Experts, however, were less than enthused. One of them called the decision to shift price-setting authority from the regulator to an implementing agency "a brutal attack on the basic principle of the law," one that will leave consumers without a voice. Although the government says the BERC can still adjust prices as before unless it is a "special circumstance", how this arrangement will work out is unclear. Will the government be as interested to bring down gas, electricity and fuel prices using this clause as it most likely will be to push them up? Can it ensure accountability in its decision-making process? Past experience doesn't inspire confidence.
Another expert also questioned the government argument that it takes too long for BERC to make price changes in line with changes in import prices. "There is no guarantee that allowing the energy ministry to set prices through gazette notification will enable more timely response of domestic prices to changes in import prices." Even in a so-called automated pricing mechanism, eliminating the exercise of arbitrary bureaucratic discretion will be a big challenge. For that mechanism to succeed, it will require a structure that supports both public interests and competitive pricing.  
We are told that the ordinance will first be applied in the case of electricity tariff. Starting next month, the electricity price at the producers' end would be 19.92 percent more, and the six state-owned distributors have applied to the BERC to hike prices at the consumers' end. This will most likely come into effect sooner than allowed under the BERC's jurisdiction. Whatever happens in the coming days, we just hope public interests will be given the highest priority.