Bay of Bengal drowning in plastic
When will authorities implement policies to stop plastic pollution?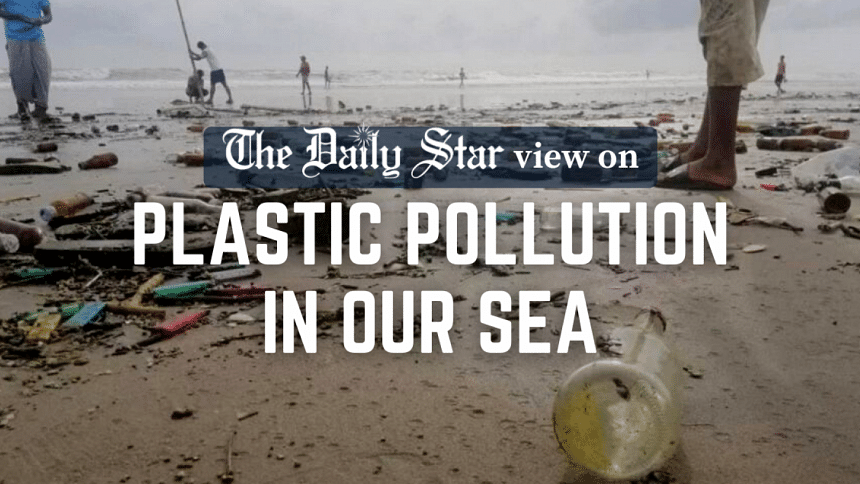 It is extremely distressing that, despite repeated warnings about the grave dangers of plastic pollution in the Bay of Bengal, unsustainable waste management continues to wreak havoc in our nation's most treasured natural resource. According to a recent study conducted by Enhanced Coastal Fisheries in Bangladesh (ECOFISHBD) – an initiative funded by the United States Agency for International Development (USAID) – around 15 tonnes of non-biodegradable waste are dumped into the sea by fishermen alone. The waste includes plastic bags, bottles, and polythene bags, all of which are disastrous for the environment, wildlife, and human health. The latest study undoubtedly serves as yet another reminder of the dangerous and persisting lack of awareness resulting from the lacklustre implementation of environmentally sustainable policies.
Just last year, another study by ECOFISHBD found that around 22.77kg of non-biodegradable waste is dumped daily on the Kuakata sea beach by tourists and locals. Experts have warned that the large-scale plastic pollution and proliferation of harmful bacteria are likely to make the Bay of Bengal unusable in the next 30-50 years. It goes without saying that the nation would not have descended to this situation had authorities implemented the bold steps taken to protect our environment since 2002, when Bangladesh became the first country in the world to ban polythene bags. Furthermore, in 2010, the country adopted the Jute Packaging Act to promote alternative packaging – with little effect 13 years later. In 2020, the High Court ordered the government to impose a ban on single-use plastic products by 2021, yet no effective measures have been taken to promote multi-sectoral change.
As destruction from plastic pollution continues to plague the environment, all the strides in policy and legislative arrangements have only served as mere rhetoric. It's time we put the jute packaging law into effect to replace the widespread use of plastic. Authorities should also diligently conduct regular drives to stop the indiscriminate use and illegal production of polythene bags and single-use plastics. Measures should also include multi-ministerial monitoring divisions to rigorously prevent the dumping of non-biodegradable waste into water bodies. It is of utmost importance to protect the Bay of Bengal against environmental degradation.