Patuakhali fishermen alone dump 15 tonnes a year: study
Finds study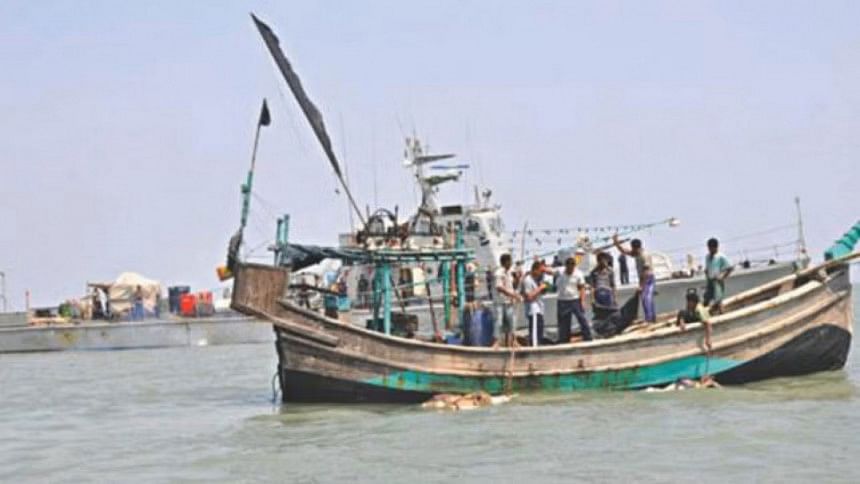 Around 15 tonnes of non-biodegradable waste are dumped into the Bay of Bengal by fishermen of Patuakhali every year, says a study. 
The waste includes plastic bags, bottles, polythene, wrappers of biscuits, and snacks that are used in fishing trawlers in the sea, according to the study of Ecofish, a non-government organisation.
The study was conducted in January this year on the fishermen of two fish landing stations -- Alipur and Mohipur -- adjacent to Kuakata sea beach, said officials of Ecofish working on the environment, fishermen, and the coast.
They recently shared the study findings with The Daily Star.
Fishermen can catch fish in the sea for around five months in a year as the government bans fishing in the remaining seven months of the year due to inclement weather and to ensure the smooth breeding of fish.
Around 400 trawlers go to the sea for fishing in phases during this five months. Each trawler can carry 12 to 20 fishermen and a trawler has to stay in the sea for around a week on each trip, says the study report.
On average, a trawler can make 15 trips during this tenure. On each trip, fishermen of a trawler take with them plastic bags, bottles, polythene, wrappers of biscuits, and snacks weighing around 2.5kg, according to the study.
It added that the fishermen dump the non-biodegradable waste into the sea after use.
So, it can be estimated that fishermen of a trawler dump around 37.5kg of waste on its 15 trips throughout the year. So, fishermen of 400 trawlers throw non-biodegradable waste of around 15 tonnes in the sea every year, according to the study report.
"Keeping the sea pollution-free is critical for our survival. Various types of marine lives, including fish, will be endangered, if we cannot keep our marine environment free from pollution," said Sagarika Smriti, research associate of Ecofish.
The Ecofish, in a study last year, found that around 22.77kg of non-biodegradable waste is dumped on the Kuakata sea beach daily by tourists and locals.
"We are conducting an awareness campaign to keep the sea and sea beach free from pollution," said Sagarika.
As part of its awareness campaign, Ecofish has already distributed jute sacks among some fishermen.
"We have trained some 100 volunteers, including 20 women, to clean the Kuakata sea beach and to continue the awareness campaign," she added.
Contacted, Nuru Majhi, president of Kalapara Upazila Trawler Majhi Samiti, said, "We have come to understand the adverse impact of dumping plastic bags, bottles, and polythene into the sea. Now, we have asked all fishermen in our area to refrain from this practice."
Kazi Saifuddin, assistant director of the Department of Environment in Patuakhali, said, "We will take initiatives to make aware fisherman of not polluting the sea."