We need reliable infrastructure, not megaprojects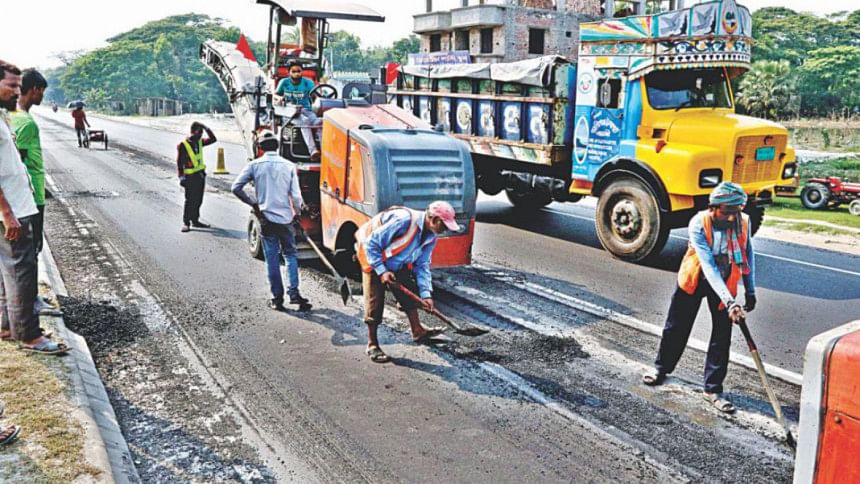 Bangladesh newspapers bring me good news and sometimes not so good ones too. In the latter category, I include accounts of tailbacks, road accidents, power failures, and factory fires. While one realises these are but symptomatic of a country that is growing and has underinvested in infrastructure, these problems are not just headaches that you deal with but also have significant economic costs. I do not intend to get into the details of the economic costs of traffic jams or the damages caused by potholes or delayed infrastructure projects. A question that often raises its ugly head is, in our efforts to reach the middle-income status fast, are we selling out on future growth potential? What I am referring to is our focus on short-term gains in terms of GDP growth as we disregard the perennial problem of inadequate investment in infrastructural projects, which often have a longer-term payoff?
Two recent news items in The Daily Star (DS) received a lot of attention. One of them highlighted the deplorable condition of the Dhaka-Chittagong four-lane highway, and the other pertained to a lack of infrastructural investment in Bangladesh. The Dhaka-Chittagong highway costing Tk 3,600 crore was finished in December 2016 but started falling apart after only six months of operation. The cost per kilometre was Tk 25.71 crore or USD 3.13 million, which was higher than the cost in India or China. How does this happen? A prime suspect is corruption, according to Dr Zahid Hussain of the World Bank's Dhaka Office.
Last year, at a roundtable on "Road to 2030: Strategic Priorities" held in Dhaka, participants strongly advocated for greater investment in infrastructure to expedite economic growth. "The amount of spending is inadequate compared to the investment made by peer countries," said Abul Kasem Khan, president of Dhaka Chamber of Commerce and Industry (DCCI). According to the DCCI, Bangladesh's infrastructure spending stands at only 2.85 percent of GDP, in contrast to 10 percent in Vietnam, 9 percent in China and 5 percent in India, the Philippines, and Sri Lanka. "If Bangladesh wants to attract foreign direct investment and remain competitive it will have to raise investment in infrastructure," said Khan. At the same conference, Professor Mustafizur Rahman of CPD was critical of cost escalation in infrastructure projects as well as shortage of qualified managers for execution of infrastructure projects.
The picture that emerges from the two cases outlined above, and confirmed by others, is one of a dialectical contradiction between the forces affecting our national aspirations and economic dynamic. We have an unmet need for infrastructure but resources allocated through the budgetary process and private investment are inadequate, misappropriated, or inefficiently spent! The list of problems besetting our large and medium-scale projects, many of which are in infrastructure, includes lack of managerial skills, funding, and poor governance. These failures, almost like a chronic disease, have afflicted our megaprojects including the Padma Bridge project, Rooppur NPP, and Metro Rail, but have not spared other large- and small-scale projects either. It's not premature to raise red warning flags next to the JICA-supported projects in the pipeline, including expansion of Hazrat Shahjalal International Airport, construction and repair of Kanchpur, Meghna and Gumti bridges, Matarbari power plant, and the underground power substations.
It can be argued that not all our infrastructure projects are in bad shape, and some have good performance records. The Jamuna Bridge, the thermal power plants, ICT projects, and some of our road projects have contributed significantly to our economic growth and quality of life. However, it is also true that we could have done better and, to use a technical term, we have not reached our growth potential, as many observers have mentioned.
Bangladesh ranked 114th out of 138 countries in the World Economic Forum's Infrastructure Competitiveness Report 2016-17. The World Bank's Doing Business Report 2018 showed that Bangladesh ranked 177th among 190 economies. According to an OECD report, total global infrastructure investment requirements by 2030 for transport, electricity generation, transmission and distribution, water and telecommunications will come to USD 71 trillion. This figure represents about 3.5 percent of the annual World GDP until 2030. For Bangladesh, which currently invests 2.85 percent, the rate needs to be higher because of the sorry state of our roads, railroads, and bridges.
For Bangladesh to invest 5 percent of its GDP in infrastructure development, as stipulated in the Seventh Five Year Plan, our annual projected outlay ought to be USD 12 billion (Tk 100,800 crore). According to estimates made by DCCI, the total need for infrastructure development is USD 320 billion by 2030, or nearly USD 25 billion a year or 1.5 times the current year's budget. A country's endowment with infrastructure represents a critical factor to sustain economic growth, attract foreign direct investment (FDI) and promote trade. By one estimate, an increase in investment by 1 percentage point of GDP in countries like ours with large infrastructure gaps can raise GDP by 0.4 to 1.5 percent in the following four years.
To sum up, Bangladesh needs infrastructural development, but all of our infrastructure projects run into a problem, known as the "mega project syndrome". The projects run into many type of difficulties including delays, cost overruns, and possibly technical glitches. The original plans for these projects, whether they are bridges, ports, power plants, roads, transit, construction or skyscrapers, become outdated and then we carry on guided by our "seat of the pants" instincts. Unfortunately, a project management expert, Professor Flyvbjerg of Oxford University has shown that this practice has led to systematic underestimation of the costs and an overestimation bias affecting benefits.
"In order to successfully improve infrastructure in Bangladesh, there must be an increased commitment from the government, in addition to foreign investments. This will ensure that large-scale projects will be funded continuously and in a transparent manner," according to The Borgen Project, an international NGO.
However, truth be told, there are some sceptics and nobody articulated the sentiment better than British PM Theresa May. "Infrastructure by itself does nothing," she said. "You can put a bridge between A and B and if nobody's going to use it then, well…" she said, doubtfully. "But if you put up a bridge that allows people to make trips they couldn't otherwise make… out of that can come connections—investment activity which couldn't otherwise happen." A very keen observation indeed, Madame Prime Minister!
All this suggests that it might be advantageous to scale up our infrastructure investment gradually, simultaneously building capacity and strengthening institutions. In the future, the government may create a separate cadre in the BCS Exam to recruit and groom specialists in project management. From an economic growth perspective, infrastructure is not only an enabling factor for development and for facilitating private investments and competitiveness but can be an attractive investment opportunity in itself. Our private sector can be encouraged to seize upon infrastructure investment opportunities, possibly in private-public partnership, and this calls for an enabling environment for such investment, as BIDA chief himself admitted recently.
---
Dr Abdullah Shibli is an economist, and Senior Research Fellow, International Sustainable Development Institute (ISDI), a think-tank in Boston, USA.
---
Follow

The Daily Star Opinion

on Facebook for the latest opinions, commentaries and analyses by experts and professionals.
To contribute your article or letter to The Daily Star Opinion, see our

guidelines for submission

.
---