Trump-Kim summit drama: What happens if talks fail?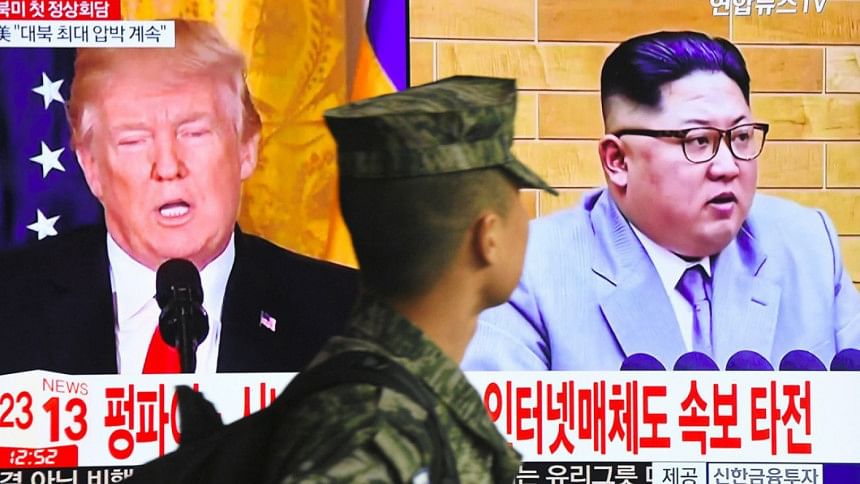 One shall recall that North Korea signed the Treaty on the Non-Proliferation of Nuclear Weapons (NPT) in 1985 but quit in 2003. The same year, the six-party talks involving China, Japan, Russia, South Korea (SK), North Korea (NK) and the US to dismantle North Korea's nuclear programme began in Beijing but after six rounds of talks, North Korea abandoned it in 2009. Since then, tension between NK and the US has been mounting.
But now only the US and NK are involved in a drama for a summit between the impulsive Donald Trump and the "short and fat" Kim Jong-un which is in full swing on a manic stage.
The ball was set rolling when in January 2018, Kim, in his New Year address, said that he had a nuclear button on his desk but called for improved relations with South Korea. Trump instantly tweeted that he had a bigger and more powerful button that works. 
SK's Moon Jae-in, eager to avoid war and ready to improve relations with NK, invited the latter's athletes to the Winter Olympics held in February in Pyeongchang. In a rare demonstration of brotherhood, SK and NK athletes marched as one delegation. US Vice President Mike Pence was also there with Kim's powerful sister Kim Yo-jong and NK's ceremonial Head of State Kim Yong-nam to share the main podium with Moon Jae-in.
In March, Kim indicated through emissaries that he wanted to discuss the fate of his nuclear arsenal with the US. Trump readily agreed to meet Kim without consulting his advisers. Kim then hurried to Beijing on March 27 to meet Xi Jinping. Kim's conciliatory rhetoric also pushed Moon Jae-in to hold a summit on April 27, where Kim declared that he wanted the Korean peninsula to be totally denuclearised.
As the ambience got better, Kim again met Xi Jinping on May 7. Soon thereafter, Mike Pompeo was in NK, and after talks with Kim, returned to Washington with three Americans who were in prison. On May 10, Trump announced that he would meet Kim on June 12 in Singapore. But when the US-SK military exercise began in mid-May, NK broke off diplomatic contacts with SK and threatened to call off the summit with Trump. That prompted Moon to rush to Washington on May 22 and hold another meeting with Kim on May 26 to keep the summit on schedule.
Despite the hiccup, things were moving ahead when Mike Pence said that John Bolton's "Libya" model was discussed in the White House as America's option to deal with NK in case the summit failed. Angry, NK issued a statement calling Pence a "political dummy". An enraged Donald Trump immediately addressed a letter to Kim calling off the summit.
Now it was Kim's turn to write a missive to Trump. On June 1, NK's special emissary Kim Yong-chol came to the White House and handed over the message to Trump personally. That changed Trump's mood who announced that the summit was on. Strangely, hawk John Bolton was conspicuously absent at that event—probably he is out of the Trump team dealing with NK.
However, with all the drama of the on-again, off-again summit being played by both Trump and Kim, one wonders whether the meeting will only be optics or there will be substance. The issues on the table are so diverse and antithetical that each party would want maximum concessions from the other.
There is very little by way of media reports on what exactly Trump team wants from NK. Apparently, Donald Trump wants total denuclearisation of NK. But he has not said anything about the SK-US military alliance nor about removing US nuclear arsenal from SK. At times a petulant Trump raises his expectations, at another he qualifies and lowers the prospects. Actually, there is incoherence in Trump team—Mike Pompeo has made contradictory statements at a Senate Committee hearing while John Bolton, James Mattis and others made conflicting remarks to the press.
Trump clearly wants to go alone and get a bilateral deal from Kim without involving anyone else. He wants to show that his hawkish diplomacy is better than Barack Obama's multilateral approach that led to JCPOA. Trump's diplomacy will no doubt please his electoral base but can it bring peace to the Korean peninsula? While Trump is trying to restrain NK, the latest news from Iran say Tehran was ramping up its nuclear enrichment capacity—i.e. Iran may also walk out of JCPOA.
Kim Jong-un wants the 65-year-old armistice of 1950-53 Korean War to be terminated with a formal peace treaty. His regime sees the presence of US troops in SK and Bolton's "Libyan" model option as a threat to him—i.e. regime change. Curiously, Kim has not made any clear declaration about denuclearisation.
Summits between leaders are normally arranged after lots of preparation at the functional levels spread over months and years. It took more than ten years of negotiations to arrive at JCPOA in July 2015. It took Henry Kissinger three years of preparation to set the stage for Richard Nixon to go to Beijing in 1972 and normalise relations with Mao Zedong's China. 
Leaders meeting at summit level only formalises what have been agreed upon behind-the-door diplomacy. One wonders whether Trump team has done its homework and prepared sufficiently to get what they want from Kim Jong-un.
What happens if Trump fails to get the "deal of the century"? Normally, when diplomacy fails, war stares in the face. Will Trump go for war if his "America First" diplomacy fails?
One hopes that instead of trading insults, Trump and Kim should set the stage for a process of negotiations which involves China, Japan, SK and Russia, and produces a treaty that will end the state of war, unify the SK and NK, and ensure peace in the peninsula. Only an active involvement of all the parties will guarantee security in the region.
---
Mahmood Hasan is a former ambassador and secretary of the Bangladesh government.
---
Follow

The Daily Star Opinion

on Facebook for the latest opinions, commentaries and analyses by experts and professionals.
To contribute your article or letter to The Daily Star Opinion, see our

guidelines for submission

.
---