Brexit Deal lands Britain in a political mess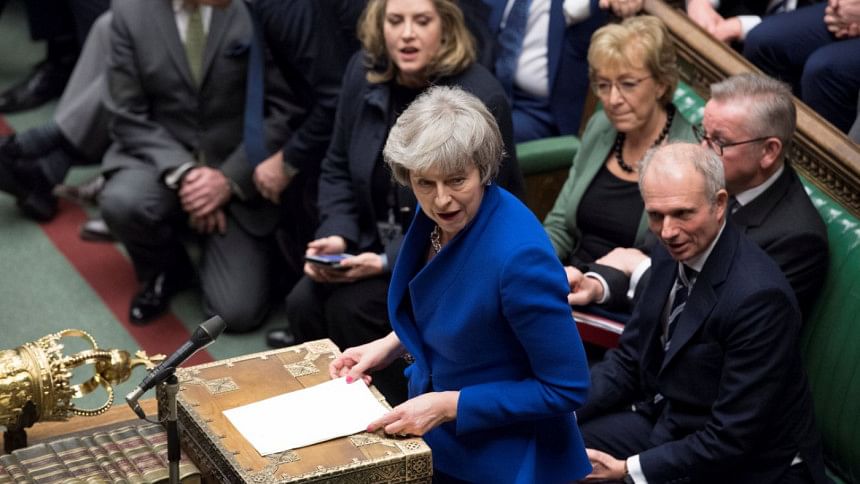 The British House of Commons on January 15 voted to reject Prime Minister Theresa May's Brexit Deal by 432 votes to 202. The vote came after 200 speeches spread over eight days of fractious debate. Just before the voting, Theresa May passionately appealed to members of the House of Commons saying, "I ask members on all sides of the House to listen to the British people, who want this issue settled…" The choice was plain: support her imperfect deal, the only one acceptable to the EU, or face the cliff edge of a no-deal Brexit. May hoped that dissenters will eventually vote for her deal. Yet, 118 members of the Conservative Party voted against their prime minister. Theresa May's Brexit Deal is now effectively dead.
The vote has been described as a crushing, historic defeat for a sitting British prime minister. Indeed, it is historic as the defeat margin of 230 is unprecedented in recent history for a sitting government in parliament. Clearly, lawmakers and the people are now seriously divided over the Deal. Thousands of protesters gathered outside the parliament to shout at each other—illustrating how unsettled Brexit remains even more than two years after the referendum of June 2016.
May's debacle immediately sparked a no-confidence motion from opposition Labour leader Jeremy Corbyn, who called the defeat "catastrophic" and asked the house to "give its verdict on the sheer incompetence of this government." Evidently, Corbyn is out to capitalise on Theresa May's predicament and force a general election.
In March 2017, Theresa May invoked article 50 of the Lisbon Treaty which gave Britain two years to complete the exit agreement. Despite having negotiated painstakingly with Brussels and gruelling debates within Britain over the past two years, the defeat of the Deal is no surprise. Over the past months, many from within the Conservative Party as well as Labour Party leaders have been vociferous against some of the provisions of the agreement. Theresa May's obduracy has landed her in this situation. She has persistently refused to listen to her party colleagues and also did not bring the opposition Labour Party members on board her plan. 
May had three broad options: Hard Brexit, Soft Brexit and No-Deal. She actually opted for a mix of hard and soft provisions. The Hard Deal meant that Britain will give up all access to the single market and the customs union. Soft Brexit means retaining access to the single market and customs union. No-Deal means crashing out of EU without any link to the Union. Hardline MPs of both parties want a clear cut-off with EU.
The "Irish backstop" became the centre of acrimonious debate as it provides for a soft border between the Republic of Ireland (a full member of EU) and Northern Ireland, a part of Britain. It is essentially a legally binding insurance policy to ensure that there is no hard border between Ireland and Northern Ireland. In other words, it means that Britain will continue to be tied indefinitely to many EU laws, which is firmly opposed by the hardline Brexiteers.
Theresa May, on January 16, survived the no-confidence motion moved by the opposition Labour Party. She got 325 votes against 306—a close call. Conservative MPs who voted against the Deal rallied behind Theresa May to keep her minority government afloat. The Conservatives have 317 seats in the parliament of 639, and require 320 for a simple majority. The Democratic Unionist Party of Northern Ireland with 10 seats actually propped up Theresa May's government, though they voted against the Deal.
Theresa May has promised to return to parliament on January 21 and try a fresh approach to get support from across the aisle for a "common cause". Even if a consensus is reached in parliament, there is no guarantee that EU will agree to reopen negotiations. Actually, Brussels has clearly said that there was no scope of renegotiation over what has already been agreed. Under the present chaotic situation, it is extremely unlikely that May will be able to present a Plan B that will appease the rebels. It appears that Theresa May has become a lame-duck prime minister.
European Commission President Jean-Claude Juncker said, "…The risk of a disorderly withdrawal of the UK has increased." French President Emmanuel Macron said, "Maybe we'll make improvements on one or two things, but I don't really think so because we've reached the maximum…" German Chancellor Angela Merkel said, "We want to limit the damage and there certainly will be damage… but we are also ready in case there is no such orderly solution." Clearly, EU leaders are not ready to solve Britain's domestic issues and stop defending European interests.
As a no-deal Brexit seems increasingly likely, many economists and business leaders have cautioned that such an exit would be catastrophic for Britain. Uncertainties will prevail causing harsh economic and humanitarian consequences on both sides of the English Channel.
What, then, are the options for Theresa May and Britain? A renegotiated deal with EU—very little chance. A second referendum? Now that May's government survived the trust vote, the Labour Party may push for a second referendum. But May said such a move would subvert the democratic process. What happens if the second referendum votes to stay with the EU? Would that resolve the current crisis? No one knows. Change in the leadership of Conservative Party—easing out Theresa May and bringing in a hardline Brexiteer as prime minister? Can the Brexit date be pushed farther down, say, six months from the existing date of March 29, 2019? An extension of the exit date would require the unanimous agreement of the 27 members of EU. That may not be easily forthcoming.
Many Brexiteers had thought that the divorce plan after 45 years of marriage with EU would be easy. It certainly is not. For now, Britain is in a political mess.
---
Mahmood Hasan is a former ambassador and secretary of Bangladesh.
---
Follow

The Daily Star Opinion

on Facebook for the latest opinions, commentaries and analyses by experts and professionals.
To contribute your article or letter to The Daily Star Opinion, see our

guidelines for submission

.
---