Will Terminal 3 be everything we want it to be?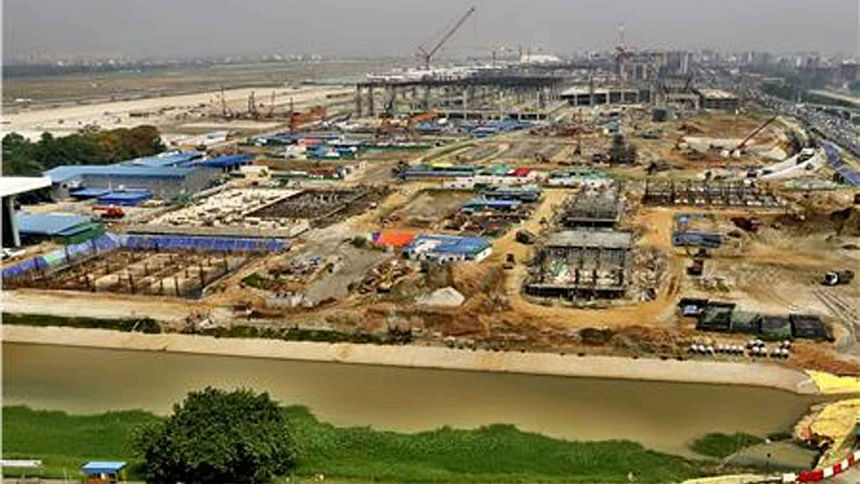 One of my favourite films, Love Actually (2003), begins with the narrative voice of "the British prime minister" (Hugh Grant) saying, "Whenever I get gloomy with the state of the world, I think about the arrivals gate at Heathrow Airport." The added video collage shows the crossroads of humanity featuring a wide spectrum of people coming together with a potpourri of emotions. The voice continues, "General opinion's starting to make out that we live in a world of hatred and greed, but I don't see that. It seems to me that love is everywhere. Often, it's not particularly dignified or newsworthy, but it's always there. When the planes hit the Twin Towers, none of the phone calls from the people on board were messages of hate or revenge – they were all messages of love. If you look for it, I've got a sneaky feeling you'll find that love actually is all around."
Sitting at the airport lounge recently, I wondered if the British prime minister would have actually located love at Dhaka airport. I saw countless instances of mismanagement, negligence, and incompetence as I muttered, "Whenever I arrive at the gate at Dhaka airport, I get gloomy with its state of affairs." Thankfully, I am not a politician who needs to be publicly upbeat and professionally enthusiastic. I do not have to be a cynical preacher of gloom, either.
The construction of Terminal 3 at Hazrat Shahjalal International Airport (HSIA) in Dhaka offers a silver lining. Designed by architect Rohani Baharin, whose work includes critically acclaimed Changi International Airport in Singapore, the HSIA Terminal 3 promises to render a much-needed facelift to our civil aviation sector. And, under the guidance of Japanese and South Korean companies, the construction is way ahead of its schedule and likely to go for a soft launch in October 2023.
This megaproject is going to revolutionise our air connectivity. The completion of Padma Bridge, despite many odds, gives us hope that this terminal, too, will become a development milestone. My concern, however, is not the simulation of a world class airport; my concern is its operation. Our development partners can help us with the impressive structure, but do we have the resources and mindset to manage it at an international standard?
In a country where the High Court has to issue directives to control the mosquito population at the airport, where the lack of luggage trolleys hits the national news, where passenger harassment is of epically tragic and the delay in receiving luggage is of absurdly comic proportions, where aeroplane toilets act as proxy goldmines, where the gangs of HSIA are waiting for a Martin Scorsese to make a film after them, it is difficult to be overexcited about the physical growth of the airport facilities. In a country where civil servants do not miss out any opportunity to avail foreign trips to learn about sowing grass seeds, cooking mishmash, inspecting lifts before ordering, or hopping on a flight to find feasibility of a non-stop route to the other hemisphere, it is difficult not to be dispirited.
A series of freak accidents at HSIA in the last few months raised an extra red flag for me. On Thursday, a Biman Dreamliner grazed the abrasion-resistant rubber on the boarding bridge while being taken to the hangar. On June 4, a microbus of the US-Bangla Airlines hit a Boeing 737 aircraft. In April, a flight to Dubai was cancelled after the nose of a Boeing aircraft hit the tail of another aircraft at the hangar. On February 15, a Boeing 737 aircraft of Biman was brought back from Malaysia once a crack was found in its windshield. On March 6, a Boeing was damaged when its engine was struck by a bird during landing at Sylhet airport.
These incidents show a serious lack of skilled crew and ground staff to run an aviation system. Running an airport with 20 million passengers a year is almost as challenging as running Dhaka city or a small country. The airport has the responsibility of moving millions of people to their ultimate destinations through scores of different airlines from different countries. Do we have plans to reskill and upskill our airport personnel to deal with these hundreds of daily arrivals and departures? Our current performance says we are far from it.
I am sure the designer of Terminal 3 has paid enough attention to include various services in its concourses and terminals. Already, a complex surface-transportation system consisting of elevated expressway, metro rail, tunnel passage, bus bay, car park, etc. is being built to ease the way people can get to and from the airport, and commute within the airport structure itself. The airport will also boost local businesses, including shopping, lodging and accommodation. But my worry is, have adequate measures been taken to increase the number of service providers and improve the quality of the operators? Are there enough projects in place to make passengers' travel experiences effortless? Do we have the people with appropriate aptitudes and attitudes to make the best of the infrastructures being built? Do we have the right communication and professional skill sets? I have not seen any such news in the media. If we are to rely on the trade unionists who have often held the aviation sector hostage to their whims, then I believe there is not much to expect from Terminal 3.
This is an area that we cannot overlook. An airport is the face of a country. It shapes a visitor's overall perception of a destination. The impressive building can only impress, but to make it truly impressive, we will need to take a stride further to add human elements to the steel and concrete slabs.
Dr Shamsad Mortuza is the pro-vice-chancellor of the University of Liberal Arts Bangladesh (ULAB).