US Election 2020: What Biden Must Do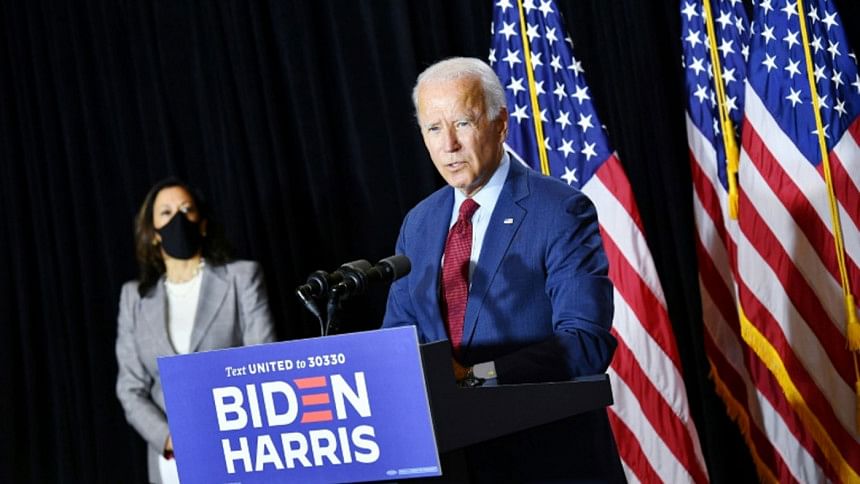 With the national conventions behind, Democratic Presidential candidate Joe Biden and Republican candidate incumbent Donald Trump, are now on the campaign trail. The election is front and centre of media coverage, while the death toll from the coronavirus pandemic is on the rise again. The national opinion polls show that Joe Biden is ahead of Trump, but the election is eight weeks away. Whether Biden can manage to hold on to the lead and defeat Trump is contingent on various factors, but Biden's camp needs to be cognisant of two things: avoid the Trump Trap, and win some of the battleground states, particularly the three Midwestern states Democrats lost to Trump in 2016.
In the past days it has been evident that the battle line between the two candidates has been clearly drawn—the battle is between restoring "law and order" in the face of "chaos and mayhem" and an "incompetent presidential record" exemplified by the death of 180,000 American citizens and over six million infections. The former is the central platform of Trump's campaign, the latter is of Biden's. For Biden, the most difficult task is to balance two aspects—to show that he is not condoning violence, yet underscoring that the problem today America is facing is not the absence of law and order but a pandemic which is a result of mismanagement. Republicans have always portrayed Democrats as soft on crime and sympathetic to law breakers. Trump has amplified the message like Richard Nixon did in 1968. For Trump it is not new, in the 2016 election his message was the same—"I am the law and order president", he declared in July of 2016 at a rally and tweeted on July 12: "This election is a choice between law, order & safety—or chaos, crime & violence. I will make America safe again for everyone."
Trump and the Republican Party has decided to ignore the pandemic and entirely focus on their message. They think that "fear mongering works". At least it worked in 2016. Biden cannot ignore the ongoing popular protests as he and the Democratic Party have supported the demands of the Black Lives Matter movement, promised to reform the criminal justice system, and address institutional racism. But he must condemn the violence as well, however sporadic these incidents may be. Biden has done so on Monday in Philadelphia while starting his in-person campaign. He challenged Trump to condemn violence of both the left and right, which Trump not only declined to do, but openly supported Kyle Rittenhouse of Kenosha's violence. Seventeen-years old Kyle Rittenhouse is charged with killing two protestors and injuring one with an AR-15 assault rifle during a protest on August 25. Protests ensued after police killed Jackob Blake, a black youth, on August 23 in front of his children when he was trying to get into his car.
Trump has also spread fringe conspiracy theories without any evidence that a plane full of agitators travelled to DC during the Republican National Convention. He was suggesting that a group of "radical left" agitators are traveling to places to create "chaos", and implied that the Democratic Party is behind this. Interestingly, Trump has ignored the fact that Kyle Rittenhouse travelled from the state of Illinois to Wisconsin, unlawfully carried a lethal weapon, and engaged in violence while offered justification for Rittenhouse's shooting.
In the past week, especially since the Republican Convention, Trump has exclusively focused on this message. Trump is banking on its success. Kellyanne Conway, the outgoing advisor to President Trump, said on August 27: "the more chaos and anarchy and vandalism and violence reigns, the better it is for the very clear choice on who's best on public safety and law and order." Conway was the campaign manager of Trump in 2016 and knows what their supporters like.
For Biden, the challenge is not to walk into the "Trump Trap" of shifting the focus to Law and Order, abandoning the strong case he and the Democrats have so far made against Trump's re-election. It is imperative for his campaign that Joe Biden and Kamala Harris stay on point and continue to press on the president for his incompetency.
The second thing the Biden campaign must do is to reach out to the voters in battleground states, but not at the expense of its bases. In the US elections, there have been a few states which are neither solidly Democratic nor Republican. In the previous elections they have shifted from one party to another. These states tend to emerge as the deciding factor in a tightly contested election. They are called "battleground states". Previously they were only a handful. This year the number is quite large. By one account it's 11. They are Arizona, Colorado, Florida, Georgia, Michigan, Minnesota, North Carolina, Ohio, Pennsylvania, Texas and Wisconsin. It is the first time in a long time that so many states are considered as "battleground states". It is interesting that the number of battleground states has increased when the country seems to be more polarised than ever before. The number has grown this year because some of the previously solid Republican states are now being considered as toss-ups, for example, Arizona, Texas and Georgia. Since 1952, Arizona voted Democratic only once—in 1996. Texas has remained firmly in the Republican camp since 1980. These are very encouraging signs for the Democrats. As of September 2, Biden holds the lead in all but two of those states—Texas and Ohio—according to the polling data.
Despite these promising signs, it will be devastating if the Biden camp feels that as new states become battleground states, it can ignore previously Democratic states which were won by Trump in 2016. The assumption that states like Michigan will be back to Democrats may cost Biden dearly. Documentary filmmaker and activist Michael Moore, who correctly predicted the Trump victory in 2016, has already warned about Michigan. In 2016, Hillary Clinton ignored Michigan and lost by 10,704 votes, a 0.23 percent margin, the narrowest margin of victory in Michigan's presidential election history. The same is true for Wisconsin, a state Hillary lost by 0.77 percent of votes, 22,784 votes made the difference. Trump won Pennsylvania by 44,292, a difference of 0.72 percent with Hillary; the narrowest margin in a presidential election for the state in 176 years.
With the pandemic raging through the country and the situation becoming increasingly worse, the question is how to reach out to voters? Unlike Trump, Biden cannot be reckless and organise large gatherings; it will undercut his campaign message that the voters are still unsafe. On the other hand, if he does not show up, it will be considered as a repeat of Hillary Clinton. Besides, invisibility will hurt Biden badly. Trump has remained on the trail and will garner coverage—as the incumbent president and by making outrageous statements—either in person or on twitter. Trump will portray Biden as weak and hiding in his basement. The Biden camp has already bought a significant amount of ad time on television and social media targeting these battleground states. But yet, Biden-Harris will need to show up. A two-prong strategy, to bring back the states Hillary lost to Trump, and expand the presence in the battleground states are imperative for Democrats.
British Prime Minister Harold Wilson once said, "a week is a long time in politics". We are eight weeks away from the election and it is an unusual time. Predictions have been wrong in 2016, early indications gave way to last-minute surprises. Avoiding the surprises this time requires avoiding the Trump trap and winning back the battleground states.
Ali Riaz is a distinguished professor of political science at Illinois State University (ISU), and a Nonresident Senior Fellow of the Atlantic Council. His recent publication is entitled "Voting in a Hybrid Regime: Explaining the 2018 Bangladeshi Election" (2019).