What does democracy mean to Bangladeshis?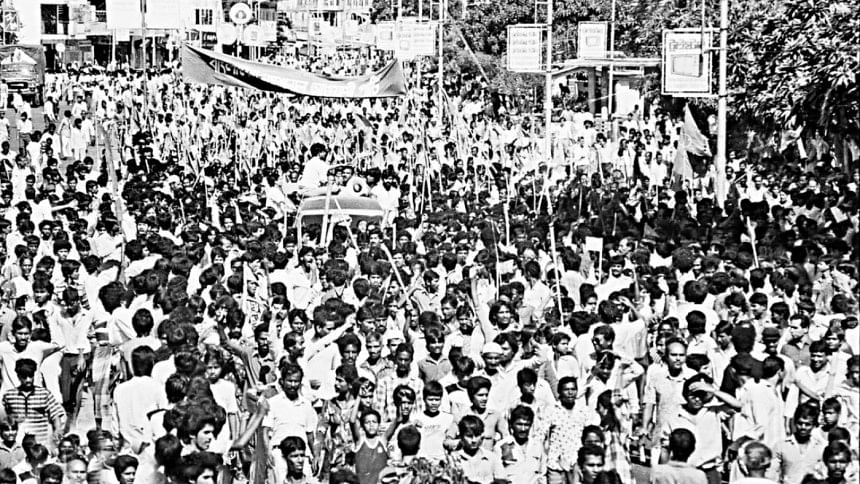 December 6 is observed as 'Democracy Day' in Bangladesh, a day that marks the overthrow of military rule of General H M Ershad through a popular urban uprising in 1990. It was the culmination of years of protests demanding democracy, at least the right to express opinions without fear, to vote in freely held elections, to elect civilian governments and to hold the leaders accountable.
The observance this year, like previous years, will provide opportunities to those who participated in the pro-democracy movement since 1982 to reminisce what they did in the face of great adversity. Some reflections will highlight contributions in bringing back democracy while others will claim that they are the ones who have saved democracy since then. Since the downfall of the autocratic regime of General Ershad, the country has experienced a tumultuous quarter of a century - it has been ruled by both elected civilian regimes and unelected regimes, elections have been held, some free and some not - but the promise of establishing an accountable representative governance has remained elusive.
While the observance of the day is a reminder of the movement against military authoritarianism, particularly the Ershad regime, it is well to remember that it was only one episode of the long struggle for democracy in the country. After all, the Bangladeshi state was founded on the basis of democratic aspirations and democracy, which have been included in the Constitution as one of the state principles. Periodic popular uprisings, the presence of a plethora of political parties, and widespread participation in national elections until 2014 are indicative of the aspiration. It is not an exaggeration to say that in the past twenty five years, democracy has remained under stress.
Since 2013, the nation has plunged into an unusual political environment. The unprecedented election of 2014 remains at the centre of this unusual situation. Several episodes of violence, for example, the Islamists' deadly protests against the verdicts of the International Crimes Tribunal in 2013, protests against the election in 2014 by the main opposition party, and serious deterioration of law and order for three months in 2015 during the opposition-led blockade in the wake of the anniversary of the controversial election, have cost the nation dearly.
These unfortunate developments have been accompanied by an increasing use of force by the government, enforced disappearances and extrajudicial killings. Media are either muzzled or have adopted an unstated policy of self-censorship in fear of retribution. The space for civil society, once a vibrant arena of debate and social movements, has contracted. Overall, the space for dissent has shrunk remarkably, thanks to the intolerance of the government on the one hand and both militant and mainstream Islamists, on the other. The use of extremist rhetoric has increased markedly and been accepted as a natural mode of political discourse.
Thanks to the 2014 election, the Parliament has become a one-party institution due to the absence of an effective opposition. The ruling Bangladesh Awami League (AL) seems to be engaged in decimating the main opposition Bangladesh Nationalist Party (BNP) through persecution and frivolous cases against its leaders. One cannot ignore that BNP's political miscalculation, wrong strategy, and inept tactics have also contributed to its plight. The ruling party's success in marginalising the main opposition BNP, at least in the short term, is a combination of these factors. But the overall impact of this growing authoritarian bent of the government and weakening of the opposition is that the mainstream political arena is being hollowed out: neither the Parliament nor the street is the arena of politics.
Concurrently, the country witnessed the dramatic growth of militant groups and experienced audacious attacks. Killings of bloggers and individuals with unorthodox views have been followed by murders of foreigners and a high profile attack on a café on July 1, 2016. Some of these militant groups claimed to have organisational connections with international terrorist groups, which the government denied.
Against this background one can ask: Does the environment within the mainstream politics and mode of governance reflect the popular aspiration?
Generally speaking, there are two strands of discussions on democracy in Bangladesh; either they provide the description of events since 1990 or they focus on the normative qualities of democracy. Both discussions ignore what the people view as the characteristics of democracy. In my recently published book, Bangladesh: A Political History of Bangladesh Since Independence (London: I B Tauris, 2016) I have examined the popular views expressed in 13 surveys conducted by different national and international research organisations between 1996 and 2013. Here I highlight a few findings that deserve our close attention, particularly in the context of the extant political environment.
That these surveys demonstrate a wide and unwavering support for democracy among Bangladeshi citizens should come as no surprise. In a survey conducted by the United States Agency for International Development (USAID) in late 2003, nearly two-thirds of the respondents (62 percent) chose a 'government ruled by democratically elected representatives' as the preferred system of governance. As for other choices, a 'government ruled by Islamic law, with respected religious figures as leaders' was favored by 21 percent, followed by 'a government ruled by a military leader who got things done' at 11percent and 'a non-elected government ruled by specialists, experts, and business leaders who know what it takes to develop a country' at three per cent. A decade later, the sentiment remained almost the same; a survey by the Pew Research Center in 2013, showed that 70 percent of Bangladeshis preferred democracy as opposed to 27 percent who preferred a 'strong leader.'
What prompts such overwhelming support for democracy? Respondents of the USAID survey gave democracy strong marks for being the best system for protecting individuals' rights and freedoms (79 percent), ensuring equality of all citizens (69 percent), providing order and security (69 percent), keeping the country united (68 percent), and solving community problems because it gives everyone the chance to speak about their concerns and interests (59 percent).
These surveys also revealed what Bangladeshis mean by democracy. Weighted narrowed responses of the Governance Barometer Survey Bangladesh 2010 (conducted by BRAC University) showed that 80 percent of respondents felt elections were the critical ideal of democracy, followed by free public debate (71 percent), rule of consent (60 percent), ability to participate in decision making (50 percent), and ability to access information on government activities (40 percent).
In a survey conducted by the International Foundation for Election Systems (IFES) in 2000, where respondents were provided with a list of fundamental rights and were asked, 'How important is it to you that the following rights be respected in Bangladesh?' Rural respondents picked 'one can choose from several parties and candidates when voting' overwhelmingly while urban respondents indicated 'honest elections are held regularly' as the most important right.
As for the attributes of democracy, the Global Survey conducted by the Pew Research Center in 2002 showed that Bangladeshis identified three major attributes of democracy: people can openly criticise the government (81 percent); there are honest, two-party elections (71 percent); and free press/the media can report without censorship (64 percent).
A similar perception is found in the survey among the younger population. 'Giving Youth a Voice: Bangladesh Youth Survey of 2011' informs us that "when defining democracy, a wide majority stated that elections are a core parameter". The report states, "Our survey reflects that Bangladeshi youths' perceptions about democracy are mainly defined by having free and fair elections. When ranked, this was given first priority by an overwhelming majority of 65 percent, in addition to 18 percent who ranked it either second (8 percent) or third (10 percent). Among all other options, rule by consent and access to information have been top priorities."
While these numbers and the details of these surveys may seem overwhelming, taken together they provide a clear message: democracy is not an abstract idea to Bangladeshi citizens. Bangladeshis' view of democracy as a competitive pluralistic political system which holds regular free elections, protects individual's rights and freedoms, and allows citizens to express opinions freely without fear of being persecuted, either by the state or by the non-state actors.
As the country observes 'Democracy Day' in 2016 it is worth remembering this message.
The writer is Professor and Chair of the Department of Politics and Government at Illinois State University, USA. His recent publications include the coedited volume 'Routledge Handbook of Contemporary Bangladesh' (London: Routledge, 2016).
Photo: Dinu Alam on Facebook/Dinu Alam on English Wikipedia (https://commons.wikimedia.org/wiki/File:Rally_of_Nov_10,_1987_-_1.jpg), "Rally of Nov 10, 1987 - 1", https://creativecommons.org/licenses/by-sa/3.0/legalcode