The Rocky Road of Democracy
December 6 is observed as Democracy [restoration] Day in the country, marking an end to the autocratic rule of HM Ershad in early December of 1990. Today, on the 26th anniversary of the fall of Ershad and the restoration of democracy, we present a timeline of events in Bangladesh's tumultuous journey on the path towards democracy. 
In 1982, Ershad seized power in an army coup by ousting the then elected government led by Justice Abdus Sattar. He proclaimed martial law and suspended the Constitution. He declared himself as the Chief Martial Law Administrator and installed a Supreme Court justice as the president. He takes over as President the following year and in 1986, won the presidency in a rigged election amid a climate of unrest and allegations by opposition parties of voting fraud and malpractices.
The Anti-Majid Khan Education Policy emerged as the first major opposition to his regime in 1983. At least five people were killed in anti-Ershad protests at Dhaka University. In 1987, opposition groups organised various mass public demonstrations demanding Ershad's removal from presidency.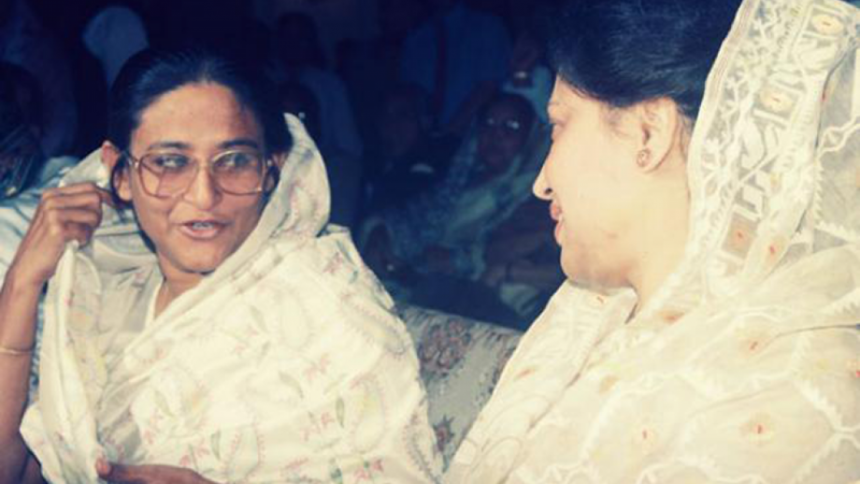 Sheikh Hasina and Khaleda Zia met, marking a new phase of cooperation between Awami League (AL) and Bangladesh Nationalist Party (BNP). By 1990, university students and members of civil society had begun to play a pivotal role in the anti-Ershad movement. On December 4, 1990, Ershad stepped down after almost a decade in power. Chief Justice Shahabuddin Ahmed was appointed as vice-president who acted as the president.
---
1991
BNP wins the parliamentary election of February 27 and Khaleda Zia is sworn in as the country's first woman prime minister.
The 12th amendment of the constitution is brought unanimously through which the country switched to the parliamentary democracy from the presidential form of the government. 
1994
The AL and other opposition parties start boycotting parliament  accusing Khaleda Zia of rigging a by-election in the western district of Magura. This marks a turning point and is considered to be the origin of the demand for an election time non-partisan caretaker government.
1996
Khaleda Zia is sworn in as PM for second term following BNP's win in the one-sided general election of February 15   amid a boycott by AL and other opposition parties.
In the face of strong street agitation, the BNP-led government amends the constitution introducing the non-partisan caretaker government in March.
Khaleda Zia resigns as PM. Former Chief Justice Habibur Rahman took oath as the chief advisor of the caretaker government. The parliamentary election is held in June and Sheikh Hasina is sworn in as prime minister after AL emerges victorious in the polls.
2001
Sheikh Hasina hands power to caretaker government led by Justice Latifur Rahman. Khaleda Zia returns to power following the victory of BNP's four-party alliance in the general election of October 1.
2002
President AQM Badruddoza Chowdhury resigns in June after BNP accuses him of taking an anti-party line. In September, Iajuddin Ahmed is sworn in as president.
2004
AL calls 21 general strikes in the year to have the BNP government removed from office. Grenade attack on opposition AL rally in Dhaka kills 22 people.
2005
AL MP and former finance minister Shah AMS Kibria is killed in a grenade attack at a political rally. AL calls general strike in protest. Small bombs detonate across the country for which a banned religious group claims responsibility.
2006
Amid growing political turmoil former Chief Justice KM Hassan declines to assume the office of the chief adviser. President Ahmed assumes the chief adviser post. But his government fails to perform neutrally. Chief election commissioner MA Aziz takes leave from office in face of objections by the AL-led alliance. Protests to derail parliamentary elections paralyse the country.
2007
State of emergency is declared on January 11 amid violence in the run-up to the election scheduled for January 22. Fakhruddin Ahmed takes over caretaker administration. Sheikh Hasina is charged with murder by the administration. Khaleda Zia is held under house arrest. Curfew is imposed in Dhaka and five other cities during violent clashes between police and protesters demanding an end to emergency rule. Both Hasina and Khaleda are detained and put in separate sub-jails on corruption charges.
2008
AL captures more than 250 seats in parliament in the general election held on December 29. Sheikh Hasina is sworn in as prime minister.
---
WAR CRIMES TRIBUNAL
The International Crimes Tribunal was set up in 2009 by the AL government which pledged to establish a domestic war crimes tribunal, in the general election of 2008, for prosecuting suspects of genocide committed during the Liberation War in 1971 by the Pakistani Army and their local collaborators. On Feburary 5, 2013, protests began in Shahbagh demanding Abdul Quader Mollah, who had been sentenced to life imprisonment, be served capital punishment, along with other war criminals. The ICT sentenced Mollah, Ali Ahsan Mojaheed and SQ Chowdhury to death, among others, and sentenced Ghulam Azam to 90 years imprisonment.
---
2011
The non-partisan caretaker government system is abolished by constitutional amendment.
2012
Muslim rioters attack Buddhist villages and shrines after an image showing a Quran burning was posted on Facebook (the case is still ongoing). Government denounces the attacks as "premeditated and deliberate acts of communal violence against a minority".
---
ASSAULT ON FREEDOM OF SPEECH
Since February 2013, a spate of attacks has been carried out against secularist bloggers, authors and publishers by religious fanatics amid a longstanding backdrop of rising radicalism. Some of those killed are Ahmed Rajib Haider, Avijit Roy, Oyasiqur Rahman, Ananta Bijoy Das and Niladri Chattopadhyay.
---
2013
On April 23, the worst garment factory accident in history takes place when Rana Plaza collapses killing more than 1100 people.
A Bangladesh court declares as illegal the country's main Islamic party, Jamaat-e-Islami, effectively banning it from a general election due early next year.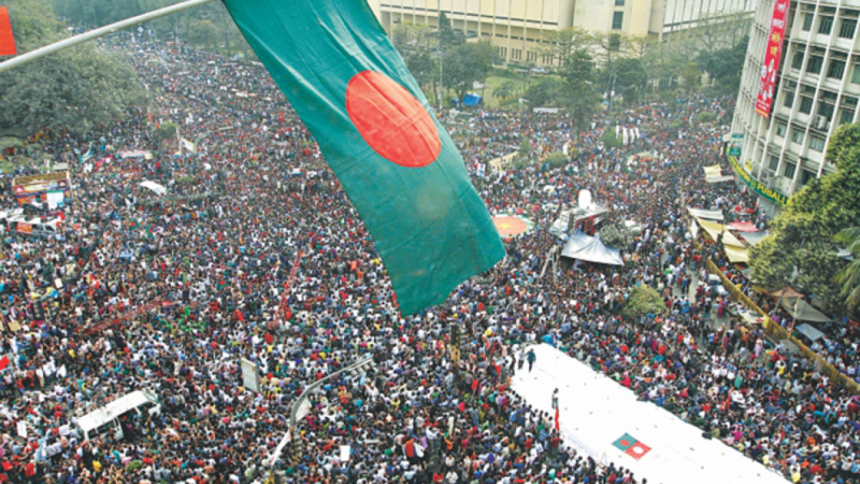 Sheikh Hasina phones Khaleda Zia and requests that national strike be called off. This is their first conversation in many years. The strike continues.
Khaleda Zia is under virtual house arrest ahead of general elections.
2014
On January 5, AL wins parliamentary elections as about half the seats are uncontested due to a boycott by BNP as it is held under the AL-led government. At least 21 people are killed in election-related violence.
2015
During January-February, following the first anniversary of January 5 election, the opposition holds nationwide blockade which turns violent resulting in more than a hundred deaths.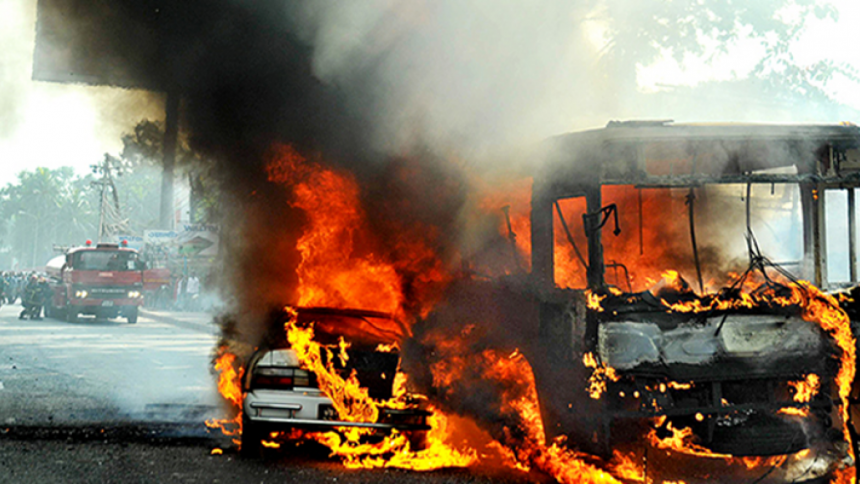 2016
On the night of July 1, the worst terrorist attack takes place when militants storm the Holey Artisan bakery killing 22 people, most of them foreigners.
BNP gives a reform proposal of the Electoral Commission. Sheikh Hasina rejects it and claims that only a decision taken by the president regarding the EC will be accepted.