We hope that we will be able to help Bangladesh realise its full potential: Robert D. Watkins
In an exclusive interview with The Daily Star, Robert D. Watkins, UN Resident Coordinator and UNDP Resident Representative in Bangladesh talks to Amitava Kar about some development ideas for Bangladesh.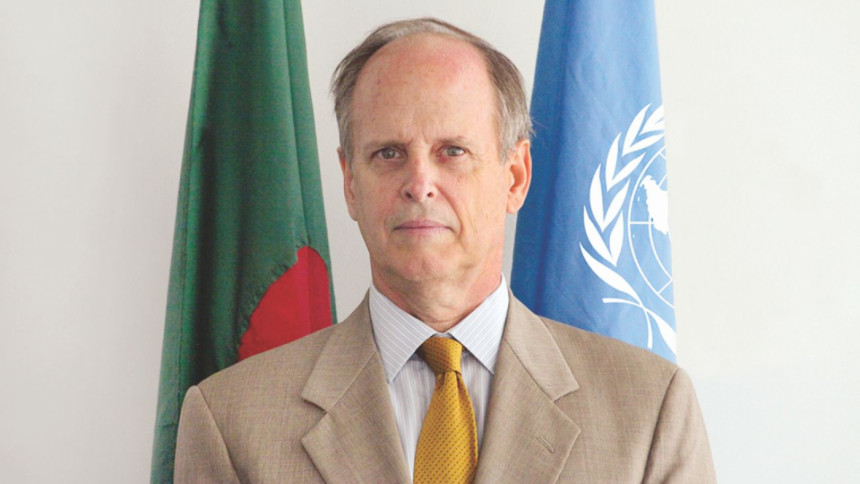 How do we make development sustainable without changing consumer behaviour? For instance, deforestation is a serious issue but people need land for agriculture, housing, etc.
I don't have all the answers and the question has many different aspects.  
There's wastage of food and produce in Bangladesh as in many other countries. Arable land is decreasing due to climate change and unregulated urbanisation. Resources need to be managed more rationally. We have to increase tax incentives for people to invest in ways that recognise the value of land, in the value of agricultural produce. Food producers need to be rewarded in ways that it remains attractive for them to keep living on the land and keep producing food. It's a great achievement that Bangladesh can say that it's self-sufficient in rice. But man does not live on rice alone. That's where Bangladesh has challenges trying to get all those complimentary foods.
Similarly, when looking at buildings in the cities, there are regulations and norms for building codes but there is a problem in enforcement. It's basically a question of poverty at the end of the day. In the meantime, people try to find shortcuts.
Bangladesh has taken an impressive number of steps in terms of preparing for the effects of climate change. The number of deaths from cyclones and other storms, for instance, has greatly diminished over time. But that's dealing with the consequences. Bangladesh needs to be doing more in adaptation programmes. That means things like planning the location of villages more properly, managing rivers through dredging or tidal river management (TRM), investing in aquaculture and so on.  
Have you visited a lot of projects in other districts? 
I have been here just over four months now. Recently I visited some UNDP projects in Southwest Khulna and Satkhira, and I saw families who had to relocate their homes more than three or four times because of rising waters, changing course of rivers, floods from cyclones and so on. My first visit was to Cox's Bazaar to look at the refugee camps and the informal settlements of undocumented Myanmar nationals. Government estimates put the number between 300,000 and 500,000 and it has had a huge impact on the rural economy of the Cox's Bazaar area which is already an impoverished part of the country. The UN agencies and IOM have several programmes there to help both foreigners and Bangladeshis.
Is UNDP looking into how Bangladesh can make better use of its ocean resources?
We are in discussions with the government to talk about developing what's known as the "blue economy". Bangladesh needs to broaden its industrial base beyond RMG and telecoms of the country need to move beyond its present 6 percent growth rate—which is very positive—and create a healthier economic base. But the country requires better education, skills, infrastructure, and investment. 
That's why the Sustainable Development Goals (SDGs) are so important for Bangladesh compared to the Millennium Development Goals (MDGs). MDGs focused on reducing poverty, getting more children in primary and secondary education as well as having a gender balance.  Bangladesh has been very successful at that. SDGs will be more numerous, better adapted to Bangladesh's particular challenges, and focusing much more on the qualitative aspects.
How do we ensure quality in education?
It has to be identified as a priority which means it gets a greater percentage of the country's budget. With Official Development Assistance (ODA) likely to decrease over the coming years, the country is going to have to find alternative sources of funding. The country has to expand its tax base. It also means harnessing the private sector and getting it to invest more. I have seen this in other countries where, for instance, the private sector has established universities or technology training centres for the industries they want to develop. 
How did Bangladesh do in reaching the MDGs?
I have mentioned primary and secondary school enrollment and getting more girls into the education system. There has also been a decrease in child mortality. Bangladesh has become a model in poverty reduction. Where it has been less successful is in areas like maternal healthcare. Environmental pollution continues to plague the country, in the air and the waterways. Excessive use of pesticides remains a big issue in agriculture which also impacts the environment. 
It needs to do more also in the area of tuberculosis. In Bangladesh, more than 50 percent of people who contract TB are not detected. However, on the positive side, when they are detected the successful treatment rate is very high, about 93 percent, which is one of the best in the world after China and Cambodia. 
What kind of challenges does the UNDP face in performing its task on a day-to-day basis? 
It's a difficult question. 
Look, for instance, at SDGs. They will have a greater emphasis on quality. That means in order to be able to report on improvements, the quality of statistics needs to be greatly improved. We have 17 goals and 169 targets right now - of course, the whole process has not been completed yet. The process will be finalised sometime in September at the UN General Assembly. But in order to be able to follow, monitor, and actually report on all of the goals, whether its 169 or 180, it's going to require a reliable and well-developed database which right now is deficient. 
Bangladesh has a lot to be proud of in terms of its achievements since its independence in 1971. Now that we are entering into the SDG period, Bangladesh is well poised to make a qualitative leap in terms of the improvements made. It's going to require a common vision and well-thought out strategy. The UN has been working in Bangladesh since independence and we hope that we will be able to help the country realise its full potential. 
Could you please tell us about the process that went into defining these 169 targets? 
It was long and complex. In 2010, there were discussions about putting in place a process that would help the UN member states come up with a new agenda to replace the MDGs when they ended in 2015. One of the main distinctions between the MDGs and SDGs lies in their approach. The MDGs were very much developed by governments in collaboration with the UN for the developing countries, whereas the SDGs are the culmination of a process of consultation not just with governments but with a huge number of people around the world from civil society, including academia, media, faith-based groups, and the private sector. In 2012, at the Rio+20 summit, governments came together to talk about what would be some of the most important issues on the post-MDG goals. 
And these goals are universal - each of the 193 member states will have to adopt them. Each country will have its own set of SDGs based on its needs. They will cover new areas such as the environment, energy and governance. 
Financing them will be a challenge. That's why conferences such as the South-South and Triangular Cooperation held recently in Dhaka were so important. With the 22 treaties signed between Bangladesh and India, we hope that there will be much more transfer of technology and know-how between the two countries. Bangladesh has a lot to offer to other developing countries. For instance, the country has had tremendous success in digitalisation and e-government, and poverty reduction which we hope can be replicated in other countries.