University teachers must be given due respect as well as benefits: Professor Abdul Mannan
The proposed pay scale of public university teachers and the suggested VAT on private universities are two issues that have recently rocked the education sector of the country. In light of these issues, Upashana Salam and Naznin Tithi spoke to the incumbent chairman of the University Grants Commission (UGC), Professor Abdul Mannan, and former chairman of the UGC, Professor Nazrul Islam, respectively, about ways that challenges faced in higher education can be meted.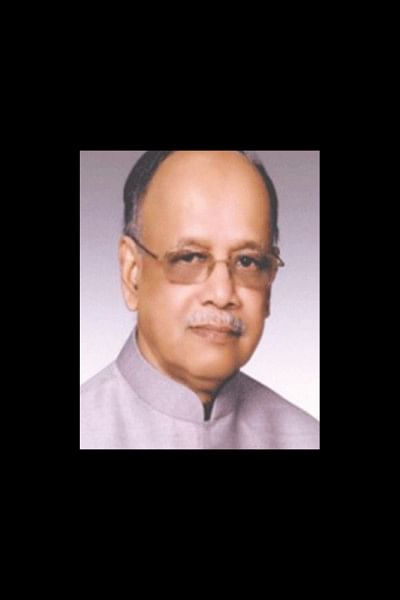 The Daily Star:Public universities of Bangladesh rank low in global rankings. What, according to you, are the challenges in the higher education sector in Bangladesh? What is UGC doing to tackle these challenges? 
Abdul Mannan: Times Higher Education, a magazine that determines the global ranking of universities, considers five parameters to rank universities. One of the parameters was industry-university relationship, i.e. how involved are universities with research in collaboration with different industries. In Bangladesh, this number is absolutely insignificant. That's why the universities of Bangladesh cannot rise up in these rankings. 
However, the good news is that right now the University Grants Commission (UGC) is executing a project called The Higher Education Quality Enhancement Project (HEQEP), which is funded by the World Bank in collaboration with the Government of Bangladesh. The UGC, in different phases, is trying to help enhance the quality of tertiary education both in the public as well as private sectors. The project will come to end by 2018. During Ramadan, five projects were allocated to three universities which will collaborate with different industries by taking up projects that will benefit the industry. 
We have expanded education reach all over the country in the last two decades or so. Around 3 million students study in tertiary level; from six universities in 1971, we now have 38 public and around 82 private universities. However, the biggest challenge is creating and maintaining the quality of education. We often can't provide proper infrastructure, for example, labs, libraries, etc. to ensure quality education. Most of the young, meritorious graduates are reluctant to come to the teaching profession. The main reason behind this is that they don't find the teaching profession to be as attractive as the corporate sector.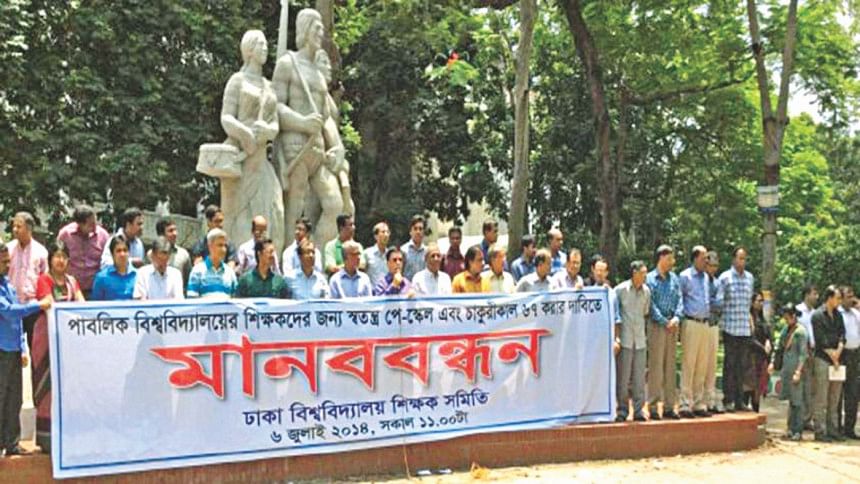 Moreover, we don't have any organised or institutional facility to train faculty members on a regular basis. We aren't able to appoint good teachers despite the fact that many foreigners also work in our country but in different sectors, not necessarily in education. There are few universities that recruit foreign teachers. But we definitely want our teachers to be home grown; we can't be dependent on foreigners to improve our education sector. 
The allocation of resources is another big challenge. The UGC is still regulated by an Act of 1973; when it was enacted, there were only six public universities with only 30,000 students enrolled in tertiary education. Over the course of time, the number of universities has grown manifold but the power of the UGC has not increased in any way. Amongst the UGCs or similar bodies of this region, the UGC of Bangladesh is the weakest in the sense of what we can or can't do. My predecessor Dr Azad Chowdhury, (Professor Dr AK Azad Chowdhury, former chairman of UGC) tried to convert the UGC to a higher education commission akin to other countries, thus allocating more power to the commission, to its chairman and its members. 
This is in the pipeline but nothing tangible has happened till now. However, Prime Minister Sheikh Hasina and the education minister are very sincere about this issue. We are very hopeful that in the shortest possible time, this will work out for the greater benefit of the country. We are talking about Bangladesh moving into the category of middle income countries but in order to do that we need quality human resources, which cannot be created without quality teachers or education institutes. 
TDS:The new proposed pay scale of public university teachers is lower than that of military and civil bureaucrats. What's your view on that? 
A M: I recently had a meeting with the Association of Universities of Bangladesh (AUB) on this issue. They have been protesting for a long time regarding this lowered pay scale, as they feel that their position has been downgraded along with their pay. I believe that if you want good teachers to come in, university teachers must be given due respect as well as benefits, otherwise it will be difficult to retain them. 
If you look at our neighbouring countries, university teachers are better off than the teachers of Bangladesh with better benefits, teaching facilities, environment and position. We are hopeful that this proposed pay scale will not actually be implemented. I have always felt that the Awami League government, whenever it has been in power, has always been knowledge friendly. Thus, I firmly believe that the prime minister will intervene before any decision is taken regarding the pay scale that has been announced. 
TDS: Do you think that 7.5 percent VAT on private universities is logical? Why should the burden fall on students instead of the universities? 
A M: I am not aware of any country imposing VAT on higher education. I think Bangladesh should not be standing alone in this respect because education should not be treated as a commodity. Private universities already have to pay 15 percent tax on surplus revenue. They have to buy all their utilities on a commercial basis while their faculty members have to pay income tax. They are also not subsidised in any way. I believe that the government also has the scope to come to a rational conclusion in this case as well.