CLEAR AS MUD
SAVING FOOTBALL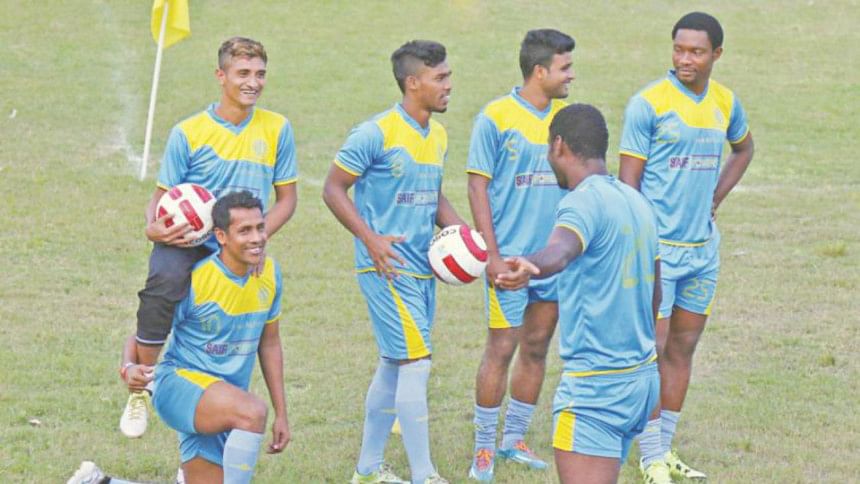 AMIDST the political uncertainty and apparent "terrorist attacks" that have given Bangladesh some bad press, prompting two foreign cricket teams to cancel their tour to the country, this week something positive has happened to the local sports, especially to its beleaguered footballing scene. Chittagong Abahani (CA) has successfully hosted Sheikh Kamal International Club Cup and has witnessed the local boys lift the trophy. Participated by eight teams from Afghanistan, Bangladesh, India, Pakistan and Sri Lanka, the tournament has attracted capacity crowd in the port city's MA Aziz Stadium and has opened a new chapter for football in Chittagong. The CA organisers, along with their Bangladesh Football Federation counterparts, have hosted the tournament well, which, as far as the participation of the teams are concerned, is the South Asian equivalent of UEFA Champions League. In the semifinal, the CA had beaten Afghanistan Premier League champion De Spin Ghar Bazan 3-1, which gave the boys in sky blue a much needed boost, for the Afghan side that comes from the southern part of the country has fielded some big names of the Central Asian region. The final of the tournament has also seen the local boys trouncing Indian giant East Bengal 3-1. Given that the East Bengal is one of the top teams in the Indian national league (later called I-League), Chittagong Abahani's victory is a big day for Bangladesh football. 
But make no mistake. The glory days of Bangladesh football are yet to return. Gone are the days when local football used to represent the heartbeat of the nation, a time the rivalry between Abahani and Mohammedan would draw crowds from not only in and around the capital but spectators from Chittagong, Sylhet and other faraway districts. Bangladesh's victory against much fancied regional giant Thailand now belongs to a distant past. In the FIFA ranking Bangladesh now stands 5th in South Asia, behind Afghanistan, India, Bhutan, Pakistan and Maldives. When it comes to world rankings, Bangladesh is 192nd, one up from its worst ever standing in the FIFA tally. In a short span of six years, Bangladesh have changed coaches 12 times since January, 2006. While it aptly portrays the lackadaisical mind of our sport organisers, footballing infrastructure in the country is still at its infancy. Save for Yugoslavia, Bosnia Herzegovina, and Sudan, Bangladesh have never played any non-AFC team. The exposure that a team needs to play well with bigger teams is absent. The situation is no different for the clubs which are heavily dependent on foreign players, especially those from Africa.  
Building a footballing infrastructure in the present Bangladesh is difficult, if not impossible. Most of the private schools do not have their own field; the public and community spaces are taken over by the ever-growing demands of the divisional towns' burgeoning needs. Shopping malls and other commercial establishments are being built in small private lands in big cities where children were once allowed to play. As capitalism in our collective psyche are seeping in fast, cricket, which generates more profit because of its worldwide commercialisation, attracts today's youth more. Traditional Bangladeshi sports like kabaddi is tottering on the brink of extinction. In the last two Asian Games (Guangzhu and Incheon) Bangladesh did not win any medal. If it is the case of the national sport, there is no denying that when it comes to football, Bangladesh badly needs to start from the scratch. A timid step towards that giant long March can start from regularly holding U-13, 16 and 19 tournaments that can give the clubs and the district sides a regular supply of footballers. Because of their age-limit, these competitions should be participated by school and college teams and they can start through intra-school college tournaments. 
The country's topography allows football to be played all year round, which not many games can enjoy. Football should seize this opportunity and make use of it to spread the game in every walk of life. Bangladesh also needs to incorporate sports in its national curriculum, especially at the secondary and higher secondary levels. More sport academies like that of BKSP should be established and their area of studies should include science and commerce subjects so that the students of these institutions do not fall behind in studies and can compete in the job market. Along with this, office football league can be institutionalised; it can comprise of state-owned mills and companies, other autonomous and private business establishments so that footballers can have a regular job and can also concentrate on honing their talent. 
There are reasons that Bangladesh is the most populous country in the world to never have won an Olympic medal. Even after 44 years of independence, save for cricket, we have not been able to make our mark in the sporting world. This is indeed sad for a nation that is brimming with youthful energy. It is time that we channel it towards building a healthy society. Chittagong Abahani's victory in the Sheikh Kamal International Club Cup along with the enthusiasm it has generated is a gentle reminder to us that football in our country is alive, albeit at its death throes. It is high time that we saved it to build a bright and healthy country.  
The writer is an author, editor and journalist. He is Editor, The Daily Star Literature and Head of The Daily Star Books. Twitter: @ahmedehussain