Witnessing another ELECTION CHARADE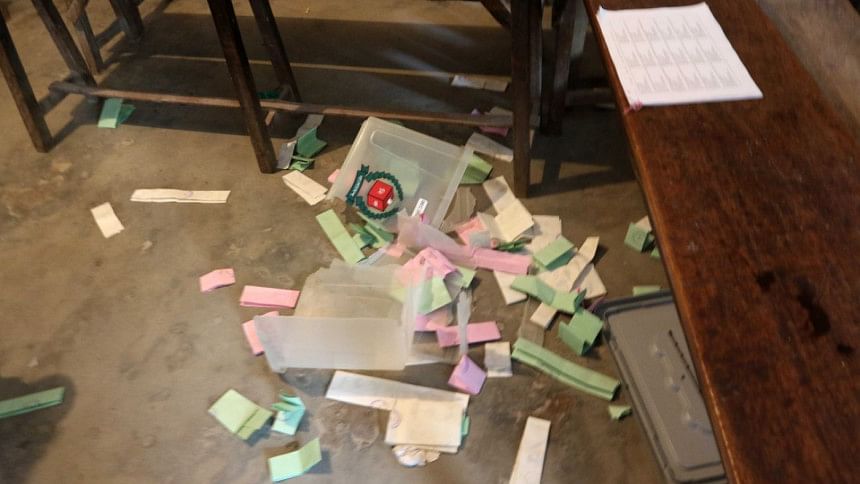 STUFFING of ballot boxes whether in national or local elections is nothing new in Bangladesh. It has happened under the watch of every political party when it held the charade of elections, but the degree varied from time to time, based on the fear of election loss of the party in power and the ability to muster enough muscle power to "capture" booths. Of all types of election engineering, ballot stuffing is perhaps the crudest but also the easiest. It is much easier to cast false ballots by intimidating a helpless lot of polling officers (who are mostly lowly government employees) than to manipulate election results at a higher level. After all, in an election system that is still bound by a medieval practice of casting paper ballots and manual counting of the votes the number that comes out of an election centre is a safer bet for the election engineer than other more sophisticated techniques. It does not matter how the result was obtained; all that matters is there is physical, paper based evidence of ballots that were allegedly cast in favour of the winning candidates.
In the "famous" referendum of 1977 held by then President Ziaur Rahman asking for people's confidence in him and his nineteen-point development programme there were no contestants. Yet, the advisors to the then president who was actually seeking legitimacy of his presidency through this confidence vote were concerned that a low turnout in this referendum would mar the very objective of this exercise. Therefore, the advisors launched a nationwide campaign through senior army and civil bureaucrats rallying people to vote. The entire government machinery at field level was engaged in this countrywide rally to ensure a hefty turnout of people at the referendum. A lower than seventy-five percent turnout would be considered to be poor, and therefore directives were sent to the field officials to "guarantee" a good turnout of voters. The officials at peril of losing their jobs went out of the way to ensure a healthy voter turnout by any means, while a nominal election commission presided over what became a farce of an election. The only occupants in most polling booths in remote villages were the polling officers guarded by police and ansars, while the ballot boxes were stuffed by obliging Union Parishad members. The result, as we all know, was an astounding 99 percent vote of confidence for President Ziaur Rahman, with an average turnout of 88 percent of voters nationwide. 
But that was a referendum held by a military dictator that time who no one dared to oppose. A manipulation of one kind or another really did not matter. What followed next is a perpetuation of a practice that showed that election results can always be manipulated through political muscle power, use of government apparatus, and a manageable election machine. There has not been a single national or local election in the country, whether held by a political or non-political government, where accusation of vote fraud or vote rigging has not been made. But each time we seem to cross new bars in vote manipulation. Each election becomes more a charade than an actual exercise of franchise. 
Is there any way we can have elections that are above board? Is there any manner by which we can restore people's confidence in a fair and just election process?  
Having an independent institution to conduct free and fair election may be a necessary precondition, but this institution cannot work in an environment that is divested from the practice of democracy. The institution becomes ineffective if it is not reinforced with proper political support and guarantee of its neutrality in the conduct of elections. People's faith in democracy and the institutions that are meant to strengthen democracy wither away when political rhetoric is not propped up by firm actions. 
Despite dismal outcomes of many recent elections and poor performance of our leaders and institutions, people rejoice at times of elections.  They are probably under the delusion of exercising their rights to choose a representative, be it for the Union, Upazilla, City, or the Parliament. Each cycle they go through this charade hoping that this time around they will get their candidate. And each cycle they find that either they cannot approach their voting booth or someone else has cast their votes.
The debate should not be whether the most recent civic elections were marred by wrong doing or manipulation. The debate should be whether there is a genuine commitment of our powers that brings democracy in the country, and freedom in the exercise of democracy by people. For if there is a commitment it needs to be demonstrably shown in all future elections. Otherwise we will continue to have these charades.    
The writer is a political analyst and commentator.