Who says we're not free?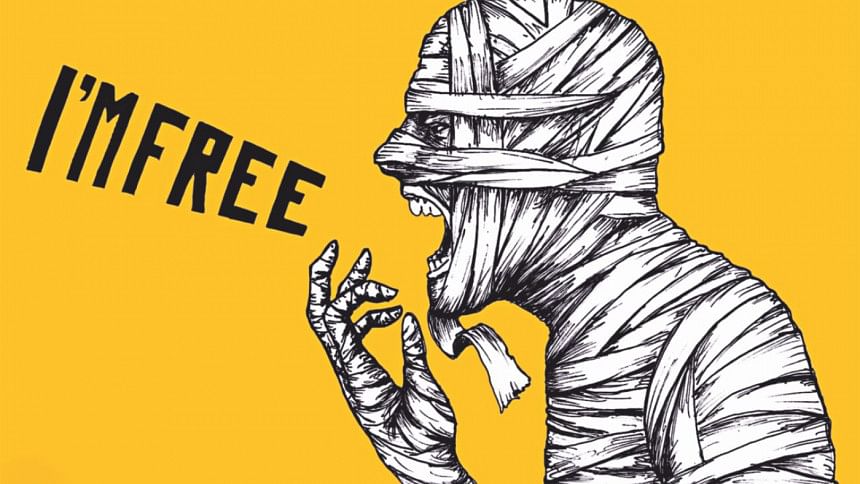 Last week, Freedom House, an independent watchdog organisation that conducts research and advocacy on democracy, political freedom, and human rights, published its annual "Freedom of the Press" report, ahead of Press Freedom Day which will be observed (i.e. mourned in many parts of the world) today. Every year, the organisation ranks the countries based on their political, legal and economic environments, designates a "press freedom score" and ascribes a "press freedom status," which basically identifies whether the press there is free, partly free or not free. This year, Bangladesh's status declined from "Partly Free" to "Not Free" due to "the murders of four bloggers and a publisher by Islamist militants, threats and nonfatal attacks against other writers, continued legal harassment of media outlets and press freedom advocates, government-sanctioned economic pressure on certain outlets, and attempts to censor social media."
Now, the ostensible imperialist bias of Freedom House aside, a concerned citizen of Bangladesh might well be vexed about this demotion and what it signifies for the country and its press. This concerned citizen might bemoan—and surviving as she is within this thriving democracy, she might, in fact, be in a better position than Freedom House to do so—how far we have actually fallen from our professed ideals of freedom, democracy and accountability, how rapidly the spaces for democratic expression are shrinking and how afraid we are, in general, to even state the obvious, much less critique or challenge the powers-that-be. She might want to write a scathing op-ed lamenting the death of freedom of expression as we knew it. 
Yes, well, but not me. You see, our press is so free that I know better than to argue that our press is no longer free. 
It's so free, in fact, that it's not an overdramatic and overprotective proclamation on your parents' and relatives' end when they beg you to censor yourself from writing, saying, or publishing what might get you hacked to death or added to that ever-expanding hit-list of extremists (about whom we remain as in-the-dark as when the killings began). It's so free that if you are threatened for expressing your opinions, you will likely receive, rather than protection from law enforcement agencies, a sermon about why it's best not to "hurt" the "sentiments" of the radicals, because, yes, let's face it, why shouldn't appeasing the extremists really be our priority after nine murders in 14 months? 
Our press is so free that we need a vague law to monitor, regulate and criminalise what we say about religion or political leaders. It's so free that anyone can be arrested under Section 57 of the Information and Communication Technology (ICT) Act and, in the absence of clearly defined guidelines, just about anything can constitute "derogatory". It's so free that one can be jailed, without any provision of bail, for as little as a careless comment on social media. 
Our press is so free that we need a broadcasting policy and a broadcasting commission, cherry picked by the government, to ensure we don't get too carried away with our prized freedom. We're so free that we essentially cannot broadcast, as per the National Broadcast Policy 2014, and which would be in effect once the draft of the National Broadcast Act 2016 is finalised, what is the bread and butter of news media – including but not limited to, possible violence and violations perpetrated by "armed forces, law enforcement agencies and government officials who can punish people for criminal offences," "mutiny, chaos, violent incidents," and unjust policies and practices of foreign countries. As to what electronic news media would actually report on, if all these subjects are really regulated (at best) and banned (at worst) is a question that has been repeatedly asked by our journalist community and graciously ignored by our policymakers. 
We're so free that we need an external body, the National Broadcasting Commission (NBC), to determine what the "code of ethics" for broadcasters should be and monitor that these guidelines are followed (rather than allow broadcasters to collectively determine what the industry's code of ethics should be). This body would be answerable to the government and hence not be independent, in sharp contrast to the demand of the relevant stakeholders that the commission be totally independent. It would determine the criteria for obtaining and maintaining a license, and it would have the power to suspend or revoke a license should it feel that an institution has violated its guidelines. We're so free, apparently, that we simply need not worry about how the power of the commission can be misused to standardise news and punish those who do not tow the party line; we need not raise a hue and cry about the fact that the draft Broadcast Act has a provision of jail term and fine for violating the rules or regulations of the act; we need not worry that there is a provision which essentially indemnifies the commission from taking any responsibility should its decision cause a loss to the licensed organisation, meaning the latter will not even have the right to file for compensation in a court of law. 
We're so free that a new policy—the National Online Mass Media Policy—is on the line to regulate online media including social media, blogs, personal diaries and online versions of print media. While editors have highlighted that online editions, as an indivisible part of newspapers, should be regulated by the existing Printing Presses and Publication Act, and hence should not be required to register separately, bloggers and those writing on social media fear the requirement that they be registered and their content monitored would essentially curtail their freedom of expression. If implemented, the policy would further allow the NBC to "oversee" the content and operation of online media. 
If you're still unconvinced that the press is free, take a moment to ponder about the sheer extent of legal, social and economic harassment that prominent editors and newspapers have had to undergo in the recent past. As many as 83 cases on charges of defamation and sedition were filed against The Daily Star's editor, Mahfuz Anam, alone for an admission of a 'bad editorial judgement'. The witch-hunt that followed, including disparaging comments in the Parliament accusing him of treason and orchestrating 1/11, was grossly disproportionate to his admission of oversight in a talk show, and the accusations against him preposterous. It's a threat not only to The Daily Star, but to all media outlets in the country. 
According to the Freedom House report, "Several major companies discontinued advertising in the country's two largest newspapers following pressure from military intelligence officials." Although this has been reported in Al-Jazeera and the BBC, the media in this country is so free that we cannot even acknowledge this reality—this threat—in the open, much less critique this unjustifiable sanction.
If all these examples—and more that, for obvious reasons, that must remain unsaid—highlight anything, it is that, in Bangladesh, there seems to be complete freedom to do whatever one wants against the media—threaten, harass, kill, maim, jail, curtail its powers—with all but complete impunity; if that's not freedom, I don't know what is.
The writer is an activist and journalist.