What happens when living in the void?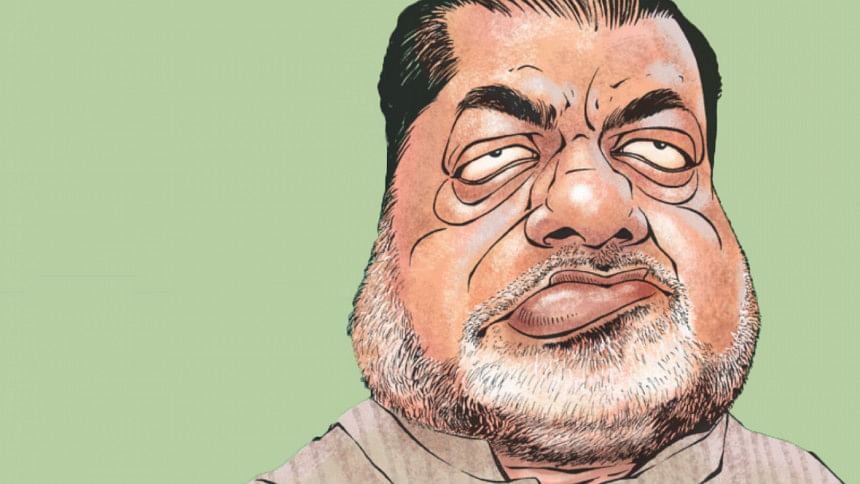 Nothing comes from nothing" is a philosophical expression first argued by pre-Socratic Greek philosopher Parmenides. In the 19th century, German philosopher Frederick Nietzsche warned that if you gaze long enough into at an abyss, the abyss will gaze back into you. If these two axioms are combined, it tells us something about living in the void. And that telling came screaming last week when Selim Osman, a lawmaker from Narayanganj, gave a journalist a piece of his mind on the phone. He spat expletives faster than bullets and most of it was concentrated on the wrong end of the body, leaving no doubt in anyone's mind that the void had gone to his head.
Our body can be compared with a high-rise building, split into many floors for vital functions. Let us say the brain is the penthouse and the garbage dump is located in the basement. An elevator transporting wisdom and waste runs between floors. 
For this particular lawmaker, that elevator somehow got stuck in the basement. And, if the Guinness Books of Records is ever interested in a special category, this one lawmaker has set the world record for hurling the highest number of obscenities per minute. Most of what he said was spiked with disgusting innuendos.
But that's not why I am writing this column though. I am not writing it because he has insulted one or all of us, or because somebody needs to match him blow for blow. I am writing because after humiliating a teacher, he has once again exposed us to the fear of something that can't be ignored. The danger of living in the void is that the void starts living inside you. 
If many of us have been shocked by his vulgarity, it was not only because he could speak so much filth. It was also because not in one sentence or snatch of conversation could he come up with anything decent. People rant all the time and some people also use profanities when they fly off the handle. But sensible minds eventually come back to their senses because that's what sets them apart from the foul mouths on the street.
What must have caused the lawmaker to be so abusive? Is it the pressure of his job that requires him to deal filth with filth? Could it be the manifestation of the Tourette's Syndrome, a neurological disorder characterised by compulsive utterance of obscenities?
It could be anyone of these factors or all of them together that packaged the man into such a disgraceful dispenser of insults. But I am more inclined to think it has got something to do with the void. It's this void that has found him the place in life that he may not have deserved. It's this void that has got him elected uncontested. It's also the same void that earned him the popularity before it was tested. 
That void is dangerous because it's full of emptiness. And that emptiness fills up with more emptiness, which impairs judgment. What could prove that impairment more if not the impudence of a public man who didn't care for his own image before he poured out the cesspool in his heart? That also within the earshot of millions, now that the audio of that frantic phone call has been posted to YouTube!
The real threat for the rest of us is that this void can be infectious. If it has gone to him from somewhere, it will surely go somewhere from him. We can already feel it when we look into ourselves. We wake up in the morning feeling impotent and hopeless when the growing might of evil is overpowering good.
It's because the first victim of the void is hope. People don't get what they expect and they don't expect what they get. What gets screwed up in this confusion is people's faith in their ability to change anything but themselves. Despair brews up the same storm in the soul that hunger does in the stomach.
As I said in the beginning, the scatological phone call had a journalist on the other side. He patiently listened to the mad ravings, sprinkled with salacious suggestions of vulgar consequences for him and his community. He occasionally interrupted to importune the furious politician that they should sit down and talk face to face. But his pleadings proved as vulnerable as a mud wall in mad torrents.
We heard the voice of the void last week, the soundtrack of sordidness. A rude politician cut off his nose to spite our face, but it has failed to trigger outrage. We responded to a teacher's humiliation by holding our own earlobes. The smart void knows it can't happen this time, because doing it means we shall have to curse ourselves. 
The writer is the Editor of weekly First News and an opinion writer for The Daily Star. Email: [email protected].