Suhrawardy's 123rd Birth Anniversary
THE PIONEER OF DEMOCRACY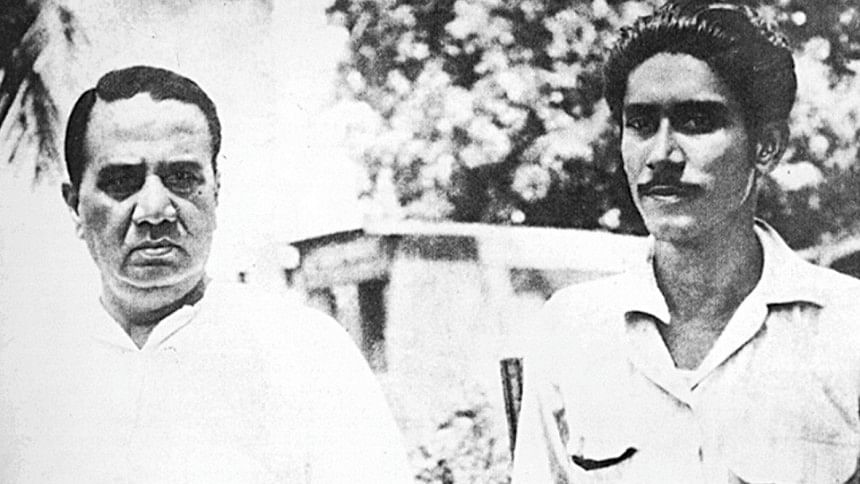 Huseyn Shaheed Suhrawardy has a special place in history. One of the greatest political figures of the 20th century, Suhrawardy earned himself both ardent admirers as well as enemies. His achievements were by no means smaller than that any of his contemporaries.
Shaheed Suhrawardy was born on September 8, 1892 to an illustrious family from Midnapore, West Bengal. His family produced many an administrator and scholar. His father, Zahid Suhrawardy, was a Barrister-at-Law from Lincoln's Inn and a judge of the Kolkata High Court. Later, he resigned from the Bench and became a member of the Bengal Legislative Assembly. His mother, Begum Khozesta Akhter Banu, was a scholar of Persian language and also the only Indian lady of her time to be the examiner of Urdu literature at the University of Kolkata. A social worker, she was a great advocate of women's education, as evidenced by her book Aina-e-Ebrat.
Suhrawardy's was a brilliant academic career. An MA in Arabic literature from Kolkata University, he graduated in science with Honours from Oxford. He also had a BCL degree from that university. He was called to the Bar from Grey's Inn in 1918.
After his return from London, Suhrawardy came in close association with eminent Indian leaders during the non-cooperation and Khelafat movement in 1920. He was elected a member of the Bengal Legislative Assembly in 1921 from Khidirpore industrial area. In 1923, he joined the Swarjya Party and CR Das made him his deputy, who was the deputy mayor of Kolkata City Corporation. 
In 1937, Suhrawardy was made the commerce and rural development minister in the cabinet of Chief Minister AK Fazlul Haq. He became the food and civil supply minister in the cabinet of Sir Khawaja Nazimuddin in 1943 and was appointed the Chief Minister of undivided Bengal from April 24, 1946 to August 13, 1947. 
Suhrawardy was one of the main architects of Pakistan. Despite being the Chief Minister of United Bengal from 1946-47, he was denied the opportunity to become the chief minister of East Pakistan. He was also deprived of his membership of the first constituent assembly.
After the independence of Pakistan, he stayed on in India, because he felt passionately for the Indian Muslims. He worked with the Peace Mission of Mahatma Gandhi to ensure peace for the minority Muslims. He later moved to Pakistan in 1948. 
The 1954 elections were a landmark in the history of Pakistan. Suhrawardy was one of the architects of the United Front led by Fazlul Haq, Maulana Bhasani and himself, which routed the Muslim League in the elections, enabling Awami League to emerge as a major political force in East Bengal.
Suhrawardy was the leader of the opposition in the second Constituent Assembly in 1955-56. In drafting the first democratic constitution of 1956, he played a pivotal role. Known as the "brainchild of democracy", the key note of his politics was total commitment to democracy. He was the prime minister of the Awami-Republican coalition government from 1956-57.
After the promulgation of Martial Law in October 1958, political activities were banned in united Pakistan. A large number of Bengali leaders were arrested. In January 1962, Suhrawardy came to Dhaka from Karachi. On  January 24, he conferred with Ataur Rahman Khan, Abul Mansur Ahmad, Sheikh Mujibur Rahman and others at the residence of Ataur Rahman. They decided to launch a movement against the one-man military rule in order to restore democracy in the country. On January 30, he flew back to Karachi and was arrested under the Safety of Pakistan Act "in the larger interest of the country." 
Suhrawardy's political views were clear. He believed in secular democratic concepts. He wrote, "The Jamaat-e-Islami was all out for an Islamic constitution of its own conception...[it] was a well-knit, disciplined party, its appeal was limited to rather fanatical circles." As the central leader of the Pakistan Awami League, Suhrawardy spelt out the policy of the party, "The Awami League suggested the concept of a Pakistani nation, non-communal in outlook and based on joint electorate."
He advocated keeping religion out of politics, as he said, "To my mind, Islam should have been kept above the conflict of political party as a sacred trust to which all Muslims, to whichever party they belonged, were wedded," he observed.
Disparity between East and West Pakistan and exploitation of the East by the centre pained him, as he wrote in his memoirs, "There had been phenomenal growth of industrial concerns in West Pakistan which had been assisted by liberal allowances for depreciation and tax holidays."
Suhrawardy was an advocate of the two-economy theory. He further writes: "Unhappily, the industrialists and importers of East Pakistan were not as well treated and licenses were refused on the slightest pretext. The government operated on the theory that Pakistan, although divided, had only one economy."
During his stint as prime minister for only 13 months, he tried to rectify the discrimination to some extent even though he was "vehemently opposed by the bureaucratic elements in the centre." 
Inspired by Suhrawardy, eminent economist Rehman Sobhan in a paper in 1961 suggested that instead of having one economy for East and West Pakistan, it should be split up functionally into separate economies. The policy of separate economies should be implemented within the framework of regional autonomy giving each wing full control over its resource. "All incomes from region and foreign exchange should be under the control of regional administration," he suggested.
Suhrawardy believed that it was impossible to conceive a democracy without an effective opposition. One of the biggest contributions to democracy in Pakistan was made by Suhrawardy as he set up the first organised opposition in the National Assembly.
As a lawyer, he earned a lot, but at the end, he died a pauper. He was never found lacking in helping workers of his party and friends. He was a man of character and great intellect. He was always ready to listen to his opponents but would never compromise on principles. He always remained above party interests.
He was one of the most liberal democrats of his time. As a statesman, he was second to none in Pakistan. He died in the quest of justice and rule of law, and to undo the wrongs done by the autocratic rulers and opportunist politicians in connivance with the civil and military bureaucrats in Pakistan.
Suhrawardy had profound faith in the ability of people to control their destiny. His sudden death in Beirut on December 5, 1963 was a blow to the democratic movement against the military rule in Pakistan.
The writer is a noted author, researcher and social activist.