The conspiracy behind the assassination of Bangabandhu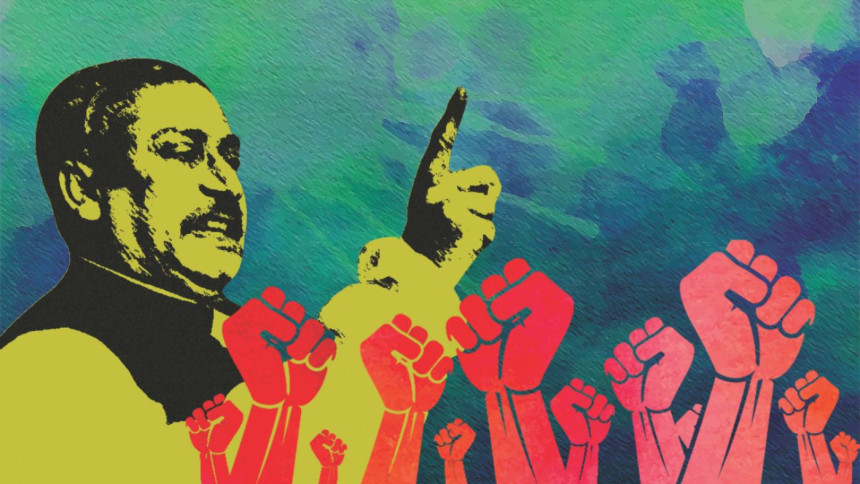 Political assassinations and military coups need long preparation, careful planning and execution. The involvement of a few insiders and the support of foreign powers make things easier. In cases where the victim is someone like the Father of the Nation, Bangabandhu Sheikh Mujibur Rahman, the task is more challenging. The killers of Bangabandhu planned meticulously and acted professionally. Unfortunately, to make things easier for the killers, Bangabandhu himself never believed any harm could be caused to him or his family. On a few occasions, some well-wishers of Bangabandhu tried to warn him, but he brushed their warnings aside, saying that his own people could never cause him any harm.
Khandaker Moshtaque, who was the Foreign Minister in Tajuddin's cabinet in 1971 and the person who became the President after the killing of Bangabandhu on August 15, 1975, was a mole within Bangabandhu's cabinet. Ironically, Moshtaque was one of Mujib's most trusted lieutenants. At the height of the Liberation War, Moshtaque conspired against the war. In September, he tried to contact the US Consul General George Griffin in Calcutta through one Zahurul Qyum, an Awami League MP elect from Comilla. According to Henry Kissinger (The White House Years), Moshtaque sent a message that if the US could arrange for the release of Sheikh Mujib from Pakistani prison, he would try to convince the Mujibnagar government to call off the Liberation War and forge a federation with Pakistan. Griffin doubted Moshtaque's credibility. Moshtaque, however, was kept in the good books of the US and later on was used very successfully by the conspirators to unseat and kill Sheikh Mujib. Griffin was declared persona non grata in India after this incident. 
The main conspiracy to assassinate Bangabandhu was hatched inside Dhaka cantonment by pseudo freedom fighters like Khandaker Abdur Rashid (a close relative of Khandaker Moshtaque), Farookh Rahman, Shariful Hoque Dalim and others. All of them reported to the Mujibnagar government towards the end of the war, from October to November, claiming that they have defected from the Pakistani army. It is, however, clear now that they were actually the fifth columnists working in disguise for Pakistan. With them they found a few senior repatriates who were unhappy as their colleagues who participated in the Liberation War were given two years of seniority. General Zia, Deputy Chief of Army Staff, whose role during the war was always under scrutiny, was in the loop of the conspirators though Bangabandhu loved him as his own son. Zia was unhappy as he was not made the Army Chief immediately after liberation. In March, Abdur Rashid and Farookh Rahman discussed their plan to overthrow Bangabandhu with Zia. He gave the green signal and said that as a senior officer he could not directly get involved with their plan, but if they wished, they could go ahead. Zia's duty was to report this incident to his superiors but he never did that, as he wanted to be one of the beneficiaries of Mujib's overthrow. Bangabandhu and a few senior Awami League leaders considered Zia to be very ambitious. A few months before the assassination of Bangabandhu, Zia was given a diplomatic posting either in East Germany or Belgium. Zia, however, managed to persuade Bangabandhu through some senior Awami League leaders to have the new assignment cancelled. He told Bangabandhu that his loyalty to him and the government was absolute and that he wanted to retire as a professional soldier. Bangabandhu trusted Zia and cancelled his new assignment. 
The coup planners also had a covert connection with the US embassy in Dhaka. They established contact in the guise of purchasing arms. Christopher Hitchens, a British-American journalist and commentator, in his much publicised book The Trial of Henry Kissinger writes, "In November 1974, on a brief face-saving tour of the region, Kissinger made an eight-hour stop in Bangladesh and had a three-minute press conference…. Within few weeks of his departure… a faction at the US embassy in Dacca began covertly meeting a group of Bangladeshi officers who were planning a coup against Mujib." Among those the coup plotters contacted was Philip Cherry, the CIA Station Chief in Dhaka. 
Quite a few responsible army officers tried to inform Mujib that a coup plot was being hatched to overthrow him which he never took seriously. He trusted his people but trusted them too much. Besides the confidants of Bangabandhu, others were also concerned about the possible coup in Bangladesh. RK Yadav, a former R&AW Officer of India, writes in his book Mission R&AW, "R&AW was closely keeping tabs on all these developments in Bangladesh through its sources in various departments. R&AW received advance information of the conspiracy against Sheikh Mujibur Rahman which was hatched by some disgruntled junior officers in the units of artillery and cavalry. R.N. Kao (top R&AW Boss) personally informed the Indian Prime Minister Indira Gandhi… Kao personally went to Dacca in December 1974. He met Sheikh Mujibur Rahman at the Bangabhavan and requested him to come out for a little stroll in the garden. When they were out of ear-shot, Kao conveyed to him the information which R&AW had received about the danger to his life. Sheikh Mujib was euphoric at that time and waving his arms said, 'These are my own children, they will not harm me'." In March 1975, Kao sent one of his trusted officers to Dhaka who gave exact details of the coup plot to Mujib and as usual, he ignored the warning. By any definition, Bangabandhu was totally indifferent about his security and he along with the nation had to pay a heavy price on the fateful night of August 1975. 
Soon after Major Dalim broadcasted the news of the coup on August 15, 1975, several former military officers rushed to the radio station to pledge their support and services to the new regime, including Colonel Abu Taher, Colonel Akbar Hossain, Major Shahjahan Omar, Major Ziauddin, Major Rahmatullh and Captain Majed, writes the US based journalist B.Z. Khasru in his latest book The Bangladesh Military Coup and the CIA Link. Colonel Taher was later sentenced to death by Zia through a sham trial. Others tasted state power in some form or the other.
Our tributes to the Father of the Nation and to his family members who were martyred on 15 August 1975.
The writer is Chairman of the University Grants Commission of Bangladesh.