Refusing to succumb to fear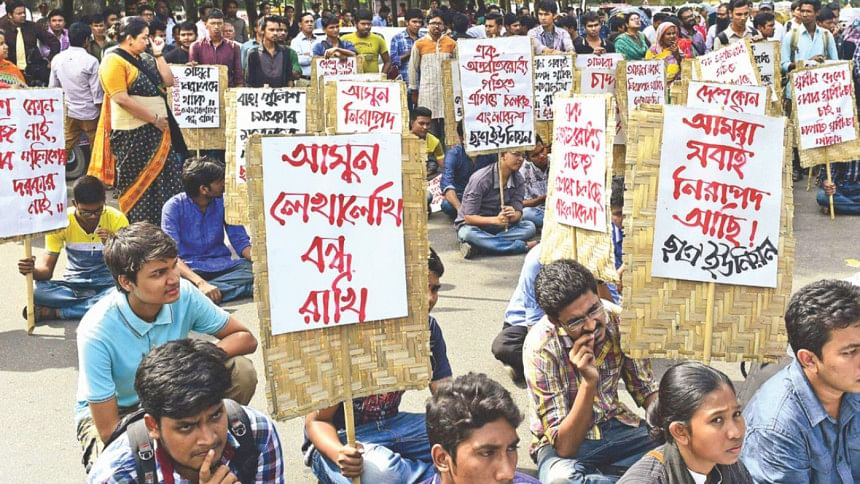 The night Faisal Arefin Dipan died concealed more than it revealed. It revealed the motive behind the attacks, which was to send a clear message to all: those who dare to bring out any books by the likes of Avijit Roy will be met with the same brutality as Dipan and Ahmedur Rashid Tutul. It revealed the shock of Dipan's family; it also revealed the pall of gloom cast over the whole community of writers and publishers.  
But it concealed the fear that struck them all and how deep that fear ran in a publishing industry that has never seen its all-embracing openness shrink like this before. In other words, what that night concealed was the tremor felt across the literary and publishing spectrum, which has so far boldly, if not unassailably, kept itself uninvaded by this kind of censorship. 
Despite many challenges and violent opposition at times, writers and publishers have written and worked more or less freely in this country. Books were banned, mostly on religious grounds, and bans were lifted eventually (Humayun Azad's Nari was banned in 1992 and the ban was lifted in 2000), except those imposed on works of one female author. A few writers even faced brief spells of incarceration on political grounds but none of these shook the freedom they enjoyed in terms of choosing writing or publishing content. 
The first time the nation experienced a jolt like this was in 2004 when Humayun Azad was attacked not for his freethinking writing, but for two of his novels, Chhappanno Hazar Borgomile and Pak Sar Jamin Sad Bad, which were a searing indictment of Jamaat's role in 1971. Even then, although writers were shocked, nothing could unsettle their courage and they came out on the streets in large numbers to unequivocally condemn the attack.
But things are way different this time. 
The brutality this time, well planned and carried out in the manner of an execution, came as a shock-and-awe military act of censorship that is unprecedented in the history of this country and that, in the name of religion, is fanatical about blocking every view, every thought or expression that clashes with its restrictive ideological position. Spared from it are not even those cherished elements that emanate from our own secular culture and its festivities such as the Pahela Baishakh celebrations. 
The attacks constituted the tremor and the fear, the aftershock. But in the cultural arena, there is no readymade tool to gauge how deep the aftershock has cut, or will cut. The subsequent events, marked by our collective silence and passivity in sharp contrast to their cloak-and-dagger presence and heightened activity, have only cleared the ground for the aftershock to deepen its cut, without any sign of a stop.
That night, I, among many others in this newspaper, reached out to many writers, both young and old, and publishers for their reactions. Only the older generation said it clear and loud. But as we called the younger bunch, we sensed the fear of being attacked was already running deep and it was no different among the publishers. 
I would have liked to share their names for fulfilling the minimum requirements of a journalistic article. But at the risk of penning an un-journalistic piece, I've thought better of giving away their names because all of them, invariably, have requested anonymity with a tone that you cannot ignore. Even the closest of Dipan's and Tutul's friends and co-travellers refused to be identified and quoted in the reports unless their anonymity was ensured. We would not be surprised if the information we sought out was somehow related to the sensitive aspect of atheism or freethinking. But all the same, they requested anonymity, failing to conceal the fear from their voice, even when we just asked them about Dipan's son's or daughter's name. 
Meanwhile, there were rallies and angry protests where writers, publishers, and rights and Gonojagoron Mancha activists strongly demanded the government immediately arrest the killers and attackers, and ensure protection of all who were or are being given threats. 
More and more nights went by. The government continued playing the role of a bystander with its agencies holding occasional news briefings on arrests, the trials for which, if begun, always progress at a snail's pace. So the rallies thinned out and media got busy with other issues. After all, who cares about a bunch of freethinkers and the men who had the courage to publish their works, especially when caring about them might mean putting your own life under threat? 
So the fear stayed. It did not thin out like the rallies. It rather solidified in the minds of writers and publishers. They still preferred to be quoted anonymously while some refrained from making comments altogether. 
We are not surprised because we know the mission to strike terror is on, and very consistently so. Two of our most revered writers, Prof Anisuzzaman and Hasan Azizul Haque -- who made no bones about condemning the attacks which they said were carried out by religious extremists -- were threatened with death. 
Writers and publishers, as a result, now agree to speak on the record only when they are solicited for comments on less sensitive aspect of the issue such as if these attacks will impact the industry financially -- the answer to which, of course, was no. But that's perhaps the silliest question to ask in these times. The question we must be asking ourselves now is what this new fear means for our literary and intellectual culture in the bigger picture. 
It means the demise of whatever we have achieved in the past four and a half decades since our independence. Doesn't it also mean a retrogressive journey, as opposed to a progressive one, to a time when our writers had struggled to forge a path to freedom of expression? Doesn't it mean not only science and non-fiction writers but also fictionists will have to think twice before incorporating in their work any sensitive issues relating to religion and the abominable role Jamaat had played during the Liberation War? 
The answer is yes if we let them coerce us into silence, but no if we refuse. Before we take any side, we must carefully weigh the pros and cons of our answer because this is a transition period in our history and how we answer will have a direct bearing on our future. To answer in the positive and remain silent is how we have dealt with the whole issue so far and we all know where it has taken us. Keeping up with the globalised flow of a world dominated by sleek gadgets, this silence has only weakened us, alienating us from one another, making us fear for our lives and hide into our dens when we should be erupting into protests and thinking up ways to broaden our platform and strengthen our fight. 
To answer in the negative and break the silence is to go Hasan Azizul Haque's way. Hasan, after a long, successful and committed writing and teaching career, is in the twilight of his life now. Still, he refused to remain silent and let the aftershock deepen its cut any further. He is not a lone traveller in his track. There's also Tutul. Still recuperating from those almost crippling wounds, he told a correspondent of this newspaper that he'd not give in to any threat and would continue to publish works of freethinkers. 
In an atmosphere of suffocating silence, their courage comes as a breath of fresh air and in the fight against religious extremism, I have sided with fresh air.
The writer is a journalist and can be reached at [email protected].